Wout van Aert and Mathieu van der Poel deserve big CX appearance fees, says British champ
British national champion says Wout van Aert and Mathieu van der Poel receive high appearance fees for a reason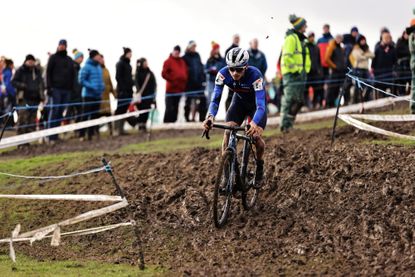 (Image credit: Alex Whitehead / SWpix)
Cameron Mason, the newly crowned British national cyclo-cross champion, has said that the top cyclo-cross riders like Mathieu van der Poel and Wout van Aert deserve their big appearance fees.
The fees paid to the star riders on the European cyclo-cross circuit have been criticised in recent weeks by other riders on the start-line who have said they have to race for free because there is not enough money to go around.
Speaking to Cycling Weekly in Milnthorpe on Sunday, Mason said that he believes riders can have few complaints about the situation.
Furthermore, the Scotsman said he felt the trio of cross' galacticos, Wout Van Aert, Mathieu Van der Poel and Tom Pidcock receive large fees from race organisers for a reason.
"It's no secret that when Wout van Aert, Mathieu van der Poel and Tom [Pidcock] turn up at races the crowds are then bigger," Mason said.
"As a kind of financial thing, it 100% adds up. Organisers are getting more people through the door when the big guys turn up," he added.
"I've raced in races where those guys weren't there and yeah, I think the difference is really noticeable so I think it's just part of it."
Throughout recent weeks during competition in Belgium, multiple riders and former riders have spoken out against the high appearance fees handed to the trio by race organisers.
According to Het Nieuwsblad, some competitors including Czech rider Zdeněk Štybar have on occasions been forced to race for free due to there simply being no money left after the aforementioned trio have signed on.
However the British national champion believes that most riders receive enough money during the season as it is.
"I think riders are definitely making enough money as it is from their teams anyway, so surely start and appearance money is just extra," he said.
Meanwhile, Mason was full of confidence after overcoming a difficult start to land the British national title and explained that he has "big goals" at the fast-approaching world championships in Hoogerheide, the Netherlands.
"I'm feeling great and confident after that," he said "I've got some big goals now for the Worlds so I just need to keep this going."
However, the Scotsman explained that in order to be competitive against the likes of Van Aert and Van der Poel in the Netherlands there will be little room for mistakes.
"The technical aspect with those two is often overlooked. They have this ability to consistently nail sections lap after lap and make very few mistakes," Mason said. "That's what makes the difference."

"I think Tom [Pidcock] has found that this winter," he added. "Physically he's at a high enough level to be at the front of races, but you can't afford to make mistakes that cost you a few seconds against those two."
Thank you for reading 10 articles this month* Join now for unlimited access
Enjoy your first month for just £1 / $1 / €1
*Read 5 free articles per month without a subscription
Join now for unlimited access
Try first month for just £1 / $1 / €1
Tom is a News and Features Writer at Cycling Weekly, and previously worked in communications at Oxford Brookes University. Alongside his day job, prior to starting with the team, he wrote a variety of different pieces as a contributor to a cycling website, Casquettes and Bidons, which included interviews with up and coming British riders.