'I couldn't quite believe it' - Charlie Quarterman on his rags to riches Giro d'Italia selection
The British rider spent a year at amateur level with Philippe Wagner Cycling before heading back to the top with Corratec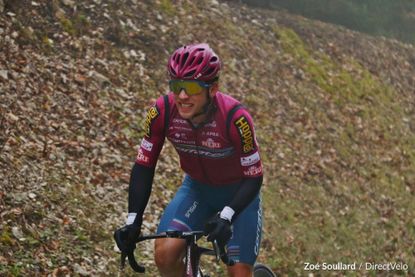 (Image credit: Zoé Soullard / DirectVelo)
Charlie Quarterman says that when he heard he had made the selection for Corratec's Giro d'Italia squad it seemed almost too good to be true.

The British rider joined Italian ProTeam Corratec at the start of the current season, after spending time with Philippe Wagner Cycling, which followed being dropped by Trek-Segafredo. Quarterman from Oxford told Cycling Weekly that finding out he would be making his Grand Tour debut this weekend was surreal.

"I couldn't quite believe it really," Quarterman said. "It's been months since we found out we were going, and there's been months of preparation for this race. It was also quite late that I found out, so it's such a big relief that it's almost hard to believe and it's obviously a dream as well."

Since turning professional, Quarterman developed a formidable reputation in time trialling, and was under-23 British national champion in 2019. He was fifth in the elite time trial behind Ethan Hayter in Castle Douglas at the British national championships last year.

This year's Giro course is top heavy with time trialling, with more than 70 kilometres of racing against the clock spread over three stages. Quarterman explained to CW that despite his prowess in time trialling, he can bring plenty of other strengths to the Corsa Rosa for Corratec.

"I think I can do a good job, although I haven't quite got it right in a couple of TT's this year but the form is much better than it was," he added. "I'm getting to grips with the TT bike we have… I think they [Corratec] are going to count on me for the breakaways on some of the flatter stages. Another big part of what I do is working for the others, taking the wind and putting them in the right place for the important moments."
Quarterman explained that he believes his strong performance in a recently completed block of racing in France also helped put him in the picture when it came down to Giro team selection. After getting up the road in two of the three one day races - the Classic Grand Besançon Doubs and the Tour du Doubs - the British rider believes it demonstrated his adaptability across various terrain.

"A couple of weeks ago I did three one day races in France one after the other," he said. "I managed to get in the breakaway on two of the three days which were in the hills, so not really profiles for me actually."

"I think that made quite a big difference, as it showed that I'm able to deal with all the things that can get thrown at us in these races and get in the breakaway. It's something I'm not really used to, even though it suits my riding style… If we ignore the first race of the year in Argentina where I got cooked in the heat, I think I've shown my ability to recover pretty well in stage races and on some of the climbs."

"Things have always been going in the right direction, but it's probably getting in these breakaways in the last few races that's shown everything is getting better building up towards the Giro," Quarterman added.

After spending two years on the WorldTour with Trek-Segafredo, Quarterman was forced to drop to amateur level with Philippe Wagner cycling for 2022.

During his time spent at that level, the Oxford-born rider explained that riding in a Grand Tour peloton seemed so far out of reach that it didn't even enter his mind. Instead, Quarterman kept his focus firmly on earning another professional contract, which he was rewarded with when Corratec came calling.
"I wasn't even thinking about it to be honest," Quarterman said. "The main thing was just to find another professional contract to enable me to continue living this dream… It was only once I started racing this year that I started to realise it was a possibility. There were moments where it would have felt really far away, although it was so far away that I didn't even consider it."

Quarterman joked that he could "write a book" on his experiences in cycling in recent years, but said the biggest lesson he's learned is to focus on himself, and then the results will follow.

"I think looking after myself, and realising that everything counts has been key for me," he explained. "It's the little details that make the difference in some of these races. It's the small things on and off the bike that you do throughout the year that end up making a big difference. Whether it's daily stretching or regular visits to the osteopath, these kinds of things can change a lot."

"When I signed for Trek, I was signed mostly for the physical potential I guess," he added. "Although I'd been working really hard too. I don't think I quite realised at times how many 1000's of people want to be in that position. So when you fall back down and have to work your way back up, you realise how hard it is, and how fortunate we are to be here really."
Thank you for reading 20 articles this month* Join now for unlimited access
Enjoy your first month for just £1 / $1 / €1
*Read 5 free articles per month without a subscription
Join now for unlimited access
Try first month for just £1 / $1 / €1