Jumbo-Visma's Michel Hessman facing lengthy doping ban
German rider previously suspended by Jumbo-Visma after positive anti-doping test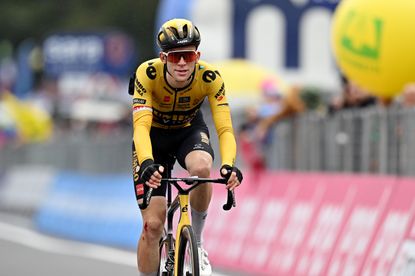 (Image credit: Getty Images)
Michel Hessman, one of Jumbo-Visma team's key riders in this year's Giro d'Italia, won by his team leader at the time, Primož Roglič, is likely to be banned for violating anti-doping rules.
Hessman's B sample from an anti doping positive has confirmed the results of his A sample, taken in June, for the presence of a banned diuretic.
If Hessman cannot provide any explanation for the diuretic then he will face a four year ban under rules set out by the World Anti-Doping Agency [WADA].
If the 22-year-old can prove that he tested positive due to a contaminated supplement or food item then his ban could be reduced to two years instead.
Speaking to Jeremy Whittle of the Radio Cycling podcast, Eva Bunthoff, of Germany's national anti-doping body, NADA, said: "The B sample confirmed the result of the A sample. According to German Cycling Federation Anti-Doping Rules, there is sufficient evidence of an anti-doping rule violation."
However it has not yet been announced, which specific substance the case involves.
Diuretics are banned by [WADA]. They can cause rapid weight loss and have also been used as masking agents, to conceal the use of other doping products. They are banned both in and out of competition.
Second year pro Hessman tested positive in an out-of-competition check on June 14, two weeks after the Giro ended. He finished 33rd in the Italian race, which his team mate Roglič won by just 14 seconds from Geraint Thomas.
The 22-year-old German was suspended by Jumbo-Visma in August. The Dutch squad won all three of the Grand Tours in 2023 which is an unprecedented achievement.
After Roglič won the Giro Jumbo went on to win the Tour through Jonas Vingegaard - who now has two successive Tour titles - and the Vuelta a España through Sepp Kuss.
A doping law passed in Germany in 2015 criminalises the use and administration of doping products. Athletes caught using banned substances can receive a maximum prison sentence of three years and a fine.
In July 2022, as he won his first Tour, Vingegaard said: "We are totally clean, every one of us, and I can say that to every one of you."
"Not one of us is taking anything illegal. I think why we are so good is because of the preparation we do. We take altitude camps to the next level, and everything: materials, food and training.
"I think the team is really the best in this. That's why you have to trust us."
The Dutch team is managed by Richard Plugge, head of the AIGCP teams association and driving force of the One Cycling proposal for a restructure of cycling's current calendar. Plugge described the day that he was notified of Hessman's positive as a "black day" for his team.
"We received the message that a rider from our team had a positive doping test," Plugge said. "We had to look in the mirror ourselves — are we doing everything right?"
Thank you for reading 20 articles this month* Join now for unlimited access
Enjoy your first month for just £1 / $1 / €1
*Read 5 free articles per month without a subscription
Join now for unlimited access
Try first month for just £1 / $1 / €1