Meet Sean Flynn, the Edinburgh-born mountain biker moving to the WorldTour with DSM
The 22-year-old has stepped up to elite level after two years with development teams, and is looking to push on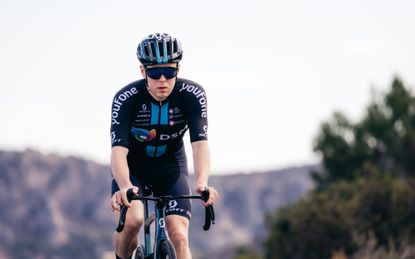 (Image credit: Getty Images)
The desert of northern Saudi Arabia is not where you would expect to find a man from Edinburgh, with the powerful sun a cruel challenge for a pasty Scot.
However, this is where Sean Flynn is kicking off his career as a professional rider, part of the seven-man DSM squad at the Saudi Tour. Fortunately, the Dutch chemicals company has produced its own suncream specially for this occasion, so he is no more burned that other riders with more melanin.
Despite the step up to a WorldTour team, despite all the trappings that come with being a professional athlete, Flynn is keen to stress that he feels the same as he did before the move came.
"You almost imagine when you're younger that you will feel like a different person, but I don't, I'm just the same person, just in a different kit," he says. "I knew I was going to be a pro probably only when I signed the contract, because before that you were always in some doubt, even if there is interest, is it true. Even once I'd signed, until I got in the kit and in a race, I still didn't know if it would happen."
DSM is a good place for a young rider just starting out at this level. In fact, Flynn is only the 12th youngest rider at the team, despite this being his neo-professional year.
"It doesn't feel like I'm going into a team with all experienced guys," he tells Cycling Weekly. "Obviously we do have people like that, like John, but there's also youthful enthusiasm, and a development attitude in the team. There's not too much pressure to be immediately winning races.
"The team has a long term vision, which I really like. It's a nice environment, surrounded by guys in a similar position to me, still on their upward trajectory."
Flynn is actually unusual in the DSM setup, being one of only three riders aged 22 or younger that did not come into the elite team from the development squad. The other British riders there, Max Poole and Oscar Onley, used this way into the WorldTour team.
"It felt strange first off stepping in, because the DSM development guys have been there longer," he explains. "I had been in contact with the team for a while before joining, so I could see it coming, and in that sense it didn't feel too strange."
The Saudi Tour has hardly been a baptism of fire for the Scot, with the first three stages offering little in the way of terrain to properly test his climbing legs. However, stage four saw an actual climb, Flynn's first of pro life. He finished 27th, having being given an opportunity to push by his team; DSM are keen to give their young riders a fair go should the race suit.
"It's nice to start actually working properly, do the real job and not just the training," he says. "So far, I've had a really nice experience with the team and it's nice to kick it off with racing. We have quite a young squad, so it's quite nice to just get to know how the team works, and experience racing at this level. It's quite different to what I've been used to in the past.
"The level is higher, but I've tried to step up my level as well, and my professionalism and all that. It's not out of reach. Also starting at a race like this where it's not the highest, it's a strong field but it's not WorldTour, so it's nice to begin like this. Ease into it a bit, but I'm not sure you can really ease into it."
Flynn has spent the past two seasons with different development squads, which has been an interesting test during the pandemic; first with the Dutch SEG Racing in 2021, and then Swiss Racing Academy last year. A stage win at the Istrian Spring Trophy in March 2022 was a first victory of his career. It was the extra year at under-23 level which gave him the chance to lead the team and challenge for wins.
"I feel like I've progressed and learnt quickly, I don't feel like I've really taken my time," he says. "Definitely, spending last year at a development team and getting to ride more as a leader was really good, and was an important thing to experience. Hopefully, later on in my career, I might find myself in that position again. I feel ready, I'm excited to step up and race bigger races this year."
Riders seem keen to step up to elite level younger than ever, but Flynn feels he is ready at 22, and does not think it has been a particularly circuitous or delayed progression.
The Edinburgher was a mountain biker before he moved onto the road, and has raced internationally for GB, which helped slow his conversion to the road. However, ultimately he thinks that his multi-discipline background has helped him as a rider and will continue to.
"I got into cycling through downhill mountain bike, that is how my interest was sparked," he says. "Some trips to the downhill World Cup in Fort William, then I got involved in my local club. At 10/11 there's not much downhill you can do, so I got into the road scene.
"Through Edinburgh Road Club I had the ability to experience different things, which helped shape me as a rider. Picking up skills from road, track, mountain bike, cyclo-cross."
As for this year, the 22-year-old is looking to just become more comfortable and find his place among the elite; DSM seems like the perfect environment for this, to build his base.
"It's quite a big difference from a development squad, just in terms of the size of the organisation and things like that, that's quite a big change," Flynn explains. "The support around you is a lot more, and you can feel it's more professional just in terms of what's expected of you.
"Heading into this week I felt a bit overwhelmed by what I could feel from the other guys. First race of the season you always feel like you forget how to do it, but once I was back in it was good."
Thank you for reading 20 articles this month* Join now for unlimited access
Enjoy your first month for just £1 / $1 / €1
*Read 5 free articles per month without a subscription
Join now for unlimited access
Try first month for just £1 / $1 / €1