Meet the Belgian champion who moved to Dubai to join the police cycling team
Kim de Baat hopes the new UAE Tour Women will inspire local Emirati riders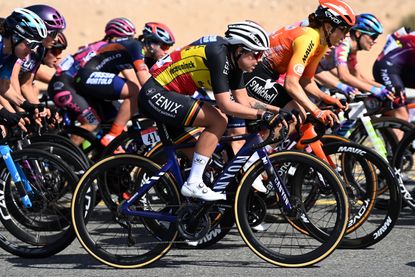 (Image credit: Getty)
Few, if any, of the riders at the UAE Tour Women could claim to know the country better than Kim de Baat. For many, the new four-day event brought a first taste of racing in the Middle East. Not for De Baat, though.
Just two years ago, the Belgian national champion left her life in Europe and moved to the sky-scraping city of Dubai to join Police Cycling Team. When the opportunity came to return earlier this month, she was eager to take it.
"I was really happy when they said I could start my season here," the 31-year-old tells Cycling Weekly on the race's final day in Abu Dhabi. "It's really nice because I've seen a lot of people from when I was here."
When De Baat moved to the Middle East at the start of 2021, it was an unusual career move. For decades, budding riders have turned to her native Belgium to kickstart their careers, but De Baat chose to go the opposite way.
"I was, at that time, maybe a bit sick of all the races in Europe," she says. "I came here to the Dubai Women's Tour in 2020 and I reached third place in one stage. I kept in contact with them [the race organisers] and they wanted to make a women's team to develop women's cycling here. I really wanted to help."
In Belgium the year before, De Baat had been working part-time alongside her racing, first in a kitchen, then as a personal trainer. Moving to Dubai seemed the perfect opportunity to get her career back on track. "I could ride my bike full-time again," she says with a smile.
So off she went. In 2021, De Baat signed a one-year contract with the Dubai Police Cycling Team and began her season with local races in the UAE. That summer, with temperatures exceeding 40 degrees in the city, she travelled to Europe to compete with her national team, before flying back out to the UAE to close out the season.
Asked how she found her time in Dubai, De Baat's review is mixed. Life away from racing was "a bit boring," the Fenix-Deceuninck rider says, but chooses not to go into details. "It's better not to say too much about that."
The standard of racing, too, left a lot to be desired. "You cannot compare it with Europe," she says, "but it is what it is. It was a bit frustrating and, honestly, I was sometimes a bit ashamed to be better and race against the girls here. They were years behind with their education of riding a bike."
Still, De Baat's keen to stress, she looks back fondly on her year in the UAE. "Without it, I probably wouldn't have reached this level again."
At the start of the 2022 road season, De Baat returned to Belgium, joining Plantur-Pura (now Fenix-Deceuninck) as the team's road captain.
Suddenly, her calendar looked very different. She swapped the desert dunes for the cobbles of Flanders and, come June, she had earned herself a new jersey - the Belgian tricolour - having taken the biggest victory of her career in her national road race.
Now, with the new UAE Tour Women, De Baat hopes more Emirati women will be inspired to pursue a similar path to hers.
"I think it will have an impact, for sure," she says when asked about the race. "It's good that they [local Emirati women] see how professional women's cycling is becoming in Europe and around the world. I think they have to keep going how they are going now."
As for De Baat, the immediate plan is to return to her national title-winning form. "Last winter, I worked really hard to get a bit of shape," she says, "but I need a few more races to be back on my level.
"The first thing I want to do is work for the team, get the best results for the team, and be the team captain they want me to be."
Thank you for reading 20 articles this month* Join now for unlimited access
Enjoy your first month for just £1 / $1 / €1
*Read 5 free articles per month without a subscription
Join now for unlimited access
Try first month for just £1 / $1 / €1