Opinion: Women's cycling is let down by lack of TV coverage
The racing is exciting, but with bad broadcasting, the whole sport is let down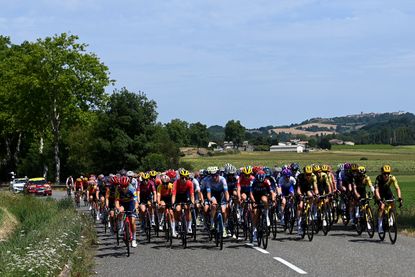 (Image credit: Getty Images)
Senior news and feature writer at Cycling Weekly, Adam brings his weekly opinion on the goings on at the upper echelons of our sport.
This piece is part of The Leadout, the offering of newsletters from Cycling Weekly and Cyclingnews. To get this in your inbox, subscribe here.
It is a tale as old as time. A top-level women's bike race with issues relating to it being shown live on television is not a new story, but it is a depressingly common one. Hot on the heels of the non-televised women's UCI Gravel World Championships came the Tour of Chongming Island, where there was confusion and a lack of clarity over the race's live coverage, and then shortened coverage itself.
The treatment of the women's gravel Worlds and Chongming Island stands in contrast to their counterpart men's races, which were broadcast at much greater length; an absolute classic of the genre.
Now, I know that the Tour of Chongming Island, or the Tour of Guangxi, are hardly blockbuster events, but they point to a big issue of continued imbalance in cycling.
It is the end of 2023. The professionalisation of women's cycling has come so far - a full calendar, competitive teams, even a women's Tour de France - but it is still held back by its organisers. If there is confusion over whether even a WorldTour race will be broadcast or not, or when, how is it supposed to be sold as a product? Why would sponsors invest in a sport which may or may not be shown on TV?
UCI rules state that a WorldTour stage race like Chongming Island has to be broadcast live for 45 minutes a day; now the governing body should punish the race's organisers for failing to do that across all three days. What is the point of rules if they aren't upheld? Not that the UCI itself has led by example - case in point, the gravel Worlds.
It is not just smaller races which flirt with a lack of TV coverage either. The UK's RideLondon Classique has not shown every stage live, despite this being a WorldTour requirement. There have been ructions for years over the Giro d'Italia Donne's TV coverage, with the issue seeing it forced off the WorldTour, only to return, and not be clear on how much would be broadcast again.
It is unfair. Women's cycling is thrilling, fascinating, and deserves just as much coverage as its male equivalent; I think the potential of the sport is huge, if only more people could see it. Just look at the impact of Paris-Roubaix Femmes and the Tour de France Femmes, across just three and two editions, respectively. You could watch every stage of the (men's) Presidential Cycling Tour of Türkiye this month - why you would though, I don't know - while struggling to find live coverage of many equivalent tier or higher women's races.
Give women's cycling more of a chance.
It also has a knock-on effect, with wider media less likely to cover races that are not on TV. Why would you, if people could not see it, even the journalists themselves, who are supposed to be writing about it? In a fragile ecosystem, more needs to be done. The UCI and race organisers need to work together to get women's cycling on live TV, and help show the world the fantastic sport that it is.
More on this
Chongming coverage confusion highlights gender inequality in cycling
Is the Giro Donne even happening? Well, it looks like it is!
No live coverage of 2023 UCI Gravel World Championships women's race
Limited TV coverage and reduced prize pot for RideLondon Classique
Josh Tarling is the next big thing in time trialling
It was a big Sunday for time trialists. Josh Tarling claimed the men's Chrono des Nations, becoming the youngest person to win one of time trialling's biggest crowns in the process. The 19-year-old Ineos Grenadiers rider really is the future of time trialling, with his victory coming off the back of being crowned European champion last month, and a bronze medal at the Worlds in August too. How good is he going to get? Olympic road champion Anna Kiesenhofer showed her mettle against the clock in the women's event.
The other time trialist for whom Sunday was a big day is now a retired pro cyclist, however. Tom Dumoulin, world champion in 2017, and ITT stage winner at the Tour de France and Giro d'Italia, ran the Amsterdam half marathon in a barely believable 1-10-04. You're retired Tom! There's no need to keep up the massive engine now. For reference, the world record for a half marathon is 57-31.
Thank you for reading 20 articles this month* Join now for unlimited access
Enjoy your first month for just £1 / $1 / €1
*Read 5 free articles per month without a subscription
Join now for unlimited access
Try first month for just £1 / $1 / €1