Photo essay: scenes from Durango's wild Single Speed Cyclocross World Championship
Photographer and writer Jennaye Derge dives into the deep-end to experience the SSCXWC in full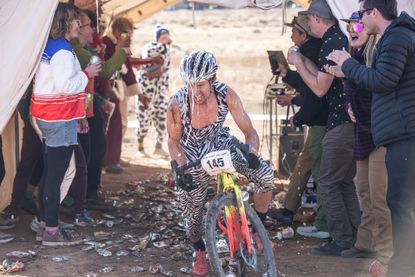 (Image credit: Jennaye Derge)
Get The Leadout Newsletter
The latest race content, interviews, features, reviews and expert buying guides, direct to your inbox!
Thank you for signing up to The Pick. You will receive a verification email shortly.
There was a problem. Please refresh the page and try again.
Single Speed Cyclocross World Championships (SSCXWC) are crazy. They are mayhem and they are anarchy, so when my friend asked me to sign up to race with her, there was a small moment of hesitation followed by an emphatic "yes."
The hesitation, I think, was justified because I had no experience cyclocross riding, I didn't own a single speed bicycle and I'd never really partaken in a race, so, true to SSCXWC form, I dove into the deep-end hoping I'd make it out alive.
I'm happy to say, after three days of riding around in a costume, consuming much alcohol, and pushing myself harder on a bike than I have in awhile, I am indeed alive; bruised knees, hips, elbows, and a bruised rib bone, but alive nonetheless.
My Weapon of Choice: a 1980's racing Peugeot
I started the weekend riding a bike that I owned but didn't feel like my own because I'd actually never ridden it.
A few summers back, I found a great deal on an old 1980's racing Peugeot that had a broken derailleur, a rusty chain and frayed cables. I fixed the chain and the derailleur, rode it around the block to make sure everything worked, and then I let it sit in my garage until this last week before taking it into the bike shop and having them take off the derailleur, change the chain and turn it into a single speed.
Image 1 of 5
My first real ride on the Peugeot was Friday morning, the morning of the qualifying heat races. My friend and I rode and hike-a-biked up the steep dirt road to get to the top of the mesa with our backpacks full of beer, snacks and jackets. We each raced in a 10-minute heat in order to qualify to race the championships —which we did— and then continued on to our next stage.
The Fight for the Crown
Saturday was the big kahuna. After a night of parties, racers lined up —hungover or not— for a Le Mans start; in costume, ready to race —or at least ride— their bikes as much, as fast or as erratic as they could.
The Loser's Party Race was the unofficial start of the race party. It was a free-for-all for anyone who didn't qualify for the championship race or anyone who just wanted to ride in total chaos.
While we qualified for the championship race, my friend and I still opted in for a few extra laps, because, why not? It was a good warm up, a great way to wet our whistles, and get some free beer.
Plus, we had agreed to each other that we were there to experience it all.
The races were each about 50 minutes of excruciating, but very fun, laps.
Half an hour after the Loser's Race ended, the Women and Non-binary Championship Race began.
My friend and I stuffed snacks in our faces, regained our composure, took a few sips of beer, and along with some familiar pro faces such as Marley Blonsky (pictured above), Sarah Sturm and Sunny Gilbert, re-entered the race course for a shot at winning/finishing.
The championship race was chaos, but the best kind.
The group of 60 plus women and non-binary riders were surprisingly cohesive, and even the pros were obviously there to partake in the whiskey hand-ups, the beer chugs, the dance parties and the wine pours.
The course had a little bit of everything: very steep uphills, sharp off-camber turns and stretches of flat road and trail for moments of reprieve.
There were playground slides going downhill, teeter-totters ready to fling riders off, beer keg obstacle courses and men dressed as knights in armor slapping racers with pool toys.
There was a party tent with a D.J. and a group of folks dancing and pouring beer and wine, and a ring of bicycles that blew fire when you weren't expecting it.
The crowd-pleaser though was the bouncy slide where mayhem ensued and racers could show off (or not) as race organizer Dylan Stucki demonstrates above.
No matter which way you chose to get down the slide, it was a good time.
It probably goes without saying, but neither I, nor my friend won the championships.
We didn't get the tattoo but looking at how much fun everyone had —including eventual men's race winner Howard Grotts, above— I'd say everyone was a winner at SSCXWC.
The race party continues next year in Santa Cruz, California.
For more SSCXWC content, Beth Ann Orton's race report. The retired pro roadie traveled to Durango, Colorado, only to get food poisoning. But she gave us a unique insight into the race weekend all the same.
"Lest you think this race is sheer debauchery and hangovers, I assure you the racing was indeed legitimate," she pens.
Thank you for reading 20 articles this month* Join now for unlimited access
Enjoy your first month for just £1 / $1 / €1
*Read 5 free articles per month without a subscription
Join now for unlimited access
Try first month for just £1 / $1 / €1
Get The Leadout Newsletter
The latest race content, interviews, features, reviews and expert buying guides, direct to your inbox!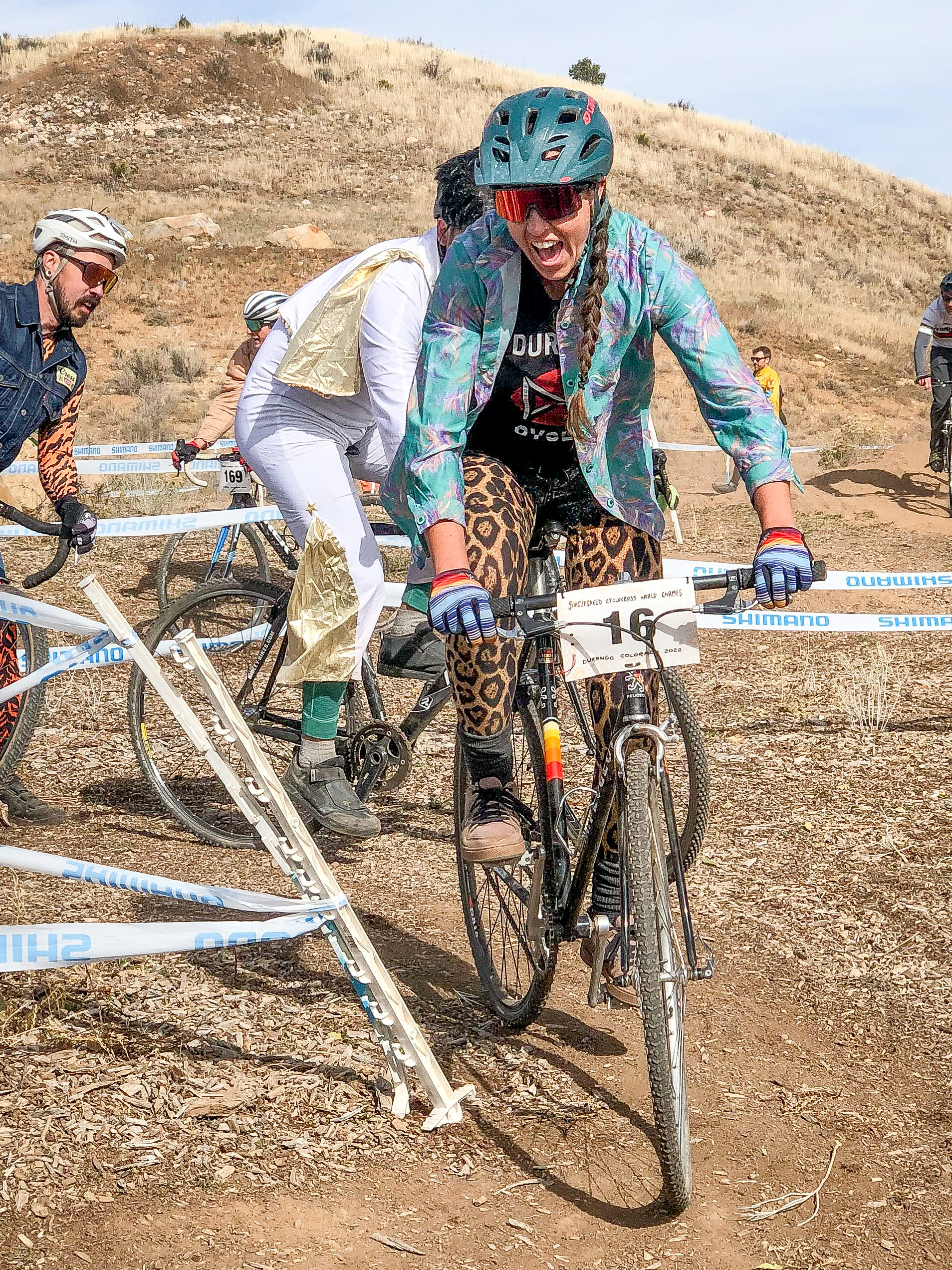 Jennaye Derge lives in Durango, Colorado. She is a writer, photographer, and author of How to Cry on Your Bicycle. She spends her time advocating for bicycles through her organization Bike Durango, and helps folks share their stories and love for bicycles in her sporadically published zine, Ride Your Bike!
When she isn't writing, advocating, or riding her bike around town, she is most likely mountain biking with her friends, skiing groomers or drinking coffee, reading a book, and snuggled up next to her dog, Calvin.