Angry riders argue 'stupid and extreme' handlebar positions are threatening race safety
A flared position has become ever more common, but the peloton fear that some riders are taking the trend too far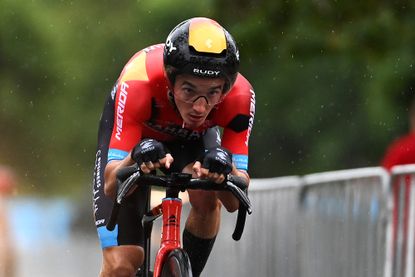 (Image credit: Getty)
Cycling has a new thing. It's turned-in hoods and outward-pointing brake levers. Well, actually, it's not so new, but Tadej Pogačar has recently adopted it, and many of his colleagues in the peloton have too. But mutiny is around the corner.
Not because half the peloton staunchly believe that handlebars should point completely forward without being turned inwards by even a smidgen of a degree (Ok, Christopher Juul-Jensen of Jayco-AlUla aside: "I have no opinion other than you'll never see me ride with those.") but because a growing percentage are taking the issue to the extreme. Some are pointing the brake hoods so far towards the centre that they start to mimic a gravel bike's handlebar set-up.
The concept isn't entirely new: riders have been turning their hoods inwards by a couple of degrees for the last few years for ergonomic reasons, but this year things have ramped up with a growing number of riders flicking the levers outwards and turning the hoods inwards to create a narrower hand position, all in the name of improved aerodynamics.
So beneficial is the position that an insider at one of the top-ranked men's WorldTour teams refused to speak about the topic because of its "potential performance advantage".
Many pointed out that it has attracted increased fandom in the wake of UCI's decision two years ago to ban the so-called 'puppy paws' position that saw riders rest their forearm on the handlebars without touching their brakes.
So what's the problem, you may ask. Let George Bennett of UAE-Team Emirates explain: "The turned-in lever thing has caused a few incidents already. The guys that really turn them in become dangerous because they basically can't use their brakes anymore," the New Zealander said.
"What s**ts me is that when everybody slams on their brakes fully, they can't use their brakes. I buy into it [the aero argument], it works, it saves watts, but saving watts is only one thing. I like using my brakes."
Multiple people told Cycling Weekly an unverified story of a rider at January's Tour Down Under causing a crash due to riding with such handlebars, and when the commissaires went to investigate the incident, the team's mechanic quickly adjusted the position to avoid disqualification.
Ide Schelling of Bora-hansgrohe has been riding with his hoods pointed inwards for several years, but he too feels uneasy with the current move towards an even greater inward-pointing direction that narrows the space between both sets of hoods.
"The extreme [position] I dislike because it's just purely for aero gains," the Dutchman said. "I have mine a couple of degrees in for comfort, but it's tricky to ride behind these guys with the extreme set-up because it doesn't enhance their bike handling.
"I got hated on by my teammates a few years ago when I turned mine in a little bit, but I can't imagine riding like those guys who have it to the extreme. It's stupid. It also looks stupid. But let them do their thing, and maybe when they crash out a couple of times they will learn."
It's important to reiterate that what Pogačar and many others have opted for this season is not a new invention: many riders have been riding a similar position for the last few seasons.
"I've had my hoods like this for five years, since I was a junior," explained Trek-Segafredo's Quinn Simmons. "For me, it's just more comfortable, and for sure it's always better to be a bit more aero."
What is new is the extreme position that some are choosing. "When you see these guys with this stupid, extreme version for aero reasons, for sure it's dangerous," Simmons added. "But a little bit is not."
Juul-Jensen is baffled by the trend. "I can't understand how they are able to handle a bike," he said. "More and more riders are doing it in order to gain as many watts as possible, but for me it just looks like a bunch of riders who have come back from a crash. They might as well start taking the hoods off."
Team mechanics are also not convinced. One, who wished not to be named, moaned that the position is only becoming homogeneous "because once someone does something, everyone else follows", while another, who also requested anonymity, predicted that the more riders who ask for this style, "the more the mechanics will be p**sed off" as they are mostly quite traditionalist in their views.
The forces, however, cannot always be fought. "The UCI rule with the paws changed everything," assessed Bennett. "The flared thing is becoming standard, everyone's getting wider."
Thank you for reading 10 articles this month* Join now for unlimited access
Enjoy your first month for just £1 / $1 / €1
*Read 5 free articles per month without a subscription
Join now for unlimited access
Try first month for just £1 / $1 / €1
Chris first started writing for Cycling Weekly in 2013 on work experience and has since become a regular name in the magazine and on the website. Reporting from races, long interviews with riders from the peloton and riding features drive his love of writing about all things two wheels.
Probably a bit too obsessed with mountains, he was previously found playing and guiding in the Canadian Rockies, and now mostly lives in the Val d'Aran in the Spanish Pyrenees where he's a ski instructor in the winter and cycling guide in the summer. He almost certainly holds the record for the most number of interviews conducted from snowy mountains.