Tour de France 2023: Five unconventional predictions
Never mind who will win the general classification, here's five wild predictions for what will and won't happen this July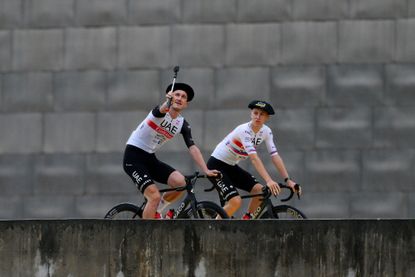 (Image credit: Getty)
After months of build up, the 2023 edition of the Tour de France finally gets underway in the Basque Country this weekend.

Ahead of the opening stage, a hilly circuit around Bilbao, Tadej Pogačar (UAE Team Emirates) has vowed to attack, whereas Jonas Vingegaard dismissed the Slovenians attempts at mind games and shrugged off being labelled the favourite for overall victory.
Many of the Basque locals will be backing their man Pello Bilbao of Bahrain Victorious for the victory whereas British hopes lie on the shoulders of Tom Pidcock. Whatever happens, there's bound to be fireworks and watching on at home you can expect the unexpected.

With that said, here are Cycling Weekly's five unconventional predictions for this year's edition of the French Grand Tour.

It won't rain on the riders all Tour - Adam Becket
This prediction might be as wrong as Saturday afternoon, with Basque weather notorious for its changeable nature, but I will predict that there will not be a single drop of rain on the riders across all 21 stages.
I am pretty sure that there was only one instance of rain across the 2022 Tour - in Copenhagen on the opening stage - so this is not the wild guess that it might seem. Europe's summers are getting warmer, thanks to climate change, and July should be a baking hot month in France.
It will stand in stark contrast to the Giro d'Italia, which was beset by rain and inclement weather - instead, the Tour will be a hot month, with drought a real possibility across Europe. This is not the future that climate change is bringing. It is the present.
Simon Yates to finish third - Tom Davidson
There has been a lot of talk about David Gaudu, Ben O'Connor and Jai Hindley as contenders for the third podium step, but damned are those who sleep on Simon Yates.
The Brit is one of only a handful of riders at this year's race who have won a Grand Tour - the Vuelta a España - and led the Giro d'Italia for almost two weeks in 2018. Now, after years of stage hunting, his plan is a GC bid at the Tour.
"On paper, it looks really good and a course that suits me quite well," he said. "For me, of course, the goals are in the mountains. I had a different build-up to the Tour this year, with less racing and more training and I have good sensations."
If we assume first and second place are a foregone conclusion (pick your own order), then Yates is the real best bet for third.
Julian Alaphilippe to win the King of the Mountains Jersey - Tom Thewlis
Let's face it, no matter what happens during the rest of this season, Julian Alaphilippe is undoubtedly one of the best riders in the men's peloton of the last ten years and has absolutely nothing to prove.
He's worn the yellow jersey, won countless Grand Tour stages and has two road World Championship titles to his name amongst various other accolades.
However, since that awful crash at Liège–Bastogne–Liègein 2022 he has struggled to hit the heights that he's proven to be capable of.
The Frenchman comes into the Tour as Quick-Step's sole man and seemingly full of confidence to do something special. If he's unable to capture the yellow jersey once more in the Basque Country this weekend, watch him get into the breakaway in the coming days as he hunts for stage wins.

Even if the stage win doesn't materialise, Alaphilippe is more than capable of spending multiple long days in the breakaway and subsequently cleaning up plenty of mountains points along the way to land a polka-dot jersey in Paris, just as he did five years ago back in 2018.
The race will be disrupted by protesters - Vern Pitt
The Tour de France and protest are almost as closely aligned and the Tour and the colour yellow. From Bernard Hinault punching a protesting docker in 1984 to the peloton wiping tear gas out of their eyes in 2018, the Tour has always attracted protest.
Often this hasn't been because the race itself has sparked the ire of the public but rather the size of the stage, "the biggest annual sporting event in the world" is too good a platform for those trying to get their message out to resist.
And yet each time we, the fans, react with surprise. We gorp as if it's unusual.
This year's race even starts in the Basque country. In 1992 and 2007 it was the inspiration behind incidents where Basque separatist group ETA targeted the race with explosives in an attempt to promote their cause.
Though tensions on that front seem to have cooled in recent years, such violent protest would be a cause for concern. France is currently in the grip of a series of riots over police brutality and while it's far less organised than the environmental group that stopped that race last year, it's not a possibility that can be ignored.
That same environmental group has shown great willingness to repeatedly disrupt the race, they've already done it three times.
While it might be annoying to the riders and the fans it's become the nature of the event that it provides an attractive canvas for dissent. It should be no surprise if it does so again.
Mark Cavendish will have a luckless race – until he wins on the Champs-Elysées - James Shrubsall
Our man Cav has form in this area, does he not? Keeping us all on tenterhooks, hopes slowly fading... and then BAM! Out of nowhere he has us dancing in the aisles as he sticks two fingers up at all those who ever wrote him off with the sort of victory that makes it look like he's only just getting started.
Rome at the Giro this May was the perfect example.
This time, though, we know he's definitely not just getting started. The mercurial 38-year-old is retiring at the end of this season, which will make stage 21 of this year's race on the Champs-Elysées – the sprinters' World Championship no less – the final stage of the final Tour de France Mark Cavendish will ever ride.
Also at stake is the small matter of the Tour de France stage win record, which Cavendish is currently tied with Eddy Merckx on at 34 apiece. While he generally refuses to be drawn into any deep discussion on the subject, there's no doubt Cavendish would rather go home with the record than without it, even if only because he loves to win.
The Manxman is no stranger to drama, but you sense even he wouldn't want to leave it until the final 200 metres of a three-week race to throw his hat in the ring. Alas, he may have no choice – these things tend to write themselves. Come stage 21, anyone with any skin in the game, and that includes the emotional investment of thousands of Cavendish fans, is going to be beside themselves with overwrought anticipation. Keep the faith – Paris is calling.
Thank you for reading 20 articles this month* Join now for unlimited access
Enjoy your first month for just £1 / $1 / €1
*Read 5 free articles per month without a subscription
Join now for unlimited access
Try first month for just £1 / $1 / €1