Teams face big fines and disqualification under new UCI Tour de France equipment rules
The sports international governing body will be enforcing new rules to prevent teams using prototype tech more than 12 months from release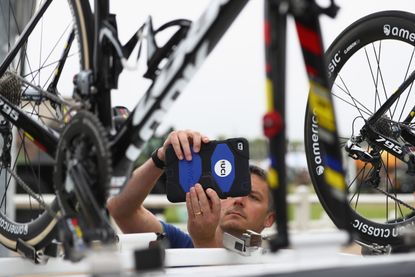 (Image credit: Michael Steele/Getty Images)
All teams competing at this year's Tour De France, and Tour De France Femmes Avec Zwift will have to disclose all "critical equipment" they plan to use prior to race day under new rules implemented by cycling's international governing body, the UCI.
Teams that fail to meet the UCI's new rules face penalties from fines between CHF 5,000 - 100,000 (£4,470-£89,400) all the way up to disqualification.
The 'Road Equipment Registration Procedure' is outlined in a 17-page document, which went live on the 24th of April.
In short, framesets, wheels, handlebars, time trial base bars and extensions, clothing, and helmets - all considered to be "critical equipment", have to be approved for use at the sport's biggest race.
The real headache for mechanics and soigneurs alike though, is the deadline for the procedure is 1st of June for the Tour De France, and the 17th of June for the Tour De France Femmes Avec Zwift.
This is the first time the UCI has brought in specific regulation for the Tours, and the ruling now sits closer in line with the Olympics, where equipment also must be registered ahead of competition.
The UCI Regulations already outline specific obligations aimed at promoting fair and equitable access to equipment in cycling events - such as height labels on time trial bikes and minimum handlebar widths - but it says the new procedure is to "ensure these rules are properly adhered too" at the 2023 French Grand Tours.
The new rules are aimed at ensuring that the equipment teams use is accessible to the general public, or as the UCI puts it, "Equipment shall be of a type that is sold for use by anyone that practises cycling as a sport."
However, complexities arise around equipment that is still in the development phase.
Any products that are still to hit the market will only be authorised if they are in the "final stages of development", meaning they must be available for consumer purchase within 12 months of the application. For these products, a particularly keen eye will be cast over the safety of the equipment.
Brands will, however, be allowed to apply for one prolongation for each product - and the UCI has not set a time limit set on the prolongation.
It's unclear if should brands fail to launch a product to market, there will be retrospective sanctions applied to riders and teams a year down the line.
The UCI has also decided that RFID Tags must be applied to all framesets being used to aid the UCI in keeping tabs on the random equipment checks throughout the races. RFID, or radio frequency identification, is a form of wireless communication that uses electromagnetic coupling in a radio transmitter.
Newly developed for the Tour, these tags must be applied by a UCI official, and attempted removal will damage the tag - these means they should be tamper free.
Use of these tags will first be trialled in the Tour de Romandie, where each team will be asked to fit a tag to three or four of their bikes.
It's no secret that a lot of brands save their biggest tech releases of the year for July though, and this might just scupper their plans for a surprise release as approvals may well be made public before then.
Thank you for reading 10 articles this month* Join now for unlimited access
Enjoy your first month for just £1 / $1 / €1
*Read 5 free articles per month without a subscription
Join now for unlimited access
Try first month for just £1 / $1 / €1
Joe is Cycling Weekly's tech writer. He's always had a love for bikes, since first riding a two wheeled steed before the age of four. Years down the line, Joe began racing at t 16, and enjoyed great experiences internationally, racing in Italy, Spain and Belgium to name a few locations. Always interested in tech, Joe even piloted his Frankenstein hill climb bike to a Junior National Title in 2018. After taking a step back from elite level racing in April 2022, Joe joined our team as a freelancer, before becoming Tech Writer in May 2023.