Valentine's day special - How the couples that ride together, stay together
For Valentine's day we spoke to five cycling couples about the benefits and pitfalls of sharing their love of two wheels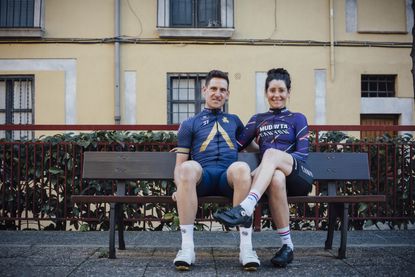 (Image credit: Future)
This feature originally appeared in Cycling Weekly's print magazine in February 2018
Cycling is many things to many people. It is both a solitary sport where we clear our heads and a social sport where we can chat to our heart's content. But how does cycling fit into relationships? Is the bike a place where romance can blossom? Can we find quality time with the love of our life on the road?
Work and domestic pressures often make time with your partner difficult to find. Add hours spent training for your next event, and quality time is even harder to come by, so riding with your partner could be just what the doctor ordered.
A disparity in abilities can be a concern, but cycling is a sport where you can go as fast or as slow as you like; indeed, a recovery ride can be as good for you as an eyeballs-out interval session. Matt Rowe, husband of Waow Deals rider Dani and coach, says: "We coach a few couples, and I guarantee there is a place in your training week to ride with your partner. They will get a lot more enjoyment out of their cycling because they are doing something with you and will resent you a little bit less because you are not riding on your own all of the time."
CW spoke to five couples — both professional and amateur — and while there might have been a few niggles and the odd falling out from riding together, they all viewed the sport as a positive part of their relationships.
If you still need convincing that cycling with your partner will work, first consider all those Valentine's gifts you could 'share', then read what our couples have to say.
Nikki and Matt Brammeier
As a road rider with Aqua Blue Sport, Matt Brammeier's race programme is the complete opposite of cyclo-cross rider wife Nikki's, but the pair use that to their advantage. Indeed, the Brammeiers are lucky enough to ride together most days.
"Our endurance rides are usually the same pace, give or take a few watts," notes Nikki. "I'll do my efforts while Matt's doing his, then we just ride together the rest of the ride. It's pretty good for me as I can get a really hard ride in just tagging along with Matt and a group in Girona. It's one of the reasons I don't need to race much in the summer!"
Their race schedules also allow Matt to work for Nikki during the cross season, an arrangement not without its issues.
"I'm the boss," Nikki asserts. "I can be a bit of a madam at the races. So he says."
"We've had our bust-ups, let's just say that," adds Matt. "She gets pretty nervous before her big races when she feels pressure to do well. A lot of the time it's a good sign and means she's going to go well — but sometimes I'd rather she goes badly and is actually a nice person to me!"
The strength of the Brammeiers' relationship also helped when it came to setting up Nikki's new Mudiiita-Canyon cyclo-cross team, with its attendant academy and skills workshops.
"It consumed us for a few weeks but eventually it just saved us loads of time as we could decide where and when to work on it and chat about it," Nikki says. "The good thing with working with your missus is you just say it how it is, so things happen a lot faster and you tend to actually get stuff done," says Matt.
The couple's relationship has also helped them in the darker times pro cycling occasionally brings — "he really needs to stop falling off before I have a nervous breakdown!" jokes Nikki — but they both intend to continue riding together when they eventually finish racing.
"It's something I'm most looking forward to once we are both retired — just riding for fun together without training," Nikki says.
Carole Kremer and Michael Gérard
After cycling separately for some years, Carole and Michael met on a club trip to Italy where they rode in the same group. On their first date back home in Luxembourg they were already planning a cycling future together.
"We weren't properly together yet and were already jokingly saying we could just go somewhere with the bikes together," Carole tells us. "Nothing had really, happened and I did the Maratona [dles Dolomites] and I still remember every evening giving you updates."
Over nearly five years since then, the couple have cycled regularly and all their holidays have been on the bike, visiting most of the mountains of western Europe. "We never feel resentment because we are doing something the other person can't join in with.
It is always very clear that the next trip is going to be somewhere in the mountains so it is just a question of deciding where we want to go, not what we want to do," Carole adds before boyfriend Michael chips in: "The things you see when you're in the mountains are difficult to explain afterwards if you are enjoying this alone. It is better to have the one you love next to you."
Michael has one piece of advice for cycling couples: "Sometimes I need to wait for her, so it's best to forget about Strava!"
Jackie and Allan Bell
The Bells had been a couple for 22 years when they began cycling together. Jackie's first athletic endeavour was as a runner, but a decision to try triathlon gave Allan the opportunity to join his wife's exercise regime.
"It is a help if you have a shared interest," says Jackie. "Having the bike I could do my training and it was something Allan could do as well, but he obviously became a lot better than me."
"And you get someone to sit behind," quips Allan. The Bells now get different things from joint rides, Allan taking it easy while Jackie's ride is a more intense session, but cycling has also expanded their social horizons.
"Through cycling we've met lots of friends," says Jackie. "We go to Majorca with other couples who have become strong friends. Allan has got new male friends through cycling and I have got new female friends, so the whole social thing has added a completely new aspect to our lives."
It all sounds a bit too good to be true; there must be some disadvantages? "I have to clean twice as many bikes," laughs Allan. "And the washing machine is always full!" adds Jackie.
"But I can't think of anything else disadvantage-wise."
Dani and Matt Rowe
Both Dani and Matt Rowe come from sporting families and met through the sport, but Matt's history as an elite racer has proved invaluable to Dani both on and off the bike.
"Matt understands the demands of being a professional athlete. If I've got to do some sprints Matt will lead me out or generally encourage me," explains Dani, who won Olympic team pursuit gold in 2012. "If I've got a turbo session Matt might come down and encourage me through the hardest parts, which really helps."
However, Matt recognises his presence on their joint rides can sometimes be detrimental. "It's tricky because it's your job and it's my hobby, we have very different outlooks on it. I will think nothing of cutting a ride short if the weather is bad, or saying, do you want to change the route or have a coffee. Whereas Dani has got her plan, got her efforts for the day and she sticks to that like glue."
"Sometimes," interrupts Dani, "when I am doing an effort for example, and then Matt starts riding really hard straight after, I get frustrated because I'm in pain, physically in pain and you just can't think normally!"
With their Rowe and King coaching company another cycling aspect of their life, it is clear the sport binds them together. "If Matt wasn't into cycling and as passionate about the business, we would be so separate because so much of my time is taken up, by cycling," Dani explains, before Matt takes over.
"It would be easy for cycling to be all-encompassing and consume us, but I'm very aware of that and in the evenings outside of work hours we actively try not to talk about it to try and have a life outside it."
Lizzie and Phil Deignan
Riding for Boels-Dolmans and Team Sky respectively, Lizzie and Phil Deignan both ride at
the very pinnacle of the sport and find this status accentuates the performance gap between them, limiting rides together to pre-season only.
"We only do general endurance type rides, they are easier to ride together, otherwise we might start a ride together but we won't end that way," explains Phil. "We're not compatible during the season," explains Lizzie. "Our training speeds are too different. We are not competitive at all; I would lose, although I reckon I could have him in a sprint if I got the jump on him.
"I sit on Philip's wheel most of the time and enjoy the scenery. While we're both at home we leave the house at the same time, to make sure we have the routine of having breakfast together, otherwise it's all about cycling."
While our amateur couples could think of few disadvantages to being a cycling couple, the Deignans have a different view. "We don't see each other very often in the season," says Lizzie. "There was a period last year when I was in Holland for the Spring Classics and Philip went to the Giro straight away, so we didn't see each other for seven weeks."
However, while they try to get away from cycling when at home, with little sign of their careers in their Monaco apartment, their jobs mean they are perfectly equipped to support each other. "We both have a really good understanding of how the other might be feeling," says Phil. "If we feel totally shattered, I can understand or she can understand how I feel. When we get back from a race we can really relate to each other well."
Thank you for reading 20 articles this month* Join now for unlimited access
Enjoy your first month for just £1 / $1 / €1
*Read 5 free articles per month without a subscription
Join now for unlimited access
Try first month for just £1 / $1 / €1