Zaaf team has failed to pay riders for three months
UCI steps in to try and resolve situation at fledgling Spanish squad with stars including Audrey Cordon-Ragot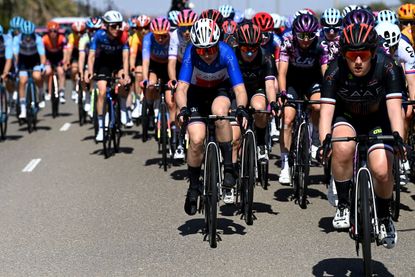 (Image credit: Tim de Waele / Getty)
Riders and staff at the Spanish-registered Zaaf Cycling Team have not been paid any salary or expenses for the past three months, Cycling Weekly understands.
Multiple sources have told CW that there has been no payment of salary or expenses in 2023.
The squad is due to race at Gent-Wevelgem on Sunday but one source said there had been discussion among the team of refusing to take to the startline in protest at the lack of payment.
The women's peloton's union The Cyclists Alliance, the Spanish Federation and the UCI are all involved in efforts to resolve the situation.
A spokesperson for cycling's global governing body the UCI said: "The UCI has received communications reporting alleged issues with the UCI Women's Continental Team Zaaf.
"The UCI is in the process of clarifying the situation with the riders, the team and the national federation responsible for the team registration and shall ensure that the applicable rules and procedures are complied with."
Iris Slappendel, executive director of The Cyclists Alliance, added: "For the past few weeks TCA has been helping Zaaf riders to deal with a very difficult situation. We have been liaising intensively with UCI and the Spanish federation in order to take the necessary steps to protect the basic rights of the riders as well as their mental health.
"We will continue to support the riders in any ways possible."
A spokesperson for the Spanish federation declined to comment on the situation.
Cycling Weekly contacted the Zaaf Cycling Team earlier this morning but had not received a response by the time of publication.
The team roster includes a selection of high profile riders including French stalwart Audrey Cordon-Ragot, Czech climber Nikola Nosková; Australian Danielle de Francesco and Canadian track rider Maggie Coles-Lyster.
Zaaf, which only stepped up to the UCI Continental level this year, only signed Cordon-Ragot, American Heidi Franz and Coles-Lyster in the wake of the collapse of the B&B hotels project late in the 2022 season.
The Spanish registered squad is run by Riad Belatreche and named after his grandfather, late cyclist Abdel-Kader Zaaf who raced in the 1950s.
The funding of the team is unclear and it has no headline sponsor but lists Italian clothing company Alé, Enve wheels, Rotor components, Ruby Project sunglasses and Wahoo computers as among its partners on its website.
The team race in both the Santos Tour Down Under and the UAE Tour in the early part of the 2023 season. It's best result at the WorldTour level has been fourth on two stages and a sixth on GC at the Tour Down Under through Australian Danielle de Francesco.
The squads only wins of the year so far have come from Egyptian rider Ebtissam Zayed Ahmed who won the Egyptian road race and time trial national championships.
Thank you for reading 20 articles this month* Join now for unlimited access
Enjoy your first month for just £1 / $1 / €1
*Read 5 free articles per month without a subscription
Join now for unlimited access
Try first month for just £1 / $1 / €1