Drift Stealth 2 Action Camera review
Smaller, lighter, sleeker. The Stealth 2 is the latest offering from action camera specialists Drift, but can this diminutive unit be the David to the Go-Pro Goliath? We used it to film Alberto Contador in a bid to find out...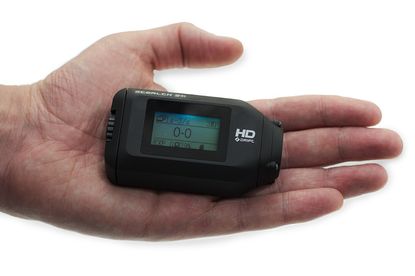 The Stealth 2 is a neat, lightweight, and well thought out camera that is easy to use and delivers excellent mounting options. If you are not a fan of the fish eye effect seen on GoPro and don't want to crop your footage, this is an attractive option. In addition, the rotating lens is a superb feature. But if low light filming is your prerogative, you might want to look else ware.
Reasons to buy
+

Small size

+

Lightweight

+

Solid mounts

+

Video Quality

+

Can be used without the protective case

+

Battery life

+
+
Reasons to avoid
-

Poor low light performance

-

Battery cover can be hard to remove.

-

Poor sound quality
The Stealth 2 is the latest offering from Drift, being the smallest, lightest camera the company have produced to date. This makes it an attractive option for road cyclists, with it having a far more aerodynamic and sleeker profile than the boxier Go-Pro Hero 4.
The Stealth 2 pictured next to its bigger brother, the Ghost. Although it is half the size the battery life is the same.
Build Quality
Being splash proof, the unit is designed to be used on the bike without a separate waterproof case, although one is available for more extreme filming. Something we really like is the confidence-inspiring rubbery polymer that makes up the camera body that, although we wouldn't advise it, feels like it would survive a drop better than others.
An industry standard screw thread hole for mounting tripods and other photography-related accessories is another very useful feature. The buttons are easy to press and a reassuring 'beep' confirms that you have started recording, which is useful if you can't see the screen.
The back of the camera features a robust cover that conceals the micro SD card, HDMI and USB ports. This is removed by way of a dial, which we found difficult to undo on a couple of occasions. We felt that if the dial featured a coin slot, this would allow more leverage and easier opening.
>>> Buyer's guide to bike and helmet cameras
A 300º rotatable lens is great for ensuring the camera is always shooting landscape, even when mounted in unusual places. Despite the small size, the compact package can deliver impressive battery performance, shooting in 1080p at 30fps for up to three hours. The unit also has WiFi connectivity, enabling pairing to a smart phone or remote (which is sold separately) both of which are very useful for setting up shooting angles.
Picture Quality
The first thing to note is that the Stealth 2's field of view is restricted to 135º compared to the 170º of the Go-Pro and Sony Action Cam, which results in a very different look. Footage appears considerably less fisheyed around the edges. The colours and picture are crisp, as displayed in the video below. We tested the camera out whilst cycling around Herne Hill velodrome with Alberto Contador and were impressed with quality (1080p 30fps).
https://www.youtube.com/watch?v=UQovH6IYLqQ&feature=youtu.be
The above video is raw footage and hasn't been altered. The sound quality is not great, but we argue that anyone serious about audio quality will not be relying on built-in action cam microphones. Other shooting modes are: 960p at 30 fps, 720p at 60fps, 720p at 30fps and WVGA at 120fps.
Unfortunately, the Stealth 2 did not perform well in low light conditions, being completely out-classed by the Sony Action Cam in this regard. To this end, if you are planning on filming your winter commute, the Stealth 2 is likely not to be the best option.
https://www.youtube.com/watch?v=cxlUJBS_uRc&feature=youtu.be
Mounting
When considering action cameras, mounting should not be taken for granted, as highlighted in our recent review of the Sony AS100V, which despite being a good camera, was let down by this crucial aspect.
Fortunately, we can report that the mounting on the Stealth 2 is versatile, strong, sturdy and equal to the Go-Pro. In order to test the camera we were supplied with the handle bar mount, which is available separately (£16.99 RRP). This mount worked really well and was ideal for mounting on the bars and seat tube, which is great for rearward facing shots of riders behind you.
We found the camera very easy to use, with simple intuitive menus and utilitarian mounts. On screen menus are colour coordinated which is a nice touch, allowing you to glance at the screen and quickly see which shooting mode you are in.
For more information, head over to Drift Innovation.
Thank you for reading 10 articles this month* Join now for unlimited access
Enjoy your first month for just £1 / $1 / €1
*Read 5 free articles per month without a subscription
Join now for unlimited access
Try first month for just £1 / $1 / €1
Oliver Bridgewood - no, Doctor Oliver Bridgewood - is a PhD Chemist who discovered a love of cycling. He enjoys racing time trials, hill climbs, road races and criteriums. During his time at Cycling Weekly, he worked predominantly within the tech team, also utilising his science background to produce insightful fitness articles, before moving to an entirely video-focused role heading up the Cycling Weekly YouTube channel, where his feature-length documentary 'Project 49' was his crowning glory.