dhb Aeron Storm FLT jacket review
Wet weather calls for a capable rain jacket. We've sized up dhb's offering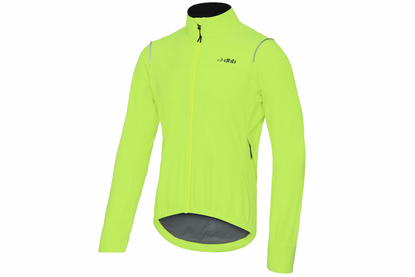 The dhb Aeron Storm jacket has all the features you need for riding in the rain, including taped seams and good breathability, coupled to additional zipped vents. The cut is good for cycling and there are plenty of well-positioned reflectives. But water will eventually seep in through the non-waterproof zips.
Reasons to buy
+

Full strength waterproof jacket with taped seams

+

Good fit

+

Lots of water-repellent features

+

Good reflectives for low light riding

+
+
The dhb Aeron Storm jacket is a full-on waterproof jacket, designed for wet riding. The mark of a jacket designed to deal with a proper downpour rather than just keep you less damp in a shower is taped seams. Those in the dhb Aeron Storm jacket are all internally taped, with dhb saying that the dhb Aeron Storm jacket has a waterproof rating of 45,000mm, which is about the highest we've seen.
>>> Tips for cycling and training in the dark
The FLT in the name of the dhb Aeron Storm jacket stands for Flashlight Technology. This is dhb's term for its reflectives' positioning, with a large black reflective dhb logo centre rear. There are also reflective darts in the lower side seams at the back, in the sleeve seams at the front and under the upper arms.
In addition, the dhb Aeron Storm jacket is very yellow, although you can buy a black version too. dhb also touts the breathability of the fabric used to make the jacket. Like most waterproof jackets, you can work up a sweat when you're working hard, but if you do find you need more ventilation, there are zips in the rear sides, under flaps, to allow more air in.
>>> Top tips for commuting to work by bike
You get a classic cycling cut to the dhb Aeron Storm jacket, with a longer tail to help keep your rear less damp. There's also an elastic hem and a bottom drawcord, as well as inner storm cuffs on the sleeves to help keep out water.
At the back, there are two large pockets covered by a flap, as well as a zipped side pocket. Again, this has a flap, although the zip isn't waterproof. The main zip at the front of the dhb Aeron Storm jacket is tight enough to keep water out, although it's not fully waterproof. It's backed by a storm flap though, which helps.
>>> Eight best waterproof cycling jackets reviewed
The other place where water ingress will occur is down your collar. But in the dhb Aeron Storm jacket, this is high and fleece-lined, again helping top keep you comfortable.
Dhb says that the fabric in the jacket uses 37.5 technology. It claims that this uses active particles to increase moisture transfer in response to body heat.
>>> Cycling in the rain: how to survive it
So there's a lot of waterproofing technology in the dhb Aeron Storm jacket, which helps explain its (by dhb's standards) quite high price. But it's the equal of £200+ waterproof cycling jackets from top brands, so this seems justified.
At the moment, the dhb Aeron Storm jacket is priced down by 40%, meaning that you can buy one for £90. With no end to the wet weather in sight yet this looks like a bargain.
Thank you for reading 5 articles this month* Join now for unlimited access
Enjoy your first month for just £1 / $1 / €1
*Read 5 free articles per month without a subscription
Join now for unlimited access
Try first month for just £1 / $1 / €1