Hackney GT Jockey jersey review
A unique jersey that's great in hot conditions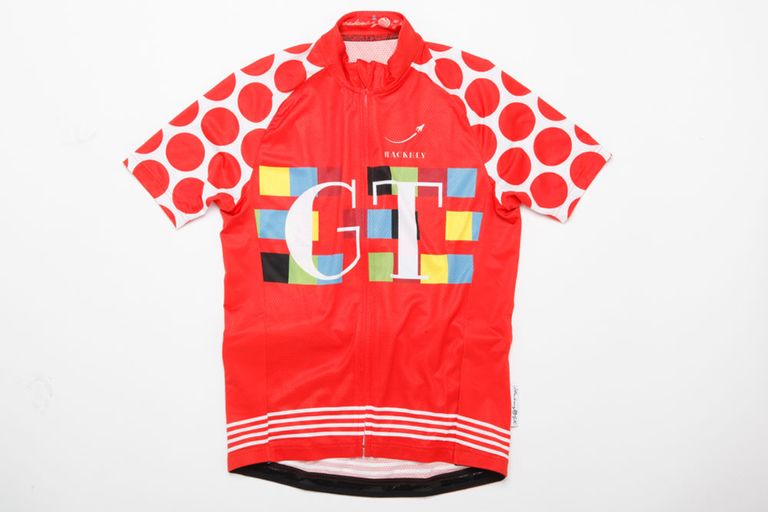 The Hackney GT Jockey jersey is a unique looking jersey that will help you stand out from the crowd, but is also very well made too, being a great choice for riding in hot conditions.
For
+

Unique design

+

Light and breathable

+

Made in the UK

+

Available in men's and women's sizes
Set up by a DJ, based in East London, and producing all of its clothing in the UK, Hackney GT is not your run-of-the-mill clothing company, which is perhaps why the Hackney GT Jockey jersey is not your run-of-the-mill cycling jersey, with a unique design that is sure to stand out from the crowd.
>>> Buyer's guide to summer cycling jerseys
The Hackney GT Jockey jersey is available in three different colours - red, green, and blue - all of which have the same spotty and squared patterns on the shoulders and chest with the whopping great GT logo across the front. All three also come with matching spotty arm warmers so you can look like a leader of the King of the Mountains classification at the Tour de France who has taken the matching polka dots a step too far.
The jersey itself has a high quality construction that you don't always find away from the big brands. The main body of the jersey is made from a highly breathable polyester that is great for riding in hot conditions, while the shoulders and arm warmers are made from a tighter fitting lycra.
Watch: our favourite cycling jerseys of all time
The fit of the Hackney GT Jockey jersey falls midway between race and relaxed fit. There's plenty of space on the body without it being flappy in the wind, while the arms and shoulders have quite a tight fit, which might not suit anyone with unusually muscular arms for a cyclist.
There are four rear pockets that provide plenty of storage space for provisions if you're off on longer rides, with the central one having a button over the top which adds to the Hackney GT Jockey jersey's unique look. There's also a small zipped security pocket for valuables.
>>> Hot weather cycling: five tops to help you keep your cool
The final feature, a nod to Hackney GT's east London roots, is that the little flap that covers the top of the zip is called a "Beard guard", so the hipster market is covered off nicely.
The only slight problem with this jersey is the price. £75 is a fair amount of money to be dropping on a non-performance jersey, although you do at least get a pair of arm warmers thrown in for the cost.