Bontrager ION 350 R bike light review
Compact, easy to use and with five different modes, the Bontrager Ion 350 R is a great front light for commuters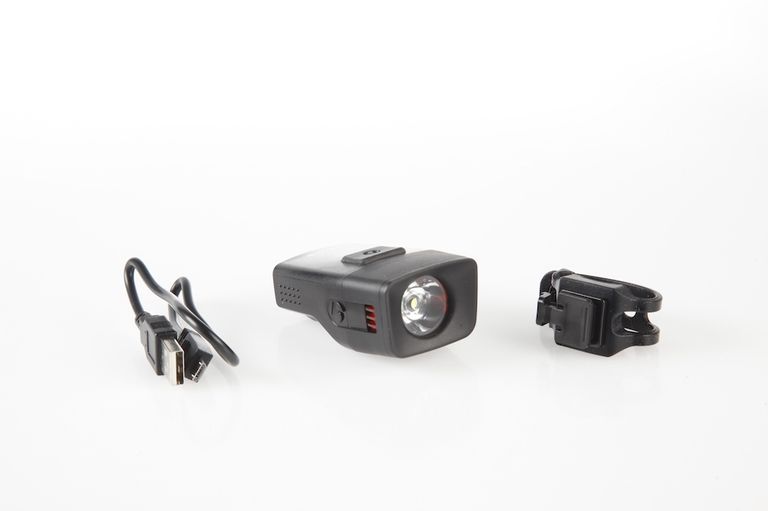 A great, minimal-fuss, compact light with five different modes. At 350 lumens it belongs more in the "to be seen" category, but it definitely feels safe on the road.
For
+

Compact design isn't overly heavy

+

Mounting system works well

+

Remembers last used mode system
Against
-

Burn times could be longer

-

Takes a long time to reach full charge

-
Among its hefty suite of bike lights, the Bontrager Ion 350 R front light enters the fray as a compact but bright option.
On paper its technical specifications are good, and as its name suggests it pumps out a bright 350 lumens, and uses them in an intelligent way, too.
It has five different lighting modes – full whack, 200 lumens, 100 lumens, night flash and day flash – cycled through by pressing the button on top.
Most of the time I used night flash, which fires out a series of flashes before a quick triple burst. It was plenty bright, lighting up signs and vehicles at least a couple of hundred metres ahead of me on the road.
At 350 lumens this option fall into the "to be seen" category rather than the "to see by", and on 350 lumens continuous burn I'd not be comfortable doing a full night ride in the pitch black.
>>> Winter bikes: buying guide to 2018 models
But on the stretches of cycle path on my commute without streetlights it was more than adequate in showing the way. Plus, the simple button press to switch modes made changing between them easy enough.
Even better, when you turn the light off it remembers the mode, so the next morning it picks up exactly where you left off.
The Bontrager 350 R is made of plastic, rather than aluminium, which differentiates it from the higher-tier Bontrager 800 R. It does, however, make it much lighter on the front of your bike or on top of your head.
Unlike lights that use fiddly rubber bands , the mounting system for the Bontrager 350 R is elasticated but attached to the mount, and clips on to the bottom of the light. As a system it's far less fiddly to mount, and doesn't end up with rubber bands all over the floor like some others, handy especially if you're wearing gloves.
>>> Eight types of cyclists you see on every winter ride
Watch: A buyer's guide to lights
So far battery life has proven to be fine, but it depends on the mode you're using.
At full burn, Bontrager reckon you'll get 1.5 hours' use, which is perhaps a bit lacking. At 200 lumens you'll get three hours, and six hours at 100 lumens. Night flash mode should last nine hours and Day Flash 10.
It won't go dark on you without warning, though, and the top button turns red when you have 5-25 per cent charge left and it flashes red if that slips below five per cent.
Charging the light was as easy as just plugging it into a laptop or wall USB charger, but it takes four hours to get full to the brim, which is a bit on the slow side.
Thank you for reading 5 articles this month* Join now for unlimited access
Enjoy your first month for just £1 / $1 / €1
*Read 5 free articles per month without a subscription
Join now for unlimited access
Try first month for just £1 / $1 / €1