Cateye Volt 800 front light review
With a high intensity, 800 lumens output it's a good option for riding on unlit roads.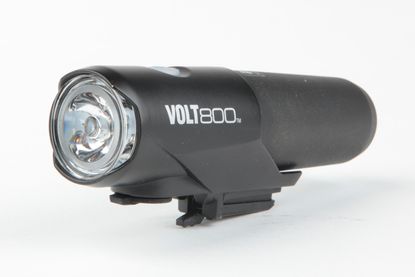 The Cateye Volt 800 is a good quality front light with a high level of output
Reasons to buy
+

Good build quality

+

Many different light options

+
Reasons to avoid
-

A bit heavy

-

Not as bright as some competitors

-

Pulse mode takes a heavy toll on the battery
The Cateye Volt 800 is a front light and at impresses with its robustness and solid feel the first time you pick it up. However what you'll also notice is the 134g weight which is a little heavy.
This is a light to see with rather to be seen with. It features high (800 lumen), medium (400 lumen) and low (200 lumen) output constant modes, giving claimed runtimes of 2, 3.5 and 8 hours respectively. In addition there's a flashing (claimed 80 hours of operating time) and an always-on with pulse mode (7 hours).
>>> Bike lights: a complete buyer's guide
Holding the top mounted switch down turns the Cateye Volt 800 on or off, and once it's on a single click cycles the light through its five modes. A double click puts it back to its highest output. This set-up works well and ensures that you are never plunged into darkness when adjusting light intensity.
The top level constant light output is good for riding on darker roads, and although there are brighter options out there, the Cateye Volt 800 has a good level of output for a light of its size and weight. The flashing mode has quite a high frequency, which certainly garners intention while the pulsed mode is quite intense and much more battery-intensive. Additionally, the cartridge battery can be removed and replaced and easily purchased online (£19 as reviewed).
>>> Best front lights under £100
The Cateye Volt 800's bracket fits very securely onto the handlebars without any play, so that the beam stays where it's pointed even over uneven ground and off road. The standard Cateye bar mount has a large knurled knob to tighten it, so that it can be screwed firmly to the handlebars. It is also designed to resist all weather conditions.
>> Rear bike lights: a complete buyer's guide
There's also an optional helmet mount, although at 134 grams the light may be a bit too heavy for this to be a comfortable option. A further downside of the Volt 800 is that the recommended recharging time is a lengthy 5-11 hours if you want the best performance.
For more details visit the Zyro website.
Thank you for reading 10 articles this month* Join now for unlimited access
Enjoy your first month for just £1 / $1 / €1
*Read 5 free articles per month without a subscription
Join now for unlimited access
Try first month for just £1 / $1 / €1
Nick Busca is a freelance cycling and triathlon journalist. He is also a certified triathlon coach and personal trainer.