Knog Blinder R70 rear light review
Knog uses one ultra-bright LED along with three more, to give excellent rear visibility from its brightest rear light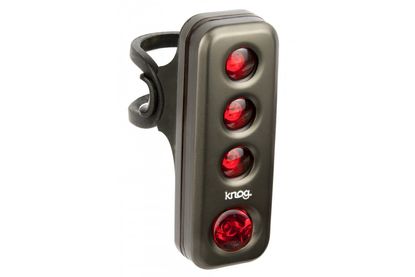 Due to its combination of LEDs including a single extra-bright one with a collimated lens, the Knog Blinder R70 gives really good rear visibility, despite not having the headline lumens of some other rear lights. The built-in, weatherproof USB plug is a nice feature, as is the clip on the rubber band to make attachment to the bike less fiddly.
Reasons to buy
+

Bright LEDs

+

Good side-on illumination

+

Convenient, unshielded USB plug

+
Reasons to avoid
-

Peak lumens are not as bright as some high intensity rear lights
Why you can trust Cycling Weekly Our expert reviewers spend hours testing and comparing products and services so you can choose the best for you. Find out more about how we test.
The Knog Blinder R70 pushes out 70 lumens of illumination on its peak setting. It's another long, thin unit which sits flush behind your seatpost. Knog packages the Blinder R70 with three different rubber straps, to fit both standard and aero seatposts.
The strap of the Blinder R70 comes with a plastic insert that helps to hook it to the unit more easily. It gives you something to hold onto when taking the light on and off the bike.
>>> Tips for cycling and training in the dark
At the far end of the strap's attachment is a built-in USB plug, which forms a sealed-in part of the unit. This makes charging very easy, as there is no separate bung to take off and potentially lose. But you may find that you need to use the supplied lead to plug the unit into a computer's USB port, as the light is quite large and potentially an awkward shape to plug in directly.
The Blinder R70 uses four LEDs to provide illumination. The bottom one is brighter, with a larger lens and is positioned so that it shines more along the direction of travel than the three top ones.
All the lenses are slightly recessed into the unit. Knog says that the largest is collimated, to limit dispersion of the high intensity beam and ensure that it's visible for a longer distance behind – it claims over 1km. But there's a red translucent strip around the side of the housing, which means that there's plenty of side illumination too.
>>> Best front and rear bike lights reviewed
There are five lighting modes: a full power constant with a claimed 3.5 hour run time and a less bright constant mode called peloton, which just illuminates two of the smaller LEDs and should give you around 13 hours run time.
The three flashing modes start with a bright fast flash with 4 hours burn time. There's a second mode with 5 hours run and an Eco Flash mode which should be good for 20 hours. There's also a storage mode which stops you turning the light on accidentally. But you need to plug it into a USB port to reactivate the light.
>>> Daytime running lights: should you be using them?
In use, the Knog Blinder R70 is reassuringly bright and its flash patterns noticeable even in bright sunlight. It's designed so that its brightness won't diminish over its run time either.
So although its headline lumen figure isn't as eye-catching as some other daytime running rear lights, the Knog Blinder R70 is a nice option for rearward visibility that's also long lasting in lower power output modes.
Thank you for reading 5 articles this month* Join now for unlimited access
Enjoy your first month for just £1 / $1 / €1
*Read 5 free articles per month without a subscription
Join now for unlimited access
Try first month for just £1 / $1 / €1