Lezyne Lite Drive 700 XL bike light review
The Lezyne Lite Drive 700 XL is the entry-level light to Lezyne's performance range, designed to see with as well as to be seen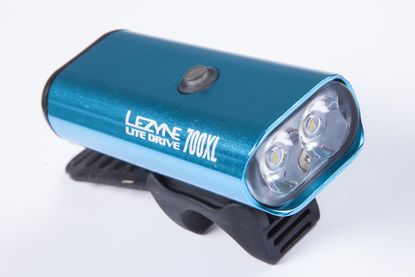 The Lezyne Lite Drive 700 XL is a reasonably compact high-output light with a good range of different lighting options. It's good enough for occasional use on unlit roads and works well as a commuter light too.
Reasons to buy
+

Lots of lighting modes

+

High output option

+

Reasonably compact

+
Reasons to avoid
-

May need to buy a helmet mount separately
New this year is the Lezyne Lite Drive 700 XL. As you'd expect, its peak output is 700 lumens, so it's pretty much enough to negotiate unlit roads. The Lezyne Lite Drive 700 XL would also serve as a flexible commuting light; select its lowest 15 lumen output and it will keep shining for a claimed 76 hours.
The light's body is an ovalised alloy cylinder, with two LEDs providing lighting. It's reasonably compact, so it doesn't take up too much handlebar room, and has a smooth body so it doesn't collect dirt. The lens is shielded top and bottom, so you shouldn't be able to dazzle yourself. But it has side cut-outs, so there's some side visibility too.
>>> 15 best front and rear bike lights reviewed
The light attaches to the bars with a chunky flexible rubber mount and a rubber strap. It stays in place well and isn't prone to bounce. The mount rotates through 360 degrees on the light's body so you can adjust the beam position or fix the light to the stem.
Although it's not designed as a helmet mount, and you can buy a separate helmet mount as an extra, the bar mount will fix the light effectively to many vented helmets.
The Lezyne Lite Drive 700 XL has 8 modes, five constant and three flashing. Go for the maximum 700 lumens and you get 1.5 hours' run time, while the 700 lumen daytime flash mode gives you over eight hours. The Lezyne Lite Drive 700 XL remembers the last mode that you used and will restart in this, which is handy.
Delve further into the programming options and you can set the light to toggle between 700 and 150 lumen modes only, which is useful if you just want a high beam/low beam option.
Battery level is indicated by the colour of the top-mounted on/off button. Once you do need to recharge it, the charge time for the Lezyne Lite Drive 700 XL is quite long at around six hours.
>>> Highlights of Lezyne's 2018 light range
The USB recharging plug on the Lezyne Lite Drive 700 XL is buried deep in the rear of the unit under a substantial plug. This keeps water out well, but you do need to be careful that your USB cable doesn't have too chunky a plug or it may not fit.
Lezyne makes the Lezyne Lite Drive 700 XL in five colour options, so you don't need to stick to the standard-issue black – as you can tell from the blue version we got to test.
Thank you for reading 5 articles this month* Join now for unlimited access
Enjoy your first month for just £1 / $1 / €1
*Read 5 free articles per month without a subscription
Join now for unlimited access
Try first month for just £1 / $1 / €1