NiteRider Sentinel 150 rear light review
This rear light features also lateral lasers that project a bike path onto the road behind you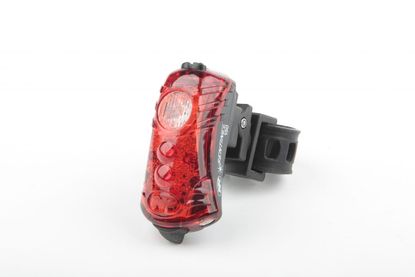 There is nothing you can say against the NiteRider Sentinel 150 if you're after a very bright rear light with lots of modes to choose from, but the seatpost mount is not very tight and it doesn't attach very firmly to the light.
For
+

Many lights options

+

Lateral and bottom lasers
Against
-

Seatpost mount not stable

-

Light doesn't attach tight to the seat post mount
With regards to brightness and visibility, the NiteRider Sentinel 150 is really impeccable and features a complete set of different light modes. Its maximum power reaches 150 lumens and when used without any other additional lighting, the fixed illumination mode lasts up to four hours.
>>> Rear lights: a buyer's light
There are two main buttons on the top of the NiteRider Sentinel 150. The left one (if you face the front of the light) controls the main, four different light modes, while the right one operates the extra lateral lasers that project two lines onto the road behind you to create a virtual bike path. As said, the brightest mode of the Sentinel can last up to four hours without the addition of the lasers, but it will last less if used along with the lasers.
The NiteRider Sentinel 150 features four different light modes, two different ones and two intermittent ones. Each of these light modes can all be used alone, or together with lateral lasers that will illuminate the sides of the road. I personally found the laser option really useful, as it gives an extra visibility that not all the lights on the market have got and that is actually very visible up to 5-10 meters.
Watch: buyer's guide to bike lights
The NiteRider Sentinel 150 is easy to charge with a USB cable and to get a full charge it requires just 4 hours, a time that is way shorter compared to other lights (mainly front ones) that require up to 11 hours to get fully recharged. Its weight is relatively low at just 116 grams including the seatpost mount (the claimed weight was actually precise) and it can also be used at daylight.
The main downside of otherwise a great rear light is the seatpost mount. While the strap and the rubber work pretty good and fit both on round and aero seatposts (like the Guee Aero-X rear light), the mount that attaches to the light is quite loose and move up and down with the weight of the light. At the same time, the light itself doesn't fix to the seatpost mount very well and in the long term I would be concerned of its grip.
However, the NiteRider Sentinel 150 is quite clever in that as well as the fact that you can attach it to its own mount, it will also clip onto rucksacks and bags.
For more details visit the NiteRider website (opens in new tab).
Thank you for reading 5 articles this month* Join now for unlimited access
Enjoy your first month for just £1 / $1 / €1
*Read 5 free articles per month without a subscription
Join now for unlimited access
Try first month for just £1 / $1 / €1