Review: rigid and roomy, Topeak's unassuming Tubular Barbag may just be one of the best
Have you ever had a piece of gear function so seamlessly that you forgot there might be an alternative? This was one for us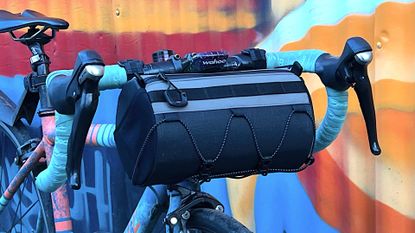 (Image credit: Samantha Nakata)
With its Tubular Barbag, Topeak builds on a classic duffle-style handlebar bag concept and gives extra attention to just the right details. Its medium-compact size (3.8L) allows you to carry all the ride essentials and then some, with exterior pockets for easy access to nutrition items. An interior divider helps keep smaller items secure and organized, while rigid construction ensures heavier loads can be carried with ease.
Reasons to buy
+

Well-sized main compartment with adjustable partition

+

Side pockets provide quick access to nutrition items

+

Rigid body prevents sag and tire rub with heavier loads

+
You can trust Cycling Weekly. Our team of experts put in hard miles testing cycling tech and will always share honest, unbiased advice to help you choose. Find out more about how we test.
Among all the handlebar bags on the market, finding one that is just the perfect size can be quite the challenge. Smaller bags do well at unobtrusively carrying the basics but lack in versatility, while larger bags can be too cumbersome for anything but the intended hefty cargo. For me, the 3.8L Topeak Tubular Barbag hits a bit of a sweet spot in capacity: it's spacious enough to lighten your jersey load on long days, but compact enough to truly be an everyday fixture. This sized bag will prove its worth whether you're just toting the essentials or stuffing it to the gills.
The Topeak Tubular Barbag in numbers
Size: 23 x 23 x ø14 cm / 9"L x 5.5" dia.
Capacity: 3.8L with a 3kg / ~6.5 lb max load
Weight: 258 g
Colors: Black, (olive) green
MSRP: US$89.95 / €69.95 / £67.99
Topeak Tubular Barbag: Construction
The bar bag has one main compartment to accommodate the bulk of the load capacity and is accessed by a full-length zipper along the top of the bag. Though a small detail, the zipper is fitted with an ergonomic pull making it easy to open and close while on the move or with gloved fingers.
The interior can be partitioned into two adjustable compartments with a divider that is set in place by wide velcro strips on the inner walls (or removed altogether). While Topeak omitted listing this feature from their product website, we think this simple upgrade is a major highlight and makes this quite the nifty bar bag. Once breaking out of the compact-sized bar bag realm, an often cited complaint is that loose items can rattle about while riding. The interior divider solves this problem by allowing you to secure smaller accessories if you haven't stuffed your bag to the brim. Having a space to easily tuck away a flat kit and wallet also meant we didn't have to empty half the bar bag just to find what we needed when we needed it.
An additional point for the Tubular Barbag is the rigid construction which prevents the bag sagging under load and enhances stability on the frame. Riders of more compact frames will appreciate that this stiff bar bag maximizes storage capacity at the front without the bag being subject to tire or brake rub (a point our 5' 2" reviewer, who rides more compact frames, was especially thrilled about).
Of course, durability is a top consideration when it comes to choosing a handlebar bag, which can be subject to many friction points along the bike and full exposure to the elements. Topeak lists a water-repellent and stain-resistant 600D polyester exterior. Our first impression is that this bar bag is certainly tough enough, it just doesn't stand out as a tip-top contender off the shelf in terms of exterior materials. We don't have any complaints from our test rides, but 1000-1200D fabrics and/or waterproofing are becoming more typical offerings amongst the competition, and we would have liked to see either more durable or more weatherproof materials (or both).
Topeak has maximized storage by adding elastic mesh pockets on either side of the bar bag. Each could easily fit a couple of bars, a few gels, or a sizable cookie from a mid-ride bakery stop. For our reviewer, not having to open the bar bag or reach back into a jersey pocket to fuel up while on the go was a welcomed bonus. For those making use of this feature, we do suggest trying to fully contain your ride treats in the side pockets; our review did ever so tragically lose a Payday bar or two in early testing, but making an effort to more consciously tuck away larger items avoided that issue on subsequent rides.
Topeak have fitted the front of the bag with flat-style daisy chain webbing and elastic cord, for more flexible mounting options. We tested these by riding with a camp cup attached to the daisy chain and a rain jacket cinched under the elastic cord. The rain jacket did stay secure, but our shorter reviewer wasn't so convinced the jacket would remain safely out of reach of the front tire on a bumpy ride. Ultimately, these added features didn't make or break this bag for us, but might be nice in a pinch.
Topeak Tubular Barbag: Fitting
Attaching the Tubular Barbag is, quite literally, a cinch. Two velcro anti-slip straps secure the bag to the handlebar frame. At ~9" in width, this still leaves ample space for the upper handlebar grip position, if you're riding drop bars, or to pluck a bar or gel from either side pocket. An elastic cord tightens around the headtube to keep the bag from shifting fore and aft while riding. There are no set attachment points along the bag; rather, Topeak have adorned the bar bag with flat-style daisy chain webbing so that both the handlebar straps and headtube cord can be mounted at customizable points. This accommodates a variety of handlebar setups, sizes of frame, and internal/external cabling. All in all setup was a breeze, and we did indeed feel that the bag remained stable while riding, even when substantially loaded.
Another design detail we appreciated is that the zipper position is spaced from the mounting points such that a bar-mounted GPS unit or headlight doesn't interfere with accessing the main compartment. While this seems like a minor point, it has been easily overlooked in other bag designs. Point, Topeak.
Topeak Tubular Barbag: The Ride
We tested the Tubular Barbag on a number of rides, ranging from urban errands to hours-long day rides on road and gravel. Here's just a sample of what we managed to carry…
- A Flat kit, Otto bike lock, burrito and fizzy water
- A flat kit, wallet, phone, 5" pie, medium weight gloves and a wind vest
- A flat kit, wallet, phone, rain jacket, gloves, 2 Skratch-style rice cakes, bag of Haribo gummies, Payday bar (— it was a big day)
- A six-pack — this took some finagling, but the cans fit in like a glove once sorted. We should mention that the lack of insulation won't keep the beers cold, but we knew some of you might be curious.
…and in most cases we even had room to spare. Well, not with the six pack, but we digress.
Simply put, it just worked! Have you ever had a piece of gear function so seamlessly that you forgot there might be an alternative? Such were our rides with the Tubular Barbag. The anti-slip straps and elastic cord kept the bar bag firmly in place without any issues with brake or tire rub. We loved having several hours worth of bars and gels in easy reach thanks to the side pockets, and it was just generally nice to not have to go sorting through our bag or jersey pockets for a quick re-fuel.
Damp-but not-rainy conditions plagued most of the testing, and the bar bag has held up well so far.
While we didn't take this bag on any overnight adventures, there's no reason we wouldn't consider the Tubular Barbag a worthy companion while doing some lightweight bikepacking. For riders who dislike the ride-feel of large loads on the cockpit, this bag is a great choice for adding carrying capacity without interfering with bike handling.
Topeak Tubular Barbag: Value and conclusion
MSRP for this bag is $89.95 / £67.99. The Topeak Tubular Barbag is similar in size to the Swift Industries Bandito Bicycle Bag, the Ortlieb Accessory Pack, and the Brooks Scape Handlebar Pouch, all of which fall in roughly the same price range. While the price tag might feel a bit on the expensive end for such a seemingly simple accessory, the MSRP was generally on-point with the competition.
For the price, we thought waterproofing might help this bag stand out amongst the other offerings, but we recognize that might not be a globally important feature to all riders. The construction has certainly proved to be durable enough, and the bag has performed admirably in fair weather to damp conditions on a variety of rides and terrains. All in all, if this bag fits your ideal size, we wouldn't hesitate to recommend it for consideration.
Thank you for reading 20 articles this month* Join now for unlimited access
Enjoy your first month for just £1 / $1 / €1
*Read 5 free articles per month without a subscription
Join now for unlimited access
Try first month for just £1 / $1 / €1