Canyon Endurace AL 7.0 review
Sitting pretty down at the lower echelons of the Canyon range is the Canyon Endurace AL 7.0 and with a £1000 price tag it's a good entry level option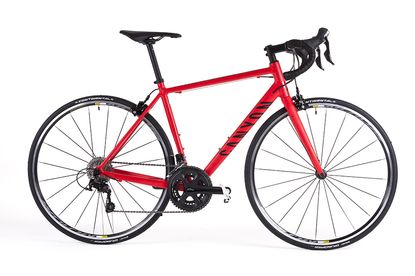 (Image credit: Cycling Studio)
The Canyon Endurace AL 7.0 is an undoubtably good bike and comes with good components and well thought out geometry, that helps the bike feel sturdy in the corners without a dead feeling. However, it does feel laboured at speed and even more so once the hills come. This is despite coming in at around 200 to 300g lighter than its main rivals like the Specialized Allez and Boardman Team Carbon.
Reasons to buy
+

Great handling

+

Feels nippy and lighter at low speed than the weight would suggest
Reasons to avoid
-

Feels slow up climbs

-

Feels slow above 20mph

-

Harsh ride
You can trust Cycling Weekly. Our team of experts put in hard miles testing cycling tech and will always share honest, unbiased advice to help you choose. Find out more about how we test.
The German brand Canyon seem to be ever growing and the expanse of its ranges just doesn't seem to stop - its latest Grail bike forms part of its creative side and our test bike here the Canyon Endurace AL 7.0 forms part of the functional side I'd say.
That isn't to say that this isn't a good bike; Canyon still seems to have achieved what it does with all of its bikes and that is to have a well riding, well thought out bike with a decent price tag.
The Canyon Endurace AL 7.0 sits one up from the bottom of the Endurace AL range and hits bang on £1000. It resides, as the name suggests, in the endurance category and should be suited to more relaxed and comfortable riding compared to the lightweight Ultimate range or aero orientated Aeroad range.
It is also worth bearing in mind that the Canyon Endurace AL 7.0 (a note to Canyon, I aways seem to type Endurance when writing the name of the bike!) comes in a disc brake version, which my colleague tech tester Rupert Radley loved.
AL stands for aluminium and represents the frame material; which is set up geometry wise by something called Sports Geometry. This basically means the geo is a more comfort orientated set up and so expect a shorter reach and higher stack compared to the likes of Specialized and its Allez E5 Elite - a flagship model at the £1000 price point.
With that rather short stem too (90mm) you'll be positioned in a very comfortable way for sure, no low and long riding styles here. The Canyon Endurace AL 7.0 is around 10mm shorter and 5mm higher than the equivalent Specialized.
This topped with a 20mm smaller handlebar width (400mm) the Endurace AL feels pretty nippy handling wise, especially at slower speeds. This I feel is a good shout from the German brand as in all honesty with these types of bikes at the weight they are, you'll likely be spending much of the ride (as I did) around 14/15/16mph tops.
So on my typical lunch time rides around Hampshire, I found that I enjoyed the Endurace's quick acceleration out of the bends and its ability to feel light on its feet when it came to changing position on the road.
You'll get 10mm longer wheel base too and although not a large increase over the Spesh, I did feel that this helped the Canyon track really well through the bends at speed. It's a hugely reassuring feeling and something the Canyon does well.
My bike here is a size small and weighs in at 8.34kg, that is actually lighter than rivals around this price point like the Boardman Team Carbon and Specialized Allez E5 Elite (for the same size), which are around 200g and 300g heavier as a complete builds.
The issue I have here is that the Canyon Endurace AL 7.0 struggles to maintain speed and I felt it was an effort to keep it above 20mph and that was truly evident with the short sharp hills on my lunch time loop from work.
As I said, the bike launches from slow speeds nicely and feels lively low down, again repeating that I feel this is a good trait as you'll spend much of your time around this speed anyway... but pressing on is something to be enjoyed and the bike almost wants to slow you back down.
I know there are a lot of factors that can speed up or slow down your ride, but comparing my lunch time loop with other similarly priced bikes, I seemed to always be on the slower end of the scale and recorded one of my slowest times to-date. I got annoyed at always working hard to keep my average up.
Although, once you take that out of your ride and don't fight it too much, you will enjoy the ride of the Canyon Endurace AL 7.0. The position is very comfortable and at no point did my shoulder, back or arse hurt.
The ride is typically harsh though and reiterates again the limitation aluminium has here. The front end in particular seemed to crash into the broken bits of road and at one stage I was mesmerised at how much my hands where rattling around with the handlebars. Aluminium drop outs on carbon the fork wont help here.
Specification wise Canyon does very well here and the Shimano 105 groupset matches the frame and price very well. Mavic Aksium wheels are a classic choice for the price too and they're fitted with Continental Grand Prix SL 25mm tyres that sit well on the internal 17mm rims.
I much prefer the Continental choice of tyres here over the typical Mavic option you see on Mavic wheels these days. Although, oddly, Canyon supplied this bike with lightweight tubes! A nice idea on its higher end options but this meant I punctured, twice, once a bit of damp and grit was present on the road.
This does save some weight and add in some performance but do believe this isn't needed on an entry level machine.
Where the Canyon does win out to others is here, in the spec. For example by comparison the Boardman Team Carbon comes with Treko brakes, Shimano Tiagra and Mavic CXP wheels.
Good job overall by Canyon, though I feel that you may have a better all-round bike elsewhere.
Thank you for reading 20 articles this month* Join now for unlimited access
Enjoy your first month for just £1 / $1 / €1
*Read 5 free articles per month without a subscription
Join now for unlimited access
Try first month for just £1 / $1 / €1