A 'big ride' for a 'big man': Tim Stevens memorial sportives open for entry
Former Great Britain rider Tim Stevens will have distances on offer in his memorial sportive – Big Tim's Big Day Out – held on Sunday September 2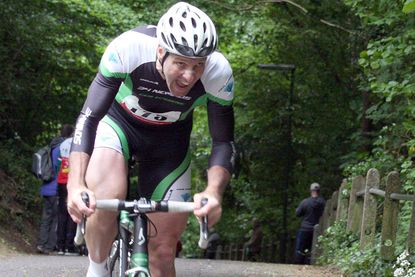 (Image credit: Nigel Wynn)
The Ashdown Forest in Sussex plays host to Big Tim's Big Day Out on Sunday, September 2, offering three routes designed by former pro rider Sean Yates.
The event is in memorial to former Great Britain rider and time trial ace Tim Stevens, who was a well-known and well-loved figure in the south-east cycling scene.
Stevens passed away in August 2016 having been diagnosed with bowel cancer. The ride will raise funds for the Royal Marsden Cancer Hospital, which treated both him and his wife.
There are three routes on offer, all starting and finishing at the Ardingly South of England Showground. The longest is the Grande, clocking up 90 kilometres. The Cortado serves up a 50-kilometres route, while the Espresso is a family-friendly 19 kilometres. The rides are priced £32, £28 and £16.
>>> Obituary: Tim Stevens (1960-2016)
More details of the rides, including route maps and profiles, can be found on the event's official website.
Everyone taking part in the ride can enjoy free beer, free food and live music at the Ardingly Showground.
Stevens was 55 when he passed away in 2016. He started making an impression in cycle events at a young age, becoming a junior time trial competition winner.
He chopped nearly half a minute off the existing junior 25-mile competition record in 1978, clocking 53-15.
Seamlessly moving into the senior ranks, Stevens continued to take numerous victories both in time trials and on the road and was well known to love grim, wet conditions. His muscular physique often caught out his racing rivals too, who mistaken believed that Stevens could not climb – how wrong they were.
He was then picked for the 1985 World Championships, riding in the team time trial for GB alongside Pete Longbottom, Dave Mann and Dave Williams.
In among his work and family life, Stevens continued to compete throughout the 1990s and 2000s. In 2013, he set himself the challenge of beating the pro riders' Strava times on Box Hill, aiming for go under nine minutes to raise funds for the Royal Marsden who had looked after his wife Jenni as she was treated for breast cancer.
Shortly before his death, film maker Duncan Murdoch created a film of Stevens as he prepared for the 2016 East Surrey Hardriders time trial. He competed, but it was to be his last race.
Soon after Jenni was given the all-clear in early 2016, Stevens was diagnosed with bowel cancer.
Thank you for reading 5 articles this month* Join now for unlimited access
Enjoy your first month for just £1 / $1 / €1
*Read 5 free articles per month without a subscription
Join now for unlimited access
Try first month for just £1 / $1 / €1