Phil Gaimon's worst retirement ever part three: Only getting better or worse? (video)
The former Cannondale pro releases another episode from his KOM hunting retirement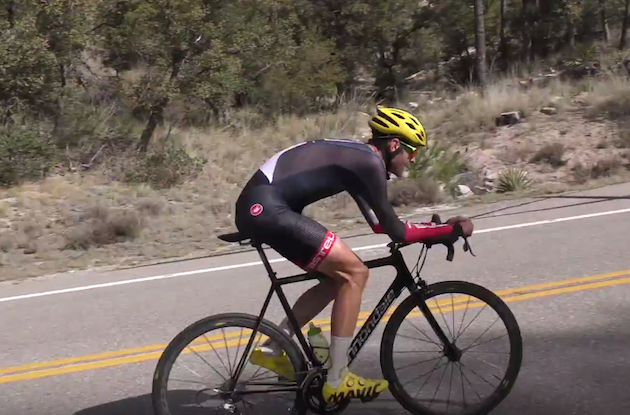 For round three of former pro rider Phil Gaimon's road trip tackling the West Coast's biggest climbs, he visits Tucson, Arizona to take on Mount Lemmon.
>>> Phil Gaimon's KOM-hunting YouTube makes for fascinating viewing
The road to the top of Mt. Lemmon is staggering at 20.3mi with a mellow average gradient of 5 per cent and gaining 5,327 feet in elevation.
How did Gaimon choose Mt. Lemmon for attempt number three? Gaimon doesn't exactly boast in confidence on his chances of breaking his losing streak.
"People say Mt. Lemmon, so I go to Mt. Lemmon," he continues, "Even though the record is Tom Danielson, who did nothing but drop me when he and I raced, we raced together a ton...so this is kind of an impossibility thing. I've got all the dorky gear, I'm convincing myself I'm going to go for it," he said before the hour-plus effort.
"I could have had it," he says when referring to his first attempt on Palomar in San Diego, California.
"I talked myself out of it. I realized if I'd believed, if I'd gone for it, if I'd known that I could do it, I would have done it. But because I didn't think so, I held back," Giamon reminisces about his climb in San Diego.
With the belief he could take down the Mt. Lemmon KOM from Tom Danielson, who's currently serving a four year suspension for a positive synthetic testosterone test, he actually connects with his former teammate for some last minute pacing tips.
"The bottom is where you make the time because that's where all the oxygen is," Danielson says over the phone to Gaimon.
"The key to going fast up these climbs isn't watts, it's how you use your effort. Everything you can to build and maintain momentum."
"I got it, I got it barely," Gaimon said as he rolled over the top of Mt. Lemmon, coughing in obvious discomfort.
With only five minutes left in the effort, he was 10 seconds off Danielson's pace from November 11, 2015, two months after his positive test was released, but he finished strong and put 14 seconds into Danielson's time from that day.
"I'm going to be dead honest, I was re-thinking this entire mission at that point. Those last five minutes, I was definitely not enjoying myself. And wondering what I was doing with my life, and my weekend, but we got it. It was nice to cross the line and know we had it."
Gaimon said at the start of his seven hour drive home to Los Angeles, "If I went zero for ten this year, that'd be pretty embarrassing. There's nothing more empowering than attempting something that you don't know if you can do and then getting it."
Thank you for reading 5 articles this month* Join now for unlimited access
Enjoy your first month for just £1 / $1 / €1
*Read 5 free articles per month without a subscription
Join now for unlimited access
Try first month for just £1 / $1 / €1