Watch: How to fit lower gears on your bike
Our mechanic Al Vines shows you how to fit lower gears on your bike to make climbing easier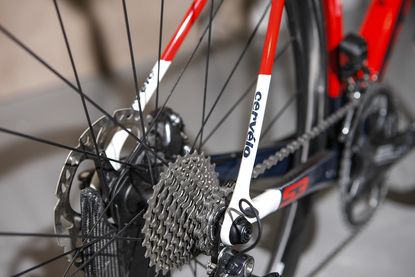 (Image credit: Cycling Studio)
Get The Leadout Newsletter
The latest race content, interviews, features, reviews and expert buying guides, direct to your inbox!
Thank you for signing up to The Pick. You will receive a verification email shortly.
There was a problem. Please refresh the page and try again.
When faced with big riding in the hills, there are a couple of ways to make life easier.
You could change the chainrings, but with with a lot of bikes being specced with compact chainsets there isn't very much wiggle room.
Instead, fitting a new cassette with lower ratios is the most effective way to go. It's a bit of a job, but it isn't too difficult, and actually just pairs together a lot of the things we've gone over in the past.
>>> How to climb Mount Teide, from sea level to 2,200m (video)
Things you'll need:
GS rear derailleur (longer cage)
New Cassette with higher gears
New chain
HG Lockring tool and Chain whip
Masterlink pliers
Chain tool
Cable cutters
Phillips No.2 screw driver
Allen keys
Grease
Paper towel or rags.
The first job is to shift down to the smallest sprocket on the back and remove the crimp for the rear derailleur cable, then undo the clamp. Once done, remove the rear wheel.
If you're only going up to a 28t cassette then you'll be fine with the rear derailleur that you have specced. However, if you're adding a 32t body to the rear then you'll need to swap in out of a longer cage derailleur – GS in Shimano's case, or the equivalent for other brands.
>>> Bike gears: shifting explained for beginners
Now it's time to remove the chain. If it has a quick link you'll need to use your masterlink pliers to get it off. Alternatively, just use a chain tool to break it. Once you've got rid of that, use an allen key to take the rear derailleur off.
The next step is to remove the cassette. For this, you'll need to place the chain whip on the cassette (so that is stops it rotating) and then use the lockring tool to undo the lockring. The cassette should then slide off the free hub body.
>>> At long last there's finally a Shimano quick link for your chain
If in the rare occasion it is stronger than the freehub body metal it might bite into it but a couple of nocks should bring it free.
Fitting the new, larger cassette is simply a case of lining up the splines and slotting it onto the freehub body. Tighten with the lockring tool to 14nm.
After re-fitting the wheel it's time to measure the new chain's length. Fit the new chain over the largest sprocket and the largest chainring. Check the length (so it is as tight as it can be) and then add two links to it. Using your chain tool remove the links that you don't need.
If your old cable is a bit gammy, here's a video of how to fit a new one.
Now it is time to fit your new derailleur if you're going to use one. Then fit the new chain, right way round and in the correct direction. You can join it using your preferred method, whether that's joining pin of quick link.
It's now time to setup you're rear derailleur so you can get the gear shifting dialled in correctly.
Once complete, your bike should now be setup ready to head for the hills!
Thank you for reading 20 articles this month* Join now for unlimited access
Enjoy your first month for just £1 / $1 / €1
*Read 5 free articles per month without a subscription
Join now for unlimited access
Try first month for just £1 / $1 / €1
Get The Leadout Newsletter
The latest race content, interviews, features, reviews and expert buying guides, direct to your inbox!