Is the 'standard' 53/39 tooth chainset dead?
How many bikes do you see with a 53/39 chainset these days?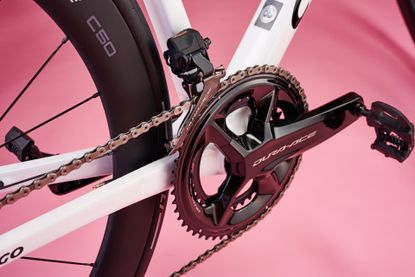 (Image credit: Philip Sowels/Cycling Weekly)
Time was any bike with racing pretensions was kitted out with a 53/39 tooth chainset; there's a reason it was called a "standard". That was paired up to a 9-speed 11-25 cassette to give you the ideal set-up for all your riding - assuming you were super-fit.
If you wanted lower gears you fitted a triple chainset. That gave you the lower range you craved, but at the expense of extra weight, mechanical complexity and a reputation for tricky set-up.
All that changed with the emergence of the "compact" 50/34 tooth chainset in the mid-2000s. At around the same time cassettes on top end bikes sprouted a tenth sprocket and better cassette designs like Shimano Hyperglide and SRAM and Campagnolo's equivalents, along with better derailleurs which could shift efficiently over wider ranges, made 11-28 tooth cassettes a reality, making hills something to be embraced rather than avoided and opening up road cycling to a wider audience.
Not the answer for everyone
The only problem with a compact chainset was that, with an 11-tooth smallest sprocket, faster riders and the rest of us on downhills with a tailwind were often spinning out.
The mid-compact 52/36t chainset helped remedy that, giving a higher top gear but still providing a low enough bottom gear range to allow most riders to tackle the hills they encountered. It quickly supplanted the standard 53/39t chainset on more performance oriented road bikes, to the extent that it's rare to see the latter specced on a new bike today. The 53/39t chainset is left for the racers and even there it's a dying configuration, as we'll see.
The trend to ever-wider gearing has only accelerated with the emergence of larger and larger cassette ranges, while the concurrent increase in the number of gears up to the current 12 speeds of the best road bike groupsets has meant that jumps between gear ratios have remained narrow.
So the latest 12-speed Shimano Dura-Ace and Ultegra groupsets give you either 11-30 tooth or 11-34 tooth cassettes with single tooth jumps over seven gears for the former and five gears for the latter. Two generations ago, Dura-Ace R9000 could only handle an 11-28 tooth cassette.
The provision of even wider gear ranges is even more accentuated with the SRAM eTap AXS 12-speed groupsets, which pair smaller chainrings with cassettes that start with 10 tooth sprockets. That gives a similar highest gear ratio to a conventional chainset with an 11-tooth sprocket. But at the other end, SRAM's 12-speed cassettes, which head up to 33 teeth for Red and 36 teeth for Force and Rival give you even lower gear ratios than Shimano.
Even Campagnolo, whose cassettes once stopped at 29 teeth, now goes out to 34 teeth.
Higher ratios too
For the last few years, road bike gearing has got progressively easier. But strangely at the same time there's also a trend to higher ratios.
With the release of 12-speed Dura-Ace R9200, alongside its 50/34t compact and 52/36t mid-compact chainsets, Shimano has released a 54/40 tooth chainset rather than the 53/39t standard chainset in the older Dura-Ace R9100.
Very much pitched at the racer, that's because Shimano says that speeds have actually increased in road races and there's a need for larger high end gears on fast courses. It also means that riders can potentially pedal one sprocket further up the cassette than with a 53/39t chainset, which leads to a straighter chainline, less articulation between chain links as they pass over the sprocket and hence less friction and improved drivetrain efficiency.
At the same time, the increased range spread of the cassette means that there's still the low gearing needed for when the race hits a climb.
Again SRAM goes even better with its 50/37t Red eTap AXS chainset paired with a 10 tooth sprocket giving you an even higher top ratio. In fact it's only Campagnolo that has a standard 53/39 tooth chainset still in its 12-speed range.
If you want a 53/39t Shimano chainset you'll have to drop to 11 speeds and opt for 105, while SRAM still offers an 11-speed Force standard 53/39t chainset. Those look like legacy configurations though and we wouldn't be surprised to see them phased out over the next few years.
Our take
There are so many groupset options out there now that there's really no reason for anyone to be riding a set of gears that doesn't give them the range they need. For the majority of road riders that means something smaller than a 53/39 tooth chainset paired with a cassette that gives them a wide enough range to meet both their fast riding and hill climbing needs.
For the racers, the option provided by newer groupsets of an even higher top gear range and fewer lost watts along with enough lower ratios to ride the climbs means that the days of the 53/39 tooth chainset must surely be numbered.
Thank you for reading 10 articles this month* Join now for unlimited access
Enjoy your first month for just £1 / $1 / €1
*Read 5 free articles per month without a subscription
Join now for unlimited access
Try first month for just £1 / $1 / €1
Paul started writing for Cycling Weekly in 2015, covering cycling tech, new bikes and product testing. Since then, he's reviewed hundreds of bikes and thousands of other pieces of cycling equipment for the magazine and the Cycling Weekly website.
He's been cycling for a lot longer than that though and his travels by bike have taken him all around Europe and to California. He's been riding gravel since before gravel bikes existed too, riding a cyclocross bike through the Chilterns and along the South Downs.