Elia Viviani's Pinarello MAAT 60.1 (video)
Here's an insight in on the Italian's Olympic gold-medal winning bike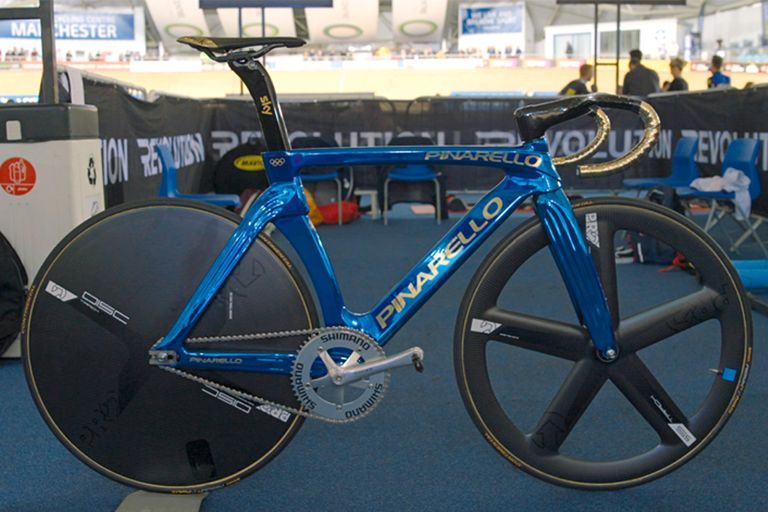 It's fair to say that Elia Viviani's win at the Olympics in the omnium this year captured the hearts of many.
Despite crashing in the final points race, he won convincingly. He did it aboard a Pinarello MAAT 60.1, which is not only ridden by the Italian national team but also by all Team Sky track riders like Peter Kennaugh and Team Wiggins riders such as Sir Bradley Wiggins, who took a similar bike to victory at this year's Ghent Six Day.
According to Pinarello, the MAAT 60.1 was developed in conjunction with 'top Team GB and Italian athletes' during the time it provided bikes for Great Britain ahead of the Olympics, before Cervélo took over sponsorship last year.
The desire was to create the ultimate track machine and the 60.1 utilises ultra-oversized sections as well as trapezoidal tube shapes to give the frame strength and rigidity.
Coupled with a wide fork and steerer (1 1/4in - 1 3/4in), this wide stance makes for a rigid, responsive and stable bike, while carbon reinforcement and the anti-flex vertical columns add to its performance.
Viviani's latest custom paintjob (there have been a number since the Olympics) is in a jaw-dropping pearlescent blue with gold details to pay homage to his Olympic gold medal.
Not 100 per cent sure about the bar tape though!
What they say: Luciano Fusar Poli Commercial director, Pinarello
"We actually developed the Pinarello MAAT 60.1 for two years with the Italian national team riders and our technicians helped in testing too. The two most important aspects for a track bike are stiffness and easy handling. For us this is the best characteristic of this bike and why our riders like it.
"However, we are already working on the new generation of bikes that will be launched in the near future, and again we will use the Olympic cycle to develop and will have something new in time for the next Olympic Games in Tokyo 2020."