The six most exciting cycling computer releases of 2018
Six of the most exciting cycling computers this year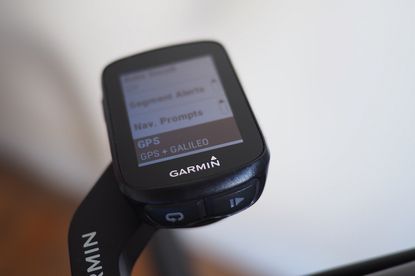 This year has seen some major new cycling computer releases, here's the low down on the latest performance pushing technology.
Sigma ROX 12.0 sport – €399/$475
The ROX 12.0 Sport is the new cycling computer from Sigma, as seen aboard Tom Dumoulin's bike at the Tour de France.
With sophisticated navigation skills, including 'draw a route', where you literally draw a line with your finger, it's everything you'd expect from a top of the range computer. It also has Strava compatibility or you can manually upload a route via wifi or USB.
You can create your own personal structured workouts and it's compatible with power meters and Strava Live segments. You can even create specific training profiles that are tailored to each type of bike, and the type of training you do on it.
The Rox 12.0 Sport has both a touch screen, fortunately with rain drop detection, and six additional buttons and is even customisable with additional colour cases.
Garmin 130 and 520 Plus – £169.99 and £259.99
The Edge 130 and the Edge 520 Plus are the latest additions to Garmin's expansive cycling computer range.
While the Garmin Edge 1030 head unit released last year was one of the largest in Garmin's stable, the 130 has gone in the other direction, with the new head unit having a 1.8" display.
It's tiny, but that hasn't stopped it being a bonafide performance pusher in its own right. It's compatible with power meters, cadence and speed sensors, can show you Strava Live segments and can even navigate for you despite it's small screen. Despite its size, the battery life of the 130 is a claimed 15 hours.
The 520 Plus is a minor update to the already very good Garmin Edge 520 and now features the more advanced navigation features such as on the device course routing and is also now able to calculate your VO2 Max.
Stages L50, M50, L10 – £275, £210 and £135
These are the new Stages L50, M50 and L10 head units, with L standing for large and M standing for medium sized 50. The big news for these two units is the addition of coloured mapping and it supports GPX, TCX and FIT files.
Being training devices you can also use them to follow structured workouts on the unit itself, and Stages has added colour coding to workouts.
Battery life is as equally impressive, with Stages claiming the larger unit has 18 hours and the smaller 15 hours, even with the backlight on. You can even mount the computers both vertical and horizontal.
The new L10 is smaller, but no less powerful than its siblings.
Stages have updated it so that it's now possible to upload a route from the Stages Link app and have a bread crumb trail to follow, although it doesn't have a base map. It's also Bluetooth Smart compatible and you can download structured workouts to train with.
Thank you for reading 20 articles this month* Join now for unlimited access
Enjoy your first month for just £1 / $1 / €1
*Read 5 free articles per month without a subscription
Join now for unlimited access
Try first month for just £1 / $1 / €1