Geraint Thomas's Pinarello Dogma F10 X-Light (video)
A special bike for a special stage victory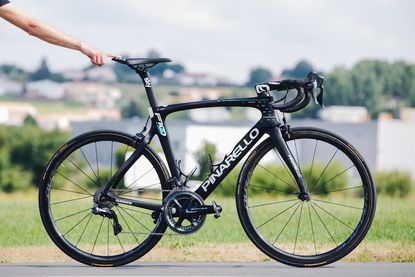 Team Sky have, in recent years, ridden the Pinarello Dogma F10. However, for this Tour de France the new race leader Geraint Thomas has opted to ride the Italian brand's lightweight version of the frame.
Aptly named the X-Light, the bike uses a slightly different carbon fibre material and as a result the frameset weighs around a kilogram in weight. Other than that, the X-Light's frame is unchanged from the Dogma F10. It uses the same asymmetric bottom bracket, and the same concave down tube that neatly integrates the bottle cages.
Interestingly, Thomas has opted for an integrated 40mm Talon handlebar and 130mm stem for a cockpit. It could be he likes the additional stiffness or maybe it'll be aerodynamically advantageous. The paint job on the frame remains the same from last year, with each line representing a Team Sky victory.
Geraint perches on a Fizik Arione saddle and has his optimum position marked in pen on the saddle. Watching him ride away from Tom Dumoulin on stage 11 you could see him riding right on the nose of the saddle for optimum power transfer.
His saddle height is around 78.5cm and he has 175mm cranks which is quite long, longer than most of the pro bikes we saw at the Tour.
His Shimano Dura-Ace groupset is a 53/39 crankset and out the back is an 11-30t cassette. He also uses a Stages power meter and out front display. The same extends to his carbon tubular Dura-Ace wheels which are shod with Continental Competition tyres.
Thank you for reading 20 articles this month* Join now for unlimited access
Enjoy your first month for just £1 / $1 / €1
*Read 5 free articles per month without a subscription
Join now for unlimited access
Try first month for just £1 / $1 / €1