Pro bike: Chris Froome's Pinarello Bolide time trial bike
We take a closer look at Chris Froome's Pinarello Bolide time trial bike, and the particularities of its setup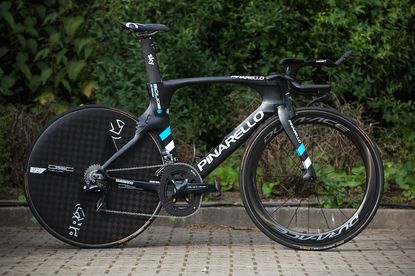 Here we have the Pinarello Bolide time trial bike of four time Tour de France champion Chris Froome.
Despite the slight lack of time trials in this year's Tour, the penultimate stage test against the clock in Marseille will be key to Froome's defence of his yellow jersey.
His setup is largely the same as that of his Pinarello F10, including the O-Symmetric chainrings that the Team Sky rider swears by. These sit atop a lengthy pair of 175mm cranks.
Just like on Tony Martin's Canyon Speedmax, Froome is also running a chain catcher, as a dropped chain would spell disaster for his yellow jersey challenge.
Interestingly, his saddle sits at 79.7mm, 1mm lower on his TT bike than his race bike and like a lot of TT racers he uses grip tape on his saddle to help keep him in his optimum position.
Unlike Martin, Froome is using a double on his TT bike, but he still uses the same sized 58t chainring. Although he does pair this with a smaller 48t inner ring.
On the rear he's using an 11x28t cassette and the big 58t chainring allows him to sit in the middle of his gears without wasting any watts.
The Pinarello Bolide looks like a spaceship, and Chris Froome's as some pretty space age technology. For example, he has a 3D printed handle bar made from titanium specifically for him.
His shifters are on the end of his storks and he even has a custom Garmin mount to help him reduce drag as much as possible.
Thank you for reading 20 articles this month* Join now for unlimited access
Enjoy your first month for just £1 / $1 / €1
*Read 5 free articles per month without a subscription
Join now for unlimited access
Try first month for just £1 / $1 / €1