Pro bike: Dan Martin's Specialized S-Works Tarmac (video)
We take a closer look at Dan Martin's Specialized S-Works Tarmac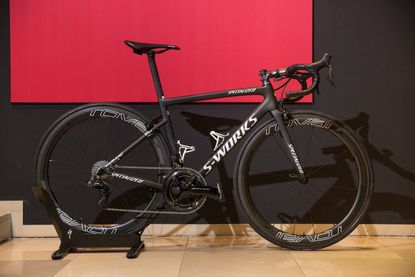 Here we have the brand new 2018 Specialized S-Works Tarmac, completely overhauled, and being raced upon by Dan Martin for his Quick-Step Floors team.
The paint scheme is properly dressed down, in an understated black with white writing. The frame itself is a 56cm, and tops the scales at 733g, which is a low enough weight for the GC contenders such as Dan Martin.
Of course, Specialized claims the bike to be the fastest GC bike available, 45 seconds faster over 40km when compared directly to the Trek Émonda and the Cannondale SuperSix Evo Hi-Mod 2.
This speed bonus, Specialized says, is down to its small tube profiles and flat rear chainstays, as well as its re-worked forks.
Dan Martin runs a fairly standard professional setup, with a 130mm stem. Although, unlike most pros, he isn't running it slammed, instead shoving a 5mm spacer under the stem. Its paired to narrow, 40cm bars.
His wheels are Roval's CLX Rapide Wheels, and he's turning a full Shimano Dura-Ace R9150 Di2 groupset, equipped with a 4iiii's dual sided power meter and 172.5 cranks. His chainrings are a fairly standard 53/39 paired to an 11x28 cassette.
Dan Martin has had a rough time of it so far this Tour, falling heavily on stage nine, when Richie Porte crashed into him. He has been able to soldier on, albeit in a lot of pain.
Thank you for reading 10 articles this month* Join now for unlimited access
Enjoy your first month for just £1 / $1 / €1
*Read 5 free articles per month without a subscription
Join now for unlimited access
Try first month for just £1 / $1 / €1