10 things you should know when you first start cycling (video)
Ensure you don't have any unfortunate mishaps with nutrition, fashion or training the first time you hit the road.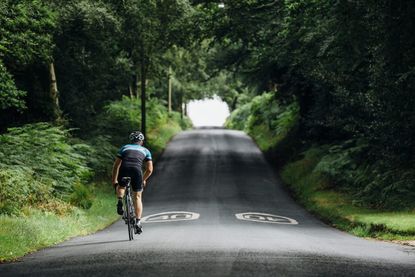 (Image credit: Chris Catchpole)
When you first start cycling, you may well have been a bit shy to ask a few important questions. These may well have been answered by friendly fellow cyclists or perhaps led to you finding out the hard way – through pain, embarrassment, bonking or a combination of all three!
>>> Six things no-one tells you when you start cycling
If you are still a little unsure, or just getting into the sport yourself, here are a few useful tips to help you on your way.
Do I need to wear lycra?
There are a few points on this list that will draw some debate, but if you are looking at riding a bike for longer than a leisurely roll down to the shops - then lycra is king.
You may assume that cyclists just enjoy the feeling of tight fitting clothing, but the padded chamois and aerodynamic lycra will ensure you can excel when it comes to comfort and performance on the bike.
Do I have to shave my legs?
To shave or not to shave, that is the question. It is a conundrum many cyclists still ponder over, with very vocal camps on both sides.
It is considered the 'pro' look, with some suggesting it is crucial for aerodynamic gains as well as making road rashes and cuts easier to clean. Some people may not want to admit it, but they actually like the feeling of a clean shaved leg as well…
But if you are just starting out in the sport, we will leave this decision up to you.
Is it ok to feel some numbness?
To an extent, obviously you don't want to feel any pain whatsoever when riding a bike if possible. But there may be a few teething problems when you first hit the road or test out a new bike.
If these problems persist you should seek a bike fit to adjust your saddle and bike set up accordingly. Seeking medical attention should be your next port of call if the aches and pains continue to linger.
Should I wear pants underneath my shorts?
This is one way to cause issues 'downstairs', as the padded part of your cycling shorts is designed to be in direct contact with the skin.
Therefore anything getting in the way, such as underwear, will only cause issues and increase the chances of saddle sores.
Do I need to apply chamois cream?
It may not be necessary for some people, but it can really make cycling a lot more comfortable - just by applying a thin layer onto the chamois. As the saying goes 'prevention is always better than a cure'.
Why am I always hungry?
It is inevitable that the increased time you spend on the bike will increase your energy expenditure - meaning a hunger crave won't be far away!
It's important to accept this is going to happen, but don't over compensate too much, and rack up eating more calories than you are burning on the bike.
Do I have to eat energy bars and gels?
Once again this is up to your own personal preference, energy bars, gels and other cycling nutrition products are great for quick energy and ensuring your cycling performance doesn't suffer.
But this doesn't mean that you have to avoid natural food altogether, as they can still fuel a leisurely ride sufficiently.
Why are there so many hills?
Along with being on constant weather watch, when you start to cycle you will realise the world isn't as flat as you first thought.
Every little drag or rise in the road is a lot more noticeable when you don't have a motor powering you up a hill. But you more than make up for it when you hit the descent on the other side.
Is it wrong to admire my physical gains?
When you work hard and start to see physical results why not enjoy them for all there worth. So feel free to have a little flex!
Should I be open with the cycling community?
You'll notice that the cycling community are pretty friendly and open bunch, therefore discussing any further issues or questions with them is a wise choice. The chances are that what you are asking them has happened to them in the past.
Thank you for reading 20 articles this month* Join now for unlimited access
Enjoy your first month for just £1 / $1 / €1
*Read 5 free articles per month without a subscription
Join now for unlimited access
Try first month for just £1 / $1 / €1