Could you use your smartphone as a rear light? This app claims to make riders more visible (video)
Mavic Vision app designed to fit into clear jersey pocket, and work with a dedicated rear light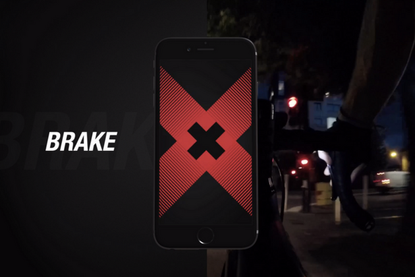 A good rear light is an essential piece of kit at this time of year, making sure that you can be clearly seen and, hopefully, safely overtaken by vehicles behind.
Although some of the latest and greatest rear lights come equipped with accelerometers which mean they change beam pattern when you're braking, rear lights are generally fairly simple pieces of kit.
>>> 19 best front and rear road bike lights reviewed
However Mavic has decided to do thinks a bit differently, developing a smartphone app which it hopes will help riders be more visible when riding at night or in gloomy conditions.
Crucially combined with a see-through rear pocket in its Cosmic Pro H20 Vision Jacket, the Vision app (which is currently available for iOS and Android) makes use of all the accelerometers, gyroscopes, and other gizmos in your smartphone to change what is displayed on the screen depending on how you're riding.
That means yellow upwards arrows when you're just riding along, left or right turning arrows when you're negotiating a bend, or a flashing red cross when you're coming to a stop.
>>> What lights do I need for winter riding? (video)
However Mavic is keen to stress that the app "is not intended to replace or supplement certified safety devices nor has it been evaluated to meet any legal safety standards", and riders should always use a proper rear light when riding at night or in low light conditions.
The French company also doesn't say how the app will affect the battery life of your phone, which might not take too kindly to having its screen flashing away at full brightness while using its motion sensors to the max.
The app is free (although the Cosmic Pro H2O jacket with the see-through pocket is £265... and the other option of strapping your smartphone to your seatpost is never going to have a happy ending) and available for iOS and Android devices through the App Store and Google Play.
Mavic is broadening its range of compatible jackets too, with the £150 Cosmic Elite Thermo jacket and the £230 Cosmic Pro SO jacket both also having a clear rear pocket.
Thank you for reading 20 articles this month* Join now for unlimited access
Enjoy your first month for just £1 / $1 / €1
*Read 5 free articles per month without a subscription
Join now for unlimited access
Try first month for just £1 / $1 / €1