Watch: Cyclist barely able to keep moving as he battles into brutal gale force headwind (video)
Bet he wishes he was going in the other direction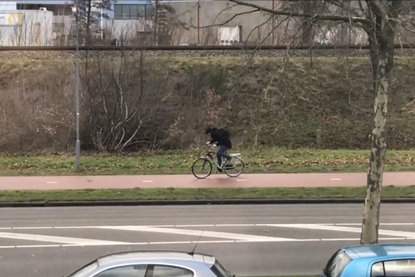 A cyclist in the Netherlands had a pretty tricky ride on Thursday as he struggled to keep moving while battling into a brutal headwind as Storm Friederike battered northern Europe.
The footage was filmed in the Dutch town of Rosmalen, just to the east of the city of 's-Hertogenbosch, and shows a cyclist battling along a cycle lane into one of the biggest block headwinds that you're every likely to see.
Things don't start off well, with the rider coming to a complete stop and having to put his foot down as the wind, which hit 90mph in some areas of the country, brought him to a standstill.
>>> How to cycle in the wind: pro tip to help keep you upright
The rider then turns around briefly to give himself a brief moment of respite, before turning back into the headwind, getting his head down, and trying to build up some momentum to get himself up and riding as leaves and debris blow past around him.
Then, just to rub things in, a rider goes past in the other direction, barely having to pedal as they speed past with the wind on their back.
Storm Friederike, which was known as Storm Fionn in the UK and Ireland, caused widespread disruption in the Netherlands and Germany, with Amsterdam Schipol airport having to cancel all flights, while German train operator Deutsche Bahn cancelled all long-distance services on Thursday.
>>> Fallen tree causes disruption after blocking Box Hill entrance
However there is still no sign of a schedule for the Dutch Headwind Championships, a unique event organised at just a few days notice which sees riders racing along 8.5km course along the Oosterscheldekering storm barrier that provides absolutely no respite from the gale-force winds striking the coast from the North Sea.
High winds also hit parts of the UK and Ireland, with riders in Surrey having to call on their cyclocross skills to negotiate a fallen tree at the bottom of Box Hill.
Thank you for reading 20 articles this month* Join now for unlimited access
Enjoy your first month for just £1 / $1 / €1
*Read 5 free articles per month without a subscription
Join now for unlimited access
Try first month for just £1 / $1 / €1