Watch: Irate driver in altercation with cyclist throws bike at him (video)
Video filmed by a driver in Pittsburgh, USA, captures apparent 'road rage' incident as cyclist and driver have a physical disagreement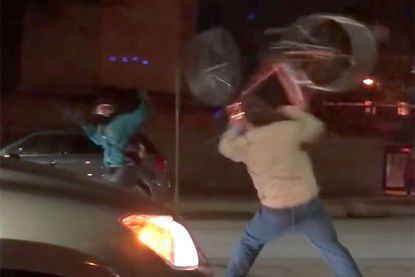 A video filmed in Pittsburgh, Pennsylvania, USA, captures an irate driver and cyclist involved in an altercation, which ends with the driver picking up the bicycle and throwing it at the cyclist.
YouTube user The_High_Duke posted a video on January 25 of the incident filmed from his vehicle, which was parked directly behind the vehicle belonging to the assailant.
A comment under the video reads: "A cyclist pulled up in front of the red SUV in front of me. The angry yinzer in the red SUV then rapidly pulled forward, braking just before he rear ended the cyclist.
"The cyclist pulled forward again to get away, the guy in the SUV almost rammed him AGAIN, then opened his door and began attacking the cyclist. That's when I started filming."
>>> 'This is why you get killed': Truck driver's ill-informed rant at cyclists riding legally goes viral
After the cyclist picks himself up and then gets back on his bike, the person filming the incident asks the cyclist whether he is okay and informs him that he has filmed it.
Pittsburgh Police said in a statement that are currently investigating the incident, but said that neither the cyclist involved or anyone else had filed a complaint.
"Pittsburgh Police Investigators are aware of a video on social media and video-sharing websites which shows a physical confrontation involving a bicyclist and a vehicle driver."
"The incident reportedly occurred on Thursday, January 25, 2018 at approximately 6:30pm at the intersection of S. Bellefield Avenue and 5th Avenue in the North Oakland section of the City.
"At this time, the persons involved still have not filed a police report related to this matter. Investigators are continuing to look into this matter."
Thank you for reading 20 articles this month* Join now for unlimited access
Enjoy your first month for just £1 / $1 / €1
*Read 5 free articles per month without a subscription
Join now for unlimited access
Try first month for just £1 / $1 / €1