'This is why you get killed': Truck driver's ill-informed rant at cyclists riding legally goes viral
Driver appears frustrated at having to cross onto other side of perfectly clear road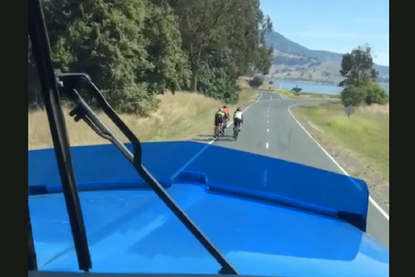 A group of cyclists have hit back at an Australian truck driver who filmed himself ranting at the riders, who were cycling safely and legally, yelling "this is why you f******* get f****** killed" in a video that went viral on Facebook.
Charlie Butt's video, which has now been deleted, attracted more than 150,000 views after he posted it online, showing him overtaking a few groups of cyclist riding two abreast, as they are legally entitled to do under Australian law.
As he overtakes the groups of riders on the perfectly clear road with good visibility, Butt shouts at the riders saying "f****** good safety. This is why you f******* get f****** killed" as he appears frustrated at the inconvenience of having to move onto the other side of the road.
>>> 'Why do cyclists ride side by side? - you asked Google and we've got the answer
After the footage went viral, some of the cyclists were tracked down by local press, appearing bemused at why Butt had an issue with them riding two abreast, as is recommended by cycling safety groups.
"He doesn't explain why he believes we are being dangerous apart from just being there," cyclist James Sloan told 7 News.
"The driver must treat you like another vehicle and properly overtake - the same as if it were a slow moving car with a trailer, or a caravan. If the riders are in single file, the tendency is for drivers to not move out at all and instead squeeze past."
Under Victorian state law, cyclists are allowed to ride two abreast so long as their bikes aren't more than 1.5 metres apart. The cyclists' riding was also commended by cycling campaigners, including Edward Hore, president of the Australian Cycle Alliance.
>>> Motorist drives 60 metres with cyclist on bonnet before crashing into garden
"It's perfectly safe and is recommended by the police," he told The Herald. "It's better for visibility, it makes it safer for all road users.
"Changing lanes is the safest way to pass cyclists, especially on country roads. They're riding the exact way we would recommend."
With the video being unstable and filmed in a vertical format apparently at chest height, Butt also faced accusation that the video was filmed using his mobile phone, which would be illegal as he was driving a truck with two trailers when the footage was captured.
However Butt denied those accusations, telling The Herald that he had used a GoPro attached to his hat to capture his footage, and that it was "probably a setting on the GoPro" that caused the video to be captured in a vertical format.
Thank you for reading 20 articles this month* Join now for unlimited access
Enjoy your first month for just £1 / $1 / €1
*Read 5 free articles per month without a subscription
Join now for unlimited access
Try first month for just £1 / $1 / €1