Watch: London cabbie tries to use cycle lane to get around traffic; cyclist isn't having any of it
Cyclist refuses to get out of driver's way until he moves out of cycle lane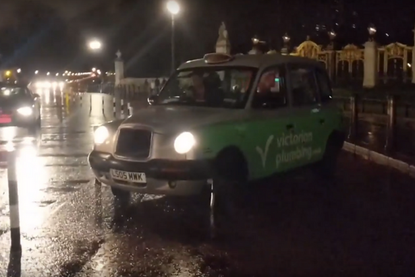 You would have though the bollards down the middle of the road and the big paintings of cyclists might have given it away, but that didn't stop one taxi driver in London thinking that he could use a cycle lane to get around traffic.
The cabbie managed to make his way into the East-West Cycle Superhighway on Constitution Hill at the junction with the Mall outside Buckingham Palace in the centre of London, finding himself confronted with a fairly annoyed cyclist.
>>> US state considers new law to allow cyclists to ride through red lights to improve safety
YouTube user Toby Evans uploaded footage of the incident, showing himself standing in front of the taxi and refusing to move out of the way to continue down the cycle lane.
Standing in front of the taxi, Evans repeatedly says "you ain't going anywhere mate", before the driver decides that he's fighting a losing battle, manoeuvring back into the road as Evans points out that the passenger would have had to pay extra for the driver's use of the cycle lane.
It is unclear how exactly the taxi driver had managed to get himself into that position, with the cycle lane along the side of Constitution Hill only being separated from the main carriageway by bollards rather than a raised kerb.
>>> Council foils keyboard warrior who setn at least 68 anti-cyclist responses to proposal to ban cars from London street
Confrontations between cyclists and taxi drivers are an unfortunately regular occurrence in the capital, with a journalist last year documenting a month of his commutes through London, including near misses and one case of being clipped by a passing taxi.
Cabbies have also been among the most vocal opponents of some of London's new cycling infrastructure, including an attempt to prevent the construction of the East-West Cycle Superhighway on which this latest incident took place.
Thank you for reading 20 articles this month* Join now for unlimited access
Enjoy your first month for just £1 / $1 / €1
*Read 5 free articles per month without a subscription
Join now for unlimited access
Try first month for just £1 / $1 / €1