1989 Tour de France prologue: Breukink in yellow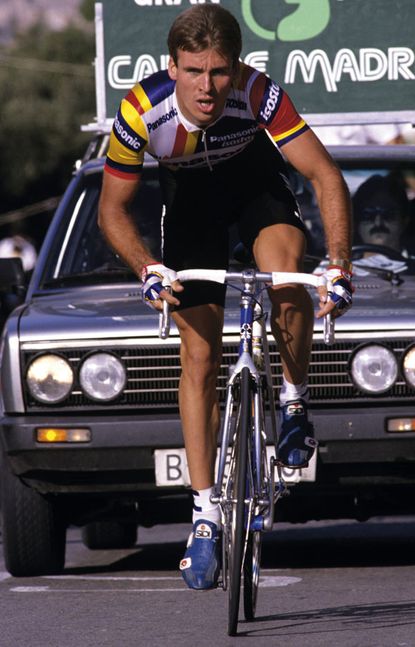 BREUKINK IN YELLOW; KELLY A CLOSE THIRD
Saturday July 1, 1989

Luxembourg-Luxembourg, 7.8km TT
From first to last, that was the sensational story as the 1988 Tour de France winner Pedro Delgado jeopardised his chance of winning again as he started his prologue time trial nearly three minutes late. Instead of bidding for a top place, Delgado ended the day bottom, 198th, 2-54 behind the victor.
But it was doubtful he could have beaten Holland's Eric Breukink (Panasonic) who took the first yellow jersey of the 1989 Tour with the only time under 10 minutes, 9-54.7.
It looked as if the form that gave him the pink jersey of leader for five days in the Tour of Italy last month had not deserted him.
No one could match his 47kph around Luxembourg's streets, on a circuit which included a 900-metre long climb rising some 150 metres after half-distance.
And Breukink, 12th overall in last year's Tour, put himself six seconds ahead of the next best as France's favourite, Laurent Fignon (Super-U) snatched second place by hundredths of a second from Ireland's Sean Kelly (PDM) and America's Greg LeMond (ADR). If it had been a three-up sprint only a photo could have separated them as each man wrung the last ounce of strength from his body down the wide Avenue De La Liberté.
But of course, each man fought an isolated fight with himself as this first confrontation of the 1989 race drew to a spectacular, if unexpected close. It was as if Breukink had broken an invisible barrier that barred everyone else in the 198-rider field.
Starting 30th from last, the Dutchman sped as smooth as silk over the city roads and it was soon obvious that no one was going to get near him.
Ten minutes later Miguel Indurain (Reynolds), winner of Paris-Nice this year, rode into second place in 10-4.14. But he was displaced and eventually slipped to seventh as first LeMond rocketed in with the first of a series of times only a good electronic watch could separate, 10-0.92.
Another 10 minutes slipped by and then Fignon pushed LeMond down a place with 10-0.48. Then Kelly, second-last man off, pushed LeMond down another step with his 10-0.80 to take third spot.
As for Delgado, he was within 50 metres of the start as his minute-man Kelly sped away. His mechanic yelled at him but Delgado did not appear to hear, continuing to ride straight by as if he had plenty of time.
When he did get going, the usual phalanx of press bikes and car roared along in his wake for what should have been a great climax. But his was a hopeless task. Never can so much time have been lost over so short a course with such dire consequences. It would be a job and a half to retrieve it and set up a bid for victory.
Delgado's actual time for the distance – if you take away the lost 2-40 when he was wandering about in blissful ignorance – would have given him 16th place. But he would have certainly been faster still without such a terrible mistake weighing on his mind as he salvaged what he could. Canada's Steve Bauer (Helvetia – La Suisse) was fifth at eight seconds, while France's second favourite Charly Mottet (RMO) was sixth another second down. But of all the big-hitters, Mottet was the quicker up the climb which would require a gear of 44 x 20, according to Mottet's team-mate Thierry Claveyrolat. But then he finished only 176th, so perhaps he wasn't the best judge. Mottet, meanwhile, was second to Italy's Mauro Gianetti (Helvetia – La Suisse) who flogged himself up this unlikely 'mountain' – the Cote de Pabeiebierg – to make sure of the mountains jersey and never mind the more elusive yellow. And having spent himself in a good cause, he was presumably content to finish the course 180th fastest.
Best of the two British riders was Sean Yates (7-Eleven), 14th at 13 seconds.
RESULTS

1. Erik Breukink (Ned) Panasonic 9-54.49
2. Laurent Fignon (Fra) Super-U at 6secs
3. Sean Kelly (Ire) PDM
4. Greg LeMond (USA) ADR both st
5. Steve Bauer (Can) Helvetia-La Suisse at 8secs



OH PEDRO!

The 1988 Tour winner had a simple explanation for his sensational and disastrous late arrival at the start of the prologue.
"I had my head in the clouds. Everything went as usual. I left the hotel on time, I warmed up well on the circuit, and everything was going normally," he said.
"Then I put on a disc wheel and went off to continue warming up and to begin concentrating. I didn't hear anything, and I didn't notice time passing. And when I got onto the platform to start, the timekeepers told me I was late. I didn't understand and gave it everything I had."



FAGOR IN BIG TOUR CLEAN-UP

Everything to do with the Tour de France is publicised in one way or another, it seems, from the Tour drink to the riders' numbers. Now Spanish home appliances company Fagor have found yet another way of capitalising on the Tour.
Every day they will set up their 'Gentle Washing Centre' in an inflatable tent near the press headquarters, so the journalists of the Tour can get their washing done by the 'hostesses' who travel with the Centre. This, they say, will "bring a maximum of wellbeing to the journalists".
As Fagor put it, laundry is a "traditionally insuperable issue for the Tour de France convoy". Now it seems the press no longer have to worry about smelly socks as the end of the race approaches. But pity the poor riders, who still have to wash their own shorts after each stage.



CASADO IN LATE TOUR CALL-UP

Milk Race rider Philippe Casado, who won the first stage in last year's race and finished ninth overall for the Z-Peugeot team this year, was a late selection for the Tour after near-veteran Gilbert Duclos-Lassalle withdrew three days before the start due to acute sciatica affecting his right knee.
Thank you for reading 20 articles this month* Join now for unlimited access
Enjoy your first month for just £1 / $1 / €1
*Read 5 free articles per month without a subscription
Join now for unlimited access
Try first month for just £1 / $1 / €1