1989 Tour de France stage 10: Millar wins at Superbagneres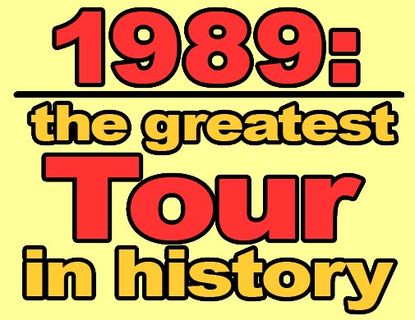 Get The Leadout Newsletter
The latest race content, interviews, features, reviews and expert buying guides, direct to your inbox!
Thank you for signing up to The Pick. You will receive a verification email shortly.
There was a problem. Please refresh the page and try again.
BACK TO THE GLORY DAYS FOR MILLAR
Tuesday July 11, 1989

Cauterets-Superbagnères, 136km
A sensational stage saw Scotland's Robert Millar take all four major climbs then attack and outsprint his old enemy, the amazing Spaniard Pedro Delgado, to win this stage on the 1770-metre high climb of Luchon-Superbagnères.
Superb Millar also moved to second in the mountains classification, as he conquered the Pyrenean giants of the hors-category Col du Tourmalet, the Col d'Aspin, the Col de Peyresourde and finally, the climb of Superbagnères.
Behind him the Tour detonated in a spectacular series of attacks in the final kilometres with Laurent Fignon's searing acceleration to take the yellow jersey off Greg LeMond, who had won this stage in 1986, the year of his Tour triumph. LeMond counter-attacked to arrive back on Fignon's wheel as if on an elevator; which then stalled from the shock.
Head rolling, LeMond's body allowed his legs to punch the pedals hard twice more, and as if with feet of clay, the 1986 Tour winner slewed to the left. When he looked up Fignon was disappearing through the corridor of wildly-shouting fans which had, moments before, spurred on the three leaders. For until that last kilometre, France's Charly Mottet had shared the break with Millar and Delgado.
Mottet was dropped when Delgado speeded up after throwing his drinking bottle at a spectator who was running alongside and bellowing in his ear.
Millar clawed his way back, but Mottet never did. He is crazy, this Delgado, for 30 minutes earlier, at the bottom of this fourth and last climb he had sat up to relieve himself, casually regaining his two companions as if he had all the time in the world and perhaps he has.
So another remarkable chapter in the history of the Tour has been written. Eighteen men were eliminated, including Stephen Roche who did not start after injuring his knee the day before.
Out went three of Panasonic's top men, Jean-Paul Van Poppel, John Talen, leader of the Catch sprints, and Eric Vanderaerden, but no more of the losers, for this was a day for heroes.
It was Millar's third Tour de France stage victory, all have been in the Pyrenees. He won his first in 1983 at Luchon, in the valley beneath his latest success. His second win came in 1984 at Guzet-Neige. That was his best year for he won the mountain's classification and finished fourth overall. Now he looked in even better shape as his stage win lifted him from 26th to eighth overall. What must really have lifted his morale was beating Delgado to the line.
It is four years since Millar was 'robbed' of victory in the Tour of Spain by Delgado, after the Spanish teams combined to stop the run of 'away' wins and see Millar beaten.
Delgado, however, could still be the man of this Tour. For he moved to fourth overall at 2-53, which is less than the time of 3-26 that he took out of Fignon on this stage.
This epic stage was only 136 kilometres long, but it launched the field almost immediately on to the major climbs and the course profile resembled the plans for a fairground big dipper. For five hours the climbers were in paradise, but it was purgatory for the rest.
It was Pascal Richard (Helvetia) whose early attack on the approach to the Tourmalet first drew Millar and Mottet. Half-way up the 20-kilometre long climb, they had 30 seconds lead on Delgado leading a large group which included all the top men.
Out the back went Fabio Parra of the depleted Kelme team now down to five men. Out too went Panasonic's failure Erik Breukink, The speed also temporarily dropped Luis Herrera (Café de Colombia), Andy Hampsten (7-Eleven), 1-40 down half-way up, then not surprisingly, the previous day's stage winner, Miguel Indurain (Reynolds) who trailed at 2-40. All would rejoin, although Indurain was destined to lose his newly-won mountains jersey to Gert-Jan Theunisse (PDM) by the stage end.
Delgado's Reynolds team set a hard pace up the cruel hairpins of the Tourmalet which at least bathed them in sunshine making a rare appearance on this Tour.
At the front, Richard was dropped by Millar and Mottet, who crossed the summit in that order. Theunisse (PDM) led the yellow jersey group over only 28 seconds behind. After him came Herrera, LeMond, Eric Caritoux (RMO), Delgado, and a host of others including Raul Alcala (7-Eleven), Hampsten, Sean Kelly (PDM), Richard, and Fignon.
Powerful going uphill, Delgado then proved his courage going down: he attacked on the dangerous 1-in-8 descent which spirals from the splintered rocky crags to the green valley floor 17 kilometres below the summit.
Delgado joined Mottet and Millar to strengthen the break, which would now move steadily ahead. The three took the second big climb, the less strenuous but still hard Col d'Aspin, 13 kilometres long.
Millar romped away for this prime too, taking it from Mottet and Delgado, with Theunisse again leading the chasers up at 2-17.
Mottet, fourth overall, was race leader on the road as their lead grew to 4-45 on the third climb, the Col de Peyresourde, after 90 kilometres.
The three leaders worked well, for here were three men with everything to gain by this temporary alliance, while behind them, they knew the rest faced a dilemma.
LeMond would not chase to defend his yellow jersey. He had no team support with him, none of his ADR men being climbers. He was between the Devil and the deep blue sea, and his only chance at keeping his jersey was to hope for Fignon to attack and nullify Mottet's bid, and go with him. Unlike LeMond, Fignon had a team-mate alongside, Pascal Simon, who would soon set their train in rapid motion, although with dire consequences for LeMond.
Meanwhile, Millar kept up his assault on the mountains classification, soaring away to the top of the Peyresourde as well, with Delgado second and Mottet third.
The chasers split on the climb and the first of them closed a little, to 4-23 over the summit where Theunisse passed first, followed by his PDM team-mate Steven Rooks and Indurain. The LeMond group, including Fignon, passed at 4-43 but they all came together on the descent, to hurtle into Luchon 4-35 behind the Millar break.
Simon then went to work, and with Fignon, LeMond and the rest in line astern, he time trialled up the 12-kilometre climb, shedding men from the back. He brought the lead down to 3-52 with 10 kilometres to go.
Whereupon the PDM duo Rooks and Theunisse counter-attacked and went clear, and Simon was immediately dropped by the group, together with Sean Kelly who had been riding so well. With five kilometres to go this pair were 3-20 behind the Millar break, and 20 seconds ahead of the yellow jersey group. They would stay away to take fourth and fifth respectively, with Theunisse taking the mountain's jersey.
Ahead of them Delgado 'lost his bottle' with an enthusiastic spectator and, looking perfectly composed, dropped both Millar and Mottet with one kilometre to go. Millar rejoined him smoothly and the pair rounded the last corner with Delgado slightly ahead. Then Millar raised himself from the saddle and with a powerful sprint beat Delgado by a good length for possibly the greatest stage win of his career.
Now all eyes were on the struggle for the yellow jersey, as Fignon threw caution to the wind and took command of the group like a man preparing a run-up for a giant leap into the unknown. He was gambling on LeMond cracking and it worked.
Fignon took the fight to LeMond, who, tucked into Fignon's slipstream, looked to be on a winner. When Fignon attacked, LeMond made up the lost ground in no time. Then he faded. Fignon attacked to the right. LeMond stood up to respond, rammed hard twice on the pedals and crumbled. Fignon rode in to a hero's welcome, with LeMond ninth. Fignon's seventh place at 3-26 on Millar gave him the yellow jersey he last won outright in 1984. It was still close, LeMond was only seven seconds down.
STAGE RESULT

1. Robert Millar (GB) Z-Peugeot 4-22-19
2. Pedro Delgado (Spa) Reynolds at st
3. Charly Mottet (Fra) RMO at 19secs
4. Steven Rooks (Ned) PDM at 3-4
5. Gert-Jan Theunisse (Ned) PDM at st
OVERALL

1. Laurent Fignon (Fra) Super-U 46-11-49
2. Greg LeMond (USA) ADR at 7secs
3. Charly Mottet (Fra) RMO at 57secs
4. Pedro Delgado (Spa) Reynolds at 2-53
5. Andy Hampsten (USA) 7-Eleven at 5-18
MOUNTAINS

1. Gert-Jan Theunisse (Ned) PDM 147pts
2. Robert Millar (GB) Z-Peugeot 135pts
3. Pedro Delgado (Spa) Reynolds 116pts
POINTS

1. Sean Kelly (Ire) PDM 145pts
2. Etienne De Wilde (Bel) Histor-Sigma 114pts
3. Soren Lilholt (Den) Histor-Sigma 107pts
TEAM

1. PDM 138-49-11
2. Reynolds at 8-40
3. BH at 9-16
JOY AND HEARTBREAK IN THE PYRENEES
Laurent Fignon, the new race leader at Superbagnères, was surprised to find himself in the yellow jersey for the first time for nearly five years, after suffering in the early part of the stage.
Fignon explained, "I was having a very bad day. I was almost dropped on every climb except the last. Taking the yellow jersey didn't cross my mind, I was just trying not to lose the Tour. In the final kilometre I preferred to attack rather than stay with LeMond, who was just following me."
Fignon blamed LeMond for the huge lead which the three-man break gained on his group: "LeMond never wanted to work to bring them back. It's not the way the race leader should behave. I think if we had worked together, Delgado would never have opened such a gap. It's annoying for all of us."
The double Tour winner admitted he had underestimated Delgado. "I was convinced in Luxembourg, when the Tour began, that Delgado was out of the hunt for overall victory. I must admit I was wrong."
The second Pyrenean stage saw the Tour field reduced to 173, with some top names among the men eliminated or abandoning the race. Top of the list was Ireland's 1987 winner Stephen Roche who decided not to start the stage after badly bruising his left thigh the day before.
Roche slipped his gears on the first climb of the day, the fourth category Côte des Vignobles, smashing his leg into the handlebars before suffering over the day's three mountains. The Irishman preferred not to start the next day's stage, for fear he might aggravate the wound.
"If Stephen stops riding for a few days it will heal rapidly," explained the doctor who treated the wound. "He could even have gone on if it had been an easy stage, but a mountain stage like this one would prevent the wound from healing."
Roche's fellow Irishman Sean Kelly saw his aim of taking the green points jersey in Paris made considerably easier with the elimination of several of the best sprinters in the bunch, including Jean-Paul Van Poppel (Panasonic), a quadruple stage winner last year. Van Poppel actually finished within the time limit for the stage, but three minutes, 20 seconds of time penalties for receiving pushes from spectators were added on to his time, which pushed him outside the limit by just 19 seconds.
The Panasonic team also lost their other sprinter, Eric Vanderaerden and sprints leader John Talen, while other sprinters to go out were Belgians Jos Lieckens and Frank Hoste, a former green jersey winner, Dutchmen Adrie Van der Poel and Peter Pieters, and Guido Bontempi of Italy. The mass elimination marked the end of a bad week for the big bunch sprint artists, who had failed to clock up a single victory.
There was bad news for Greg LeMond, who lost two of his team who had helped him defend the yellow jersey from Brittany to the Pyrenees. His Belgian ADR team lost their only climber, Russian-born Janusz Kuum, along with sprinter Frank Hoste.
MILLAR: I HAD TO GRIT MY TEETH TO HOLD ON
This was the sweetest of Robert Millar's three Tour de France stage wins, compensating for last year's frustrating second place at Guzet Neige when he went off course.
"My first win was in the Pyrenees and so every time I come back I'm motivated," said Millar. "And I was very angry about the delay the day before, when I fell and had to wait for service," he added.
"I thought I could still win when I was still with Delgado with one kilometre to go. I was almost certain I could beat him in a sprint because he had made a big effort when were away to get as big a gap as he could."
"We worked well together. I had to grit my teeth to hang on a couple of times as there was no let-up at all."
Millar explained how the day's great escape with Charly Mottet and Pedro Delgado had the pack beaten.
"When I heard that Delgado was coming up, I knew we'd stay away all day. Delgado wanted to get as much time as possible. He was on the rivet for seven kilometres. He'll win this Tour. It was like he was one gear bigger than the rest of us. He has strength."
"I was OK on the early climbs, but in the end Delgado had both me and Mottet hanging on. He was accelerating at 500 metres at a time. If it had been 600 metres, I'd have been dropped."
"I'd done a lot of work and was fairly tired. But I knew that Delgado wanted to get rid of Mottet. And I knew that if I could hang on until Mottet was dropped, I was OK."
"When Mottet was dropped with 1,500 metres to go, I closed the gap right up (to Delgado). But then he went away from me again. I thought I might come back at him in the headwind. And he kinda cracked a little bit and I was able to come back. It was the hardest win of the Tour for me."
Asked if beating Delgado was revenge for his defeat by the Spaniard in the Tour of Spain four years ago, Millar said, "No revenge. I've a short memory."
Would Millar now finish in a top place overall? Millar grinned, "We're only halfway. I might fall apart in the Alps."
What about the mountains competition he last won in 1984, could he go from second overall to beat Gert-Jan Theunisse, the new leader?
"I'll try and take it, yes. I don't want to get involved in any sprints for points on the smaller climbs over the next few days. But if he goes for them, I'll have to. If he doesn't, then I won't. I'll try and take the lead in the Alps if I can."
DISASTER DAY FOR PANASONIC
Panasonic's big hope for overall victory in the Tour, Erik Breukink, was dropped on the very first mountain stage. Unable to stay with the pace on the Col d'Aubisque, Breukink, 12th overall last year, finished 75th on the stage and lost 14 minutes. He fell from fourth overall to 35th.
Manager Peter Post was furious. But the morning after, assistant manager Ferdi Van den Haute was hoping that Breukink would do better, even though this was the big day in the Pyrenees, with the Tourmalet one of four giants to cross.
Said Van den Haute: "Erik lost nearly 15 minutes, which is too much and a top place in the classification is not possible. No we hope he may win a stage instead."
He explained that Breukink is "too nervous. This is his third Tour and each time he started with great hopes but his nerves let him down."
"Perhaps Breukink has had too tough a season. He rode most of the Classics and semi-classics and the Tour of Italy," said Van den Haute.
Sadly for Panasonic, day two in the mountains was worse than the first. Not only did Breukink lose more time, finishing 118th at 26 minutes on Millar, to drop to 58th, but three of the team finished outside the time limit and were eliminated. They were Catch points leader John Talen, and the team's top sprinters, Eric Vanderaerden and Jean-Paul Van Poppel.
Thank you for reading 20 articles this month* Join now for unlimited access
Enjoy your first month for just £1 / $1 / €1
*Read 5 free articles per month without a subscription
Join now for unlimited access
Try first month for just £1 / $1 / €1
Get The Leadout Newsletter
The latest race content, interviews, features, reviews and expert buying guides, direct to your inbox!
Keith Bingham joined the Cycling Weekly team in the summer of 1971, and retired in 2011. During his time, he covered numerous Tours de France, Milk Races and everything in-between. He was well known for his long-running 'Bikewatch' column, and played a pivotal role in fighting for the future of once at-threat cycling venues such as Hog Hill and Herne Hill Velodrome.