1989 Tour de France stage 15: LeMond back in yellow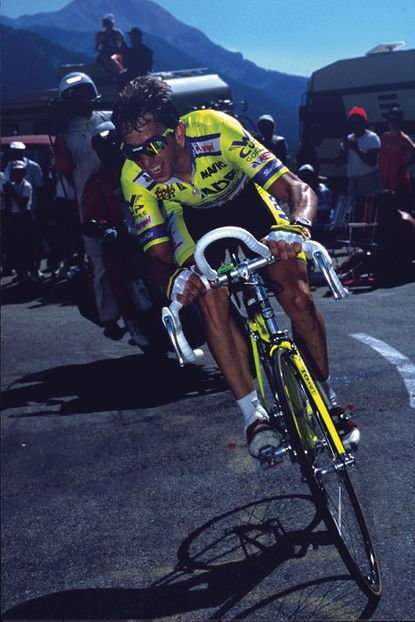 Get The Leadout Newsletter
The latest race content, interviews, features, reviews and expert buying guides, direct to your inbox!
Thank you for signing up to The Pick. You will receive a verification email shortly.
There was a problem. Please refresh the page and try again.
LEMOND: "I CAN HOLD JERSEY UNTIL PARIS"
Sunday July 16, 1989

Gap-Orcières Merlette, 39km TT


Greg LeMond snatched back the yellow jersey from Laurent Fignon in this severe uphill test against the clock in the sunny Alps.
LeMond who first took the yellow jersey when he won the stage five time trial at Rennes – holding the lead for four stages – was placed fifth in this shorter trial won by Steven Rooks (PDM) who won in a time of 1-10-42.
Rooks, off eleventh from last, was the master in excellent conditions, the slight wind helpful on the race up the valley. He scorched up the 10-kilometre long climb of the Col de Manse, which reared up straight out of Gap, climbing 315 metres to set the fastest time of 22-2. He was already eight seconds up on Miguel Indurain (Reynolds) who had been fastest, and was six minutes in front of Rooks on the road.
Rooks dropped like a stone through the dangerous winding seven-kilometre descent on to 14 kilometres of basically flat roads of Alpine meadows, to the foot of the final nine-kilometre climb. This lifted the course another 640 metres to the breathtaking plateau of Orcieres-Merlette, 1830 metres high.
There Rooks rose to the finish, to knock Indurain from top spot by 53 seconds.
Fifteen minutes later Marino Lejaretta (Paternina) rocketed up to go second fastest, with 1-11-6, pushing Indurain down to third.
So Rooks jumped from 12th to sixth overall, at 6-5 on LeMond. And Lejaretta moved up one from sixth to fifth at 5-11.
But of course, all eyes were on LeMond who wasted no time in wiping out his seven seconds deficit on Fignon, going 13 seconds up at 10 kilometres.
Fignon, last man off, looked laboured by comparison and the thousands of amateur timekeepers on the route counted him out second by second as he fell further behind LeMond on the road two minutes ahead.
LeMond piled on the pressure to beat the Frenchman, who was 10th fastest, by 47 seconds.
Said LeMond: "I'm really confident now. I reckon I can keep the jersey to Paris. I'm going as well as Delgado. But the race could go right to the last time trial. My only worry is that other riders are quite close, and of course I have poor team support. But I should not have any troubles myself in the Alps, unless I have a bad day."
So Fignon, who said he could not get into his rhythm, dropped to second place overall. Of the other favourites, Charly Mottet (RMO) held his third overall place by finishing 14th in the time trial, while Pedro Delgado (Reynolds) retained fourth overall after being fourth fastest.
Mottet, however, lost time on the yellow jersey. From being 57 seconds down when Fignon was in yellow, he dropped 2-17 on the new leader.
But Delgado remained a threat, closing up by 15 seconds, to lie 2-48 behind.
Once again the race against the clock had drawn out the best from the rated men, including Sean Kelly (PDM) who did the ride of his life to finish sixth fastest, at 1-6 on Rooks. So well was Kelly climbing he was fourth up the first climb of the Col de Manse (10km) and fifth fastest over the final three kilometres. Kelly moved from 13th to 10th place overall.
It was his best Tour, said Kelly, who said he had never enjoyed such excellent form.
"I drove the course last night," Kelly told reporters at the finish. "I thought it would be too hard for me but I trained halfway along the course this morning and decided I would just go as hard as I could all the way."
It was the first mountain time trial he had tried hard in this year, lack of form in other events meant he never applied the pressure like he did on this day.
But Robert Millar had a setback. The Z-Peugeot star, like Kelly, was enjoying his best form for years, but was placed 32nd in 1-14-36. And he was nearly caught by his two-minute man Gert-Jan Theunisse (PDM), the mountains leader.
We had talked to Millar when he was warming up, as our press car tracked the early starter Giovanni Fidanza (Chateau d'Ax), lying third to Kelly on points.
Millar had seemed cheerful, but realistic of his chances on a course which required sheer speed on the flat sections, not just climbing ability.
"I'll be on the rivet on the climbs," Millar told us as he kept well to the right of the course. "But there is a lot of flat, and I will not be on the rivet there. I'll go for it on the climbs."
But he wasn't placed on the climbs, where his mountains rival Theunisse was sixth fastest up the first, and fastest of all up the last. So he added another 42 points to his mountains score, moving 66 points ahead of Millar who now found he was a PDM sandwich. For Rooks jumped from seventh to third in the mountains competition which he won last year, while Delgado dropped to fourth place.
In fact it was quite a day for PDM, who placed four men in the top ten, on the stage. Rooks first, followed by Kelly, sixth, Raul Alcala seventh and Theunisse eighth.
For 7-Eleven's Andy Hampsten, it proved a disappointing day. Starting fifth from last on the road, he was only 16th fastest and dropped two places overall to seventh, losing 1-44 on the yellow jersey.
As the tension mounted in the finishing straight higher up in the mountains, Delgado followed Hampsten in and collapsed against the high railings, pushed there under the weight of reporters and television crews, Then Mottet sprinted in, veering straight in to the press enclosure, where he knocked down a television monitor.
The whole show climaxed with LeMond's triumphant arrival into an even bigger reception committee as he upstaged Fignon for the second time this Tour.
STAGE RESULTS

1. Steven Rooks (Ned) PDM 1-10-42
2. Marino Lejaretta (Spa) Paternina at 24secs
3. Miguel Indurain (Spa) Reynolds at 43secs
4. Pedro Delgado (Spa) Reynolds at 49secs
5. Greg LeMond (USA) ADR at 57secs
OVERALL

1. Greg LeMond (USA) ADR 67-50-54
2. Laurent Fignon (Fra) Super-U at 40secs
3. Charly Mottet (Fra) RMO at 2-17
4. Pedro Delgado (Spa) Reynolds at 2-48
5. Marino Lejaretta (Spa) Paternina at 5-11
MOUNTAINS

1. Gert-Jan Theunisse (Ned) PDM 221pts

2. Robert Millar (GB) Z-Peugeot 155pts
3. Steven Rooks (Ned) PDM 147pts



POINTS

1. Sean Kelly (Ire) PDM 223 pts

2. Etienne De Wilde (Bel) Histor-Sigma 174pts
3. Giovanni Fidanza 124pts



TEAM

1. Reynolds 206-36-54

2.PDM at 8-30
3. Super-U at 23-55



"I CAN STOP LEMOND," SAYS SOUR FIGNON

Rest day on the Tour. Well, not quite, for our intrepid driver Graham Jones, the former Tour de France pro, piloted our car once from our hotel, up and over the tricky roads of the Col du Noyer, direction Orcières-Merlette three mountain ranges away, where the riders were enjoying their rest day after over 2,500 kilometres of racing.
The Col du Noyer, Graham informed us, was the scene of that epic duel in 1971 when Eddy Merckx capitulated to Spain's Luis Ocana. The stage that day also finished at Orcières-Merlette, where Ocana scored a great stage victory.
Ocana was on this Tour in an official capacity, and he and the meyor of Merlette were throwing a party for the press that evening. Was Ocana celebrating the anniversary of his win? Would Merckx, travelling with 7-Eleven, dare attend?



But it was another Spaniard we were interested in, a certain Pedro Delgado, who had called a press conference for 12.30. And whom we spotted, leading his team pedalling furiously in the opposite direction a good 20 kilometres from their hotel.
Was he playing truant? He'd never make it back in time, not up the climb upon which, only the day before, he had battled successfully to stay in contention for the overall victory in this Tour.
So it was no surprise that he turned up nearly an hour late.
There followed an 'informal' press conference as some 70 journalists crowded around a table for four on the terrace of his hotel suspended, as all terraces seem to be in this part of the world, over a sharp drop to the valley below.
British promoter Alan Rushton was horrified, not by the height, but at the makeshift press conference. The Sport for Television boss was spending a few days on the Tour to sign up riders for the Wincanton Classic, Kelloggs Tour and the Nissan International Classic. By his comments I deduced that his races would leave this one standing when it came to providing press interviews; something about deep armchairs for the press and a platform for the aces.
In the meantime, we digested as best we could what Delgado had to say, before moving on in search of other talk.
"I can still win the Tour," said Delgado quietly into a cluster of microphones brushing his teeth.
"At first it was between me and Fignon," Delgado added. "But now it is between me and LeMond. I think whoever is in the yellow jersey at Alpe d'Huez will win the Tour."
"I think I can still do it. But LeMond has got stronger every day. Before the Pyrenees, when he first took the jersey, he was not at all confident. But he has surprised himself and now he knows he can win."


"I do not have any tactics in mind. Just to do what I have to do. And I think PDM will do a lot of attacking. That will suit me fine and I will try to go with them."
"At the beginning of the Tour, when I had my late start in the Prologue, my chances of victory were put at about 50 to one against. But I always thought I could still regain the time to make a challenge, because the course included many mountain-topfinishes."
Elsewhere in their mountain-top eyrie, the Fignon LeMond affair was the topic of conversation.
For there was no love lost between them after LeMond took the race lead off Fignon in the mountain time trial. Nor was there even a glimmer of friendship between the Frenchman and the press agencies, who gave Fignon no marks for patience after his defeat at the hands of LeMond. The press agencies find Fignon rude and condescending to them at the best of times, and impossible to deal with in defeat.
In retaliation, four agencies agreed between themselves that a four-day ban on taking any photographs of the misery might dent his ego a little.
"As for the man himself, he revealed a dark side to his character by saying that if he could not win the Tour he could make LeMond lose.
LeMond, with only four team-mates left out of eight, would be vulnerable, especially as not one of the four could climb.
But at least in spirit, if not in body, ADR were willing LeMond to victory.



PDM remained the enigma of the Tour, with three chiefs in need of full tribal support.
Who would get it? Sean Kelly, the leader of three classifications: points, Catch sprints and Combine; Gert-Jan Theunisse, leader of the mountains classification; or Steven Rooks, their best-placed overall at sixth, followed by heir-apparent Raul Alcala, seventh?


All would be resolved in the final six stages to come, if not on giant Alpine stage, then in the time trial to the Champs Elysées.


Thank you for reading 20 articles this month* Join now for unlimited access
Enjoy your first month for just £1 / $1 / €1
*Read 5 free articles per month without a subscription
Join now for unlimited access
Try first month for just £1 / $1 / €1
Get The Leadout Newsletter
The latest race content, interviews, features, reviews and expert buying guides, direct to your inbox!
Keith Bingham joined the Cycling Weekly team in the summer of 1971, and retired in 2011. During his time, he covered numerous Tours de France, Milk Races and everything in-between. He was well known for his long-running 'Bikewatch' column, and played a pivotal role in fighting for the future of once at-threat cycling venues such as Hog Hill and Herne Hill Velodrome.