1989 Tour de France stage 16: LeMond increases lead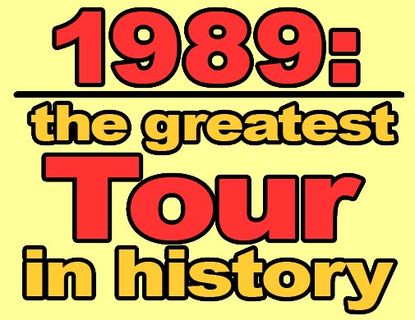 LEMOND IN CHARGE AFTER BATTLE IN THE MOUNTAINS
Tuesday July 18, 1989

Gap-Briançon, 174km


Perhaps the rest day had left them restless. For when the Tour riders remounted at Gap they rushed forward with the impatience of troops anxious for battle and 18 lowly-placed men hurried away from the pack soon after the start, to gain as much time as they could on the top riders in the hope that when the elite eventually caught them up, that they might hang on to the finish.
Only two stayed clear, and the 1988 Swiss world professional cyclo-cross champion, Pascal Richard (Helvetia) proved he has more than one string to his bow by surviving the counter-attacks from the top men overall, and winning this giant Alpine stage alone. Trailing him in second place at 2-34 was Bruno Cornillet (Z-Peugeot).
The other gallant 16 were picked up one by one, by the yellow jersey express group which had lit the fuses at the foot of the first big climb the Col de Vars, after 90 kilometres.
Being picked up was 'plan B' for some of them, for that early break contained Johan Lammerts, ADR team-mate of race leader Greg LeMond who could use a friend, and Ronan Pensec, who would be on hand to help team-mate Robert Millar if necessary.
If the fans were looking for a big shake-up they were disappointed, for the battle ended only with seconds being lost and gained as LeMond countered every attack from his rivals who tore into him with a frenzy.
Most notable attacker was Charly Mottet (RMO), who took third place on the stage at 4-50 on Richard.
Mottet made them all boil under the hot sun as he surged ahead time and time again on the 1-in-10 last five kilometres of the 20-kilometre haul up the weird Izoard, where the summit is like a steeply-sided desert watched over by gigantic rock crags, silent witnesses to many such battles since the Tour began.
The climb lifted the Tour from 1,150 metres to 2,360 metres above sea level, the second highest point of the Tour. After cooking the heads of the race up the mountain, Mottet froze them going down, as this fearless descender drove hard into and out of the bends, daring anyone to follow.
Although Mottet nearly lost one of his followers, Steven Rooks, who with front forks juddering, just pulled back from a sheer drop on one bend, Mottet's invitation to his 'suicide ball' left only one man and he wasn't quite dead: Laurent Fignon couldn't stay the pace but fought every metre of the final kilometres into Briancon in the wake of the leaders.
The overall picture showed LeMond still in command, taking fourth place on the stage and conceding only one second to Mottet who stayed third overall at 2-16. Fignon remained second overall, fighting all the way up the long uphill finishing straight into Briancon to finish ninth, losing 13 seconds to LeMond, to fall 53 seconds behind.
Delgado retained fourth overall still at 2-48 on LeMond. Delgado took fifth place on the stage, behind Martial Gayant (Toshiba).
Fignon, Rooks and Mottet had put pressure on LeMond as soon as they began climbing the nine-kilometre Col de Vars with its last 4.5-kilometres steepening to 1-in-10, and from that moment, the Richard breakaway came under threat.
Cornillet was first to the summit, with Richard second, the rest of the group spread over five minutes. Luis Herrera (Café de Colombia) led the pursuit behind. This was a false show of strength by the former mountains winner in the Tour, for he would fade to finish 10 minutes down.
Instead, the men crossing the summit 22 seconds in his wake would go forward to shape the race, LeMond, Delgado, Raul Alcala and Theunisse, Hampsten, Lejaretta, Gayant and Millar.
Fignon, Mottet, Rooks and Kelly were next over, another 21 seconds behind LeMond. They regrouped on the narrow twisting descent, which brought them down to a gorge leading directly to the next ascent 20 kilometres away, the feared Izoard.
Halfway up the favourites were climbing steadily 6-10 behind the leaders when Mottet attacked. Indurain took up the chase for his team mate Delgado, and Alcala also took up the running, with LeMond on his wheel, moving up to the front with a side-ways glance at the aggressor, Mottet, who was contained.
Mottet launched another lung-searing attack, which was also stopped. There was no peace, as Mottet then launched himself into the slipstream of a motorbike. Theunisse and LeMond mopped him up again.
Ahead of them, Richard dropped Cornillet to cross the summit 1-20 ahead. Only three of the original 18 escapees, now remained between these two and the yellow jersey battle.
Pensec crossed the summit at 5-4, Gayant at 5-16, while John Carlsen (Fagor) at 5-52, suddenly found company coming up fast as Delgado arrived, still going hard enough to string out the yellow jersey group.
Just below the summit the 20-kilometre to go board beckoned. Mottet didn't wait to see that before testing his companions' nerves to the limit with an attack more at home on the ski-slopes. He skimmed through the bends, taking LeMond, Theunisse and Rooks with him.
On the longer straights near the valley floor, the big man flogged himself and rejoined. Mottet then proved strongest on the 1.5-kilometre uphill finish where he outsprinted LeMond, Gayant and Delgado for third place.
If he needed any further consolation for being unable to drop them, surely leaving Fignon behind made up for it just a little.
Millar finished 15th at 6-2, and moved up three places to 11th.
STAGE RESULT

1. Pascal Richard (Swi) Helvetia-La Suisse 4-46-45
2. Bruno Cornillet (fra) Z-Peugeot at 2-34
3. Charly Mottet (Fra) RMO at 4-50
4. Greg LeMond (USA) ADR at 4-51
5. Martial Gayant (Fra) Toshiba at st
OVERALL

1. Greg LeMond (USA) ADR 72-42-30
2. Laurent Fignon (Fra) Super-U at 53secs
3. Charly Mottet (Fra) RMO at 2-16
4. Pedro Delgado (Spa) Reynolds at 2-48
5. Steven Rooks (Ned) PDM at 6-5
TEAM

1. Reynolds 218-16-2
2. PDM at 4-51
3. Z-Peugeot at 26-51
Thank you for reading 10 articles this month* Join now for unlimited access
Enjoy your first month for just £1 / $1 / €1
*Read 5 free articles per month without a subscription
Join now for unlimited access
Try first month for just £1 / $1 / €1
Keith Bingham joined the Cycling Weekly team in the summer of 1971, and retired in 2011. During his time, he covered numerous Tours de France, Milk Races and everything in-between. He was well known for his long-running 'Bikewatch' column, and played a pivotal role in fighting for the future of once at-threat cycling venues such as Hog Hill and Herne Hill Velodrome.