1989 Tour de France stage 17: Theunisse wins Alpe d'Huez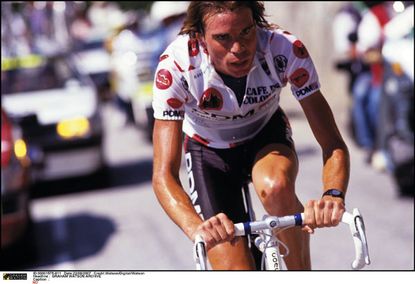 Get The Leadout Newsletter
The latest race content, interviews, features, reviews and expert buying guides, direct to your inbox!
Thank you for signing up to The Pick. You will receive a verification email shortly.
There was a problem. Please refresh the page and try again.
TOUGHEST STAGE SEES FIGNON BACK IN THE LEAD
Wednesday July 19, 1989

Briançon-L'Alpe d'Huez, 161.5km


Just as everyone knew it must, the agonising 13-kilometre climb of L'Alpe d'Huez forced the yellow jersey to change hands in the dying moments of this toughest stage of the race as Laurent Fignon took back the overall lead from Greg LeMond.



And yet the fight was far from over, Fignon led LeMond by only 26 seconds and Pedro Delgado by 1-55.
The plot took another exciting twist in the wake of the outstanding Dutch climber Gert-Jan Theunisse (PDM) the mountains leader, who won the stage alone after a 50-kilometre lone break from the top of the 2,067-metre high Col de la Croix de Fer.
But his great performance was overshadowed by the scrap for the yellow jersey going on behind.
All the talk on the L'Alpe d'Huez summit above Grenoble was of Fignon who three days after being written off, confounded his critics to snatch back this most coveted prize in bike racing.
And was he pleased? Far from it, for he was outsprinted to the line by Delgado who took second place 1-9 behind Theunisse.
"I am very disappointed. It has always been my dream to win at L'Alpe d'Huez," complained Fignon.
And as he was awarded the yellow jersey for the second time in this Tour, he said he would much have preferred to have a clear-cut lead than the slender advantage he had over both Lemond and Delgado. "Now the race is going to go all the way to Paris," he said.
Five hours earlier, at Briancon, the highest town in Europe standing 1,320 metres above sea-level on the French-Italian border, 147 riders had pedalled forth for this 17th stage. As one big nervous group, they approached the giant of the Alps, the 2,640-metre high Col du Galibier via the gradual 10-kilometre ascent of the Col du Lautaret, which served to tighten up the leg muscles.
On the 8.5-kilometre ascent of the Galibier Italian Franco Vona (Chateau d'Ax) broke clear to honour the Tour's founder Henri Desgrange, passing his memorial first, one kilometre short of the summit. But it was Theunisse who caught him through the final hairpins, to have a clear view of a horizon pierced, as far as the eye could see, with a sparkling array of magnificent black snow-capped peaks.
Theunisse seemed to have his mind set on more than reinforcing his lead in the mountains competition as with Vona and Laurent Biondi (Fagor) he had distanced the yellow jersey group by only 15 seconds.
On the 34-kilometre descent which took them down over 2,000 metres to the Maurienne valley, a drop briefly interrupted by a five-kilometre climb of the Col de Telegraph, Theunisse set about preparing his long escape. The fragmented field in the wake of his breakaway group were chasing hard, but attacks by the likes of Charly Mottet (RMO) served only to break them up, for they would never see the front of the race.


On the second big climb, the Col de la Croix de Fer (81km), Theunisse dismantled the break and went ahead. Massive crowds clung to the edge of this bumpy narrow road, which cut a path up the rocky escarpment, and Theunisse cleared the summit 1-27 ahead of a chasing group led by Millar, with Fignon, Rooks, Lemond, Alcala, Delgado, Lejaretta, in line astern. But Mottet was in difficulty at 30 seconds.
The descent was in sharp contrast to the ascent, wide, smooth roads speeding Theunisse down towards the shining blue reservoir glinting far below him one moment, the next blocked from sight by a massive dam,
Along the 12 kilometres of valley roads to the final climb of L'Alpe d'Huez, the chase took shape, with Millar prominent. At the foot of the climb, at Bourg d'Oisans, Theunisse led by two minutes from Bruno Cornillet and Millar for Z-Peugeot, plus Alvaro Pino (BH), Gianni Bugno (Chateau d'Ax).
The yellow jersey group were at 4-14, as all the heads prepared for another shoot-out.
Millar attacked to chase Theunisse who at 10 kilometres to go, was 2-25 clear of the Scot. At three minutes came Bugno, at 3-30 Pino, and at four minutes, the yellow jersey group.
Fignon attacked LeMond who replied. Delgado looked laboured. Fignon kept up the pressure, with Lemond, Delgado and Alcala in his slipstream. The four split and rejoined, and Rooks, dropped earlier, clawed his way back on. Lemond attacked and Fignon stopped him, but Delgado was in trouble three lengths back.
Seeing his Reynolds team-leader in difficulty, Abelardo Rondon came from the back to Delgado's aid. He set a fierce pace on the front that effectively discouraged any more attacks; for a time.
Up and round the 21 hairpins they rose, picking up Cornillet and dropping Rooks and Alcala. They picked up Pino, and closed the gap on Theunisse to 3-50. Millar was still out there, at 2-10 on Theunisse.
With five kilometres to go, Pino and Lejaretta were dropped and Millar was only 15 seconds ahead.
The arrival of the Super-U team car spelled trouble. And at four kilometres to go, Fignon attacked: he went straight past Millar. Delgado and Lemond looked stunned.
But in a flash, Delgado replied, and shot away from LeMond who was faltering. Rondon jumped Lemond and the final selection for the stage was made. Theunisse got a hero's welcome, while behind him, Delgado reached Fignon after a two-kilometre back-breaking chase. And then he cut to the left up the finishing straight to outsprint him for second place.
Rondon came in at 2-8 for fourth, while LeMond struggled, head bowed, sweat running down his face, to finish fifth at 2-28. He had lost the jersey by 26 seconds.
Millar finished ninth at 3-8, and moved up from 11th to ninth overall at 11-49.
Kelly, a splendid 16th, one place behind Mottet, also moved up, from 12th to 10th, while Mottet, who had been third overall, salvaged fifth place overall.
The Tour may not have chosen its leader yet, but it had narrowed the choice down to three men: Fignon, LeMond or Delgado.


STAGE RESULT

1. Gert Jan Theunisse (Ned) PDM 5-10-39

2. Pedro Delgado (Spa) Reynolds at 1-9
3. Laurent Fignon (Fra) Super-U at st
4. Aberlado Rondon (Col) Reynolds at 2-8
5. Greg LeMond (USA) ADR at 2-28



OVERALL

1. Laurent Fignon (Fra) Super-U 77-55-11

2. Greg LeMond (USA) ADR at 26sec
3. Pedro Delgado (Spa) Reynolds at 1-55
4. Gert-Jan Theunisse (Ned) PDM at 5-12
5. Charly Mottet (Fra) RMO at 5-22



MOUNTAINS

1. Gert-Jan Theunisse (Ned) PDM 357pts

2. Robert Millar (GB) Z-Peugeot 227pts
3. Pedro Delgado (Spa) Reynolds 219pts



POINTS

1. Sean Kelly (Ire) PDM 225pts

2. Etienne De Wilde (Bel) Histor-Sigma 174pts
3. Giovanni Fidanza (Ita) Chateau d'Ax 114pts



PDM STRANGLEHOLD

There were 30 minutes to the start, just time to find out PDM's view on their stranglehold on all major competitions but that elusive yellow jersey.
Sean Kelly had the points and Catch sprints jerseys, Gert-Jan Theunisse led the mountains GP and Steven Rooks the Combine. They had four men in the top 10.
"But," said PDM's Harry Jansen, "we would give them all up for the yellow jersey."
Jansen went on to praise his Irish star. "Kelly is a man you can always count on. We gave him a programme this year, with a goal in the Tour de France, and he does it. After his win in Liège-Bastogne-Liège he said now my goal is the green jersey in the Tour. And you see what happens."
Was having so many 'chiefs' in the team proving a strain for the riders?
"Well, it's very good for us. They understand each other very well."
"Everyone is talking about us having four leaders. And we could do with four guys to help each one. But we haven't enough people to help."
"Neither Theunisse nor Rooks started this Tour in good condition. Theunisse had bruised ribs from falling in the Tour of Switzerland. He was in a lot of pain. He decided only three days before the start to go for the Tour."
"And Rooks had problems. Every stage race he abandoned. He started the Tour in poor condition, but his form has come."


Thank you for reading 20 articles this month* Join now for unlimited access
Enjoy your first month for just £1 / $1 / €1
*Read 5 free articles per month without a subscription
Join now for unlimited access
Try first month for just £1 / $1 / €1
Get The Leadout Newsletter
The latest race content, interviews, features, reviews and expert buying guides, direct to your inbox!
Keith Bingham joined the Cycling Weekly team in the summer of 1971, and retired in 2011. During his time, he covered numerous Tours de France, Milk Races and everything in-between. He was well known for his long-running 'Bikewatch' column, and played a pivotal role in fighting for the future of once at-threat cycling venues such as Hog Hill and Herne Hill Velodrome.