1989 Tour de France stage 19: The great escape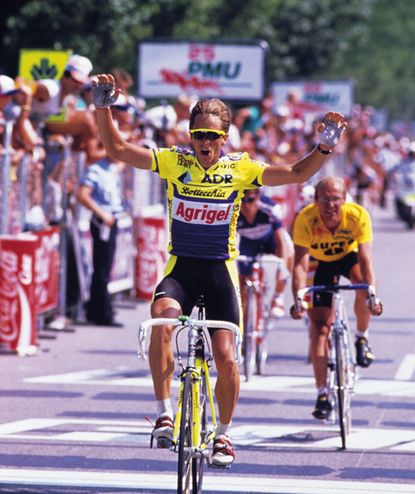 Get The Leadout Newsletter
The latest race content, interviews, features, reviews and expert buying guides, direct to your inbox!
Thank you for signing up to The Pick. You will receive a verification email shortly.
There was a problem. Please refresh the page and try again.
FAMOUS FIVE IN CLASS OF THEIR OWN AS GREG WINS AGAIN
Friday July 21, 1989

Villard-Aix les Bains, 125km


'Encore! Encore!' Tour fans cried after another magnificent day of racing ended with Greg LeMond outsprinting Laurent Fignon to score a superb stage victory at Aix-les-Bains. It was his second stage win in this Tour, following his time trial victory at Rennes on stage five, and his fourth stage win in all, to be added to a time trial in 1985, and a mountain stage at Superbagnères in 1986, the year of his outright victory.
This thrilling Tour de France continued to surprise and delight us as it drew to a close with Fignon tightening his grip on the lead and trading blow for blow with his rivals. Meanwhile Delgado, perhaps realising his chances of winning were slim, took his frustration out by declaring war on Theunisse who led him in the mountains classification. But Theunisse had no need to return the fire, for although Delgado beat him to the top of the three remaining summits, the long-haired Dutchman was well clear on points and could not be beaten.
On the second consecutive day, the top four overall – Fignon (Super-U), Lemond (ADR), Delgado (Reynolds) and Gert-Jan Theunisse (PDM), plus seventh overall Marino Lejaretta (Paternina), rubbed in their superiority by leaving the punch-drunk main field behind again, this time over the last three Alpine cols of the race. As Charly Mottet (RMO), stranded in main field, strove but failed to salvage his fifth overall place from usurper Lejaretta up there with the heads, the whole race surged at 60kph, in one long line, powerless to close the two-minute gap on the Fignon group working together like old pals.
Well, not quite like old pals. Now and again, when they thought Fignon was worth poking. Delgado and LeMond both mounted separate attacks. Delgado tested him up the fierce 1,130-metre high Col du Granon where the five pulled away from the rest, and LeMond on the dangerous cork-screw descent.
But Fignon was wise to their every trick in front of thousands of spectators, pilgrims come to pay homage as the battle of the mountains drew to a close in the immense forested tracts of the Isère and Savoie regions.
It was another very hot day as the race left Villard de Lans and dropped 800 metres to skirt the city of Grenoble, gateway to the Alps, before climbing once again.
On this fifth day in the Alps, the mountains bid the Tour au revoir by despatching the field up four nasty climbs one after the other. Theunisse was first to the top of the third-category Côte de l'Aiguille, a five-kilometre climb, which steepened to 1-in-10. But he had no further need to waste precious energy in the mountains competition, and could now concentrate on maintaining his overall position in the general classification.
They dropped for a few kilometres, and then climbed for 11 more, on the first-category Col de Porte (59km) where the field came apart as the Famous Five escaped. Delgado attacked Theunisse and took them over the summit, trailed by Fignon, Lejaretta, Theunisse and LeMond.
At 1-35 came a PDM trio of Steven Rooks, Sean Kelly and Raul Alcala and a few others. Robert Millar led another party at 2-10.
Fignon accelerated up the next climb, the Col du Cucheron (72km), but Delgado once more stuck it out to cross the summit first from Theunisse, Fignon, Lejaretta and LeMond. Rooks and Kelly and company were at 2-5. After an eight-kilometre descent, it was straight onto the Col du Granier and over the summit of this 10-kilometre long climb, Delgado once again proved the master. But Fignon was on his wheel, followed by Theunisse.
LeMond took terrible risks and attacked in vain on the descent. The five dropped into Chambéry, the venue in August of the world championships. They had 20 kilometres to go and maintained a steady 60kph all the way beside the huge blue lake, each man doing his turn at the front, until Lejaretta took up the pace-setting in the final kilometres.
The main field regrouped at 10 kilometres to go, and like a train, they tore after the leaders. It was a fruitless chase.
Fignon and LeMond slackened just once. Fignon beckoned LeMond who seemed for a moment about to hang back. I want you where I can see you seemed to be Fignon's message. Nothing doing, came back the reply, which forced Fignon's hand and he hurried back to the other three before they realised the pair were briefly missing, and LeMond followed.
Through the left and right-handers they sped, and with perfect judgement, LeMond outsprinted Fignon with a powerful thrust. Fignon, who sportingly clapped the American in the back was absolutely right not to let the man out of his sight in the closing acts of this absorbing battle.
Third across the line was Delgado, fourth Theunisse in the same time and fifth at four seconds came Lejaretta.
The bunch sprint for sixth place at 2-11 was taken by Gianni Bugno (Chateau d'Ax) beating a disappointed Kelly who looked to have it on a plate. Led out by Alcala, Kelly found Bugno coming up fast on his right.
STAGE RESULT

1. Greg LeMond (USA) ADR 3-17-53
2. Laurent Fignon (Fra) Super-U
3. Pedro Delgado (Spa) Reynolds
4. Gert-Jan Theunisse (Ned) PDM all at st
5. Marino Lejaretta (Spa) Paternina at 4sec
OVERALL

1. Laurent Fignon (Fra) Super-U 83-44-32
2. Greg LeMond (USA) ADR at 50sec
3. Pedro Delgado (Spa) Reynolds at 2-28
4. Gert-Jan Theunisse (Ned) PDM at 5-36
5. Marino Lejaretta (Spa) Paternina at 8-35
MOUNTAINS

1. Gert-Jan Theunisse (Ned) PDM 441 pts
2. Pedro Delgado (Spa) Reynolds 311pts
3. Steven Rooks (Ned) PDM 257pts
POINTS

1. Sean Kelly (Ire) PDM 249pts
2. Etienne De Wilde (Bel) Histor-Sigma 174pts
3. Steven Rooks (Ned) PDM 141pts
TEAMS

1. PDM 252-34-39
2. Reynolds at 1-29
3. Z-Peugeot at 3-08
MILLAR COUNTS COST
Robert Millar was enjoying a good Tour and knew it could have been even better but for his fall on that first day in the Pyrenees.
He came back strongly to take the big stage to Superbagnères, but he had to give best to Theunisse in the mountains competition.
"I'd have done better against Theunisse if I had not fallen off. I lost 60 poits that day. I came back the next day and in the Alps. Then two days later (on stage 18) I was smashed."
"I got dropped before I blew. They all went crazy at the front. No way could we in that second group get back on. Mottet was dropped as well, and we left Hampsten."
"It looks as if Fignon has got it all sewn up unless LeMond comes back again."
Millar said he wasn't in a position to judge how fast Fignon was going from where he was in the second group. "We could see the cars ahead," said Millar. "But when we saw Fignon on TV later, zipping past the countrysi8de, we thought, hell, he must have had a really good day."
"When you are super you can go that fast. But when you are hanging there, like Delgado and LeMond were, they were good but not super."
"Maybe Greg will have a super day today, ride away from Fignon and do 20 kilometres in front with four guys behind. You never know."
70 YEARS ON – IT'S STILL THE ELUSIVE DREAM
On July 19 when Laurent Fignon pulled the yellow jersey over his shoulders at the end of stage 17 to Alpe d'Huez, it was exactly 70 years since the first ever maillot jaune was awarded to his fellow Frenchman Eugene Christophe. Since Christophe put on the yellow jersey at Grenoble in 1919, it has become the most potent symbol and most sought-after prize in cycling.
As everyone knows, yellow was the colour chosen by Tour organiser Henri Desgrange because that was the colour of the paper of the sponsoring newspaper L'Auto (now L'Equipe). It was his masterstroke, an idea which has gripped the imagination of the public – not to mention the riders – ever since, and has been copied by every stage race. The yellow jersey still bears the initials HD to this day in his honour.
Not surprisingly, the man with the record number of days spent in le maillot jaune is the 'Cannibal', Eddy Merckx, who has spent just over three months – 96 days in fact – of his life in the jersey. His fellow five times winners Bernard Hinault and Jacques Anquetil are second and third in the roll, with 77 and 51 days respectively. Best of today's riders is this year's near-miss man Laurent Fignon, with three weeks and one day to show for the four Tours he has completed. No Briton has worn the yellow jersey since Tom Simpson in 1962.
It's well-known that the yellow jersey is reputed to have the power of transforming its wearer's power on the bike, such is the importance attached to retaining it. As Acacio Da Silva, who this year became the first Portuguese to wear the maillot jaune put it, "the yellow jersey gives you wings". Fifty years ago it was the same: after winning his first Tour in 1935, Belgian Sylvère Maes remarked, "When a man has le maillot, he is worth twice as much as normal."
And anyone who saw the reactions of Greg LeMond and Laurent Fignon on the Champs Elysées can have little doubt about the importance which is still attached to that elusive jersey 70 years on.
Thank you for reading 20 articles this month* Join now for unlimited access
Enjoy your first month for just £1 / $1 / €1
*Read 5 free articles per month without a subscription
Join now for unlimited access
Try first month for just £1 / $1 / €1
Get The Leadout Newsletter
The latest race content, interviews, features, reviews and expert buying guides, direct to your inbox!
Keith Bingham joined the Cycling Weekly team in the summer of 1971, and retired in 2011. During his time, he covered numerous Tours de France, Milk Races and everything in-between. He was well known for his long-running 'Bikewatch' column, and played a pivotal role in fighting for the future of once at-threat cycling venues such as Hog Hill and Herne Hill Velodrome.