1989 Tour de France stage five: LeMond's resurrection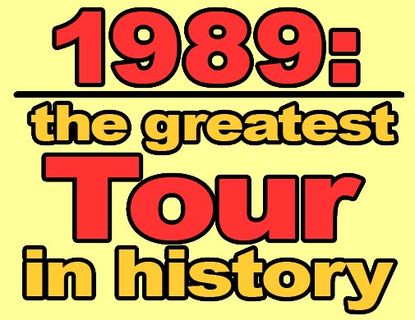 Get The Leadout Newsletter
The latest race content, interviews, features, reviews and expert buying guides, direct to your inbox!
Thank you for signing up to The Pick. You will receive a verification email shortly.
There was a problem. Please refresh the page and try again.
LEMOND ENDS THREE YEARS OF DOUBT
Thursday July 6, 1989

Dinard-Rennes, 73km TT
Fate switched horses at the last moment. It discarded a rejuvenated Pedro Delgado, leader for four hours after a sunny ride in perfect conditions, and heaped the honours instead on America's Greg LeMond, who emerged out of the pouring rain which fell on later starters to win the stage and take the yellow jersey.
LeMond (ADR) covered the 73 kilometres in 1-38-12, beating Delgado by 24 seconds. This gave LeMond the yellow jersey by five seconds from Laurent Fignon (Super-U) who finished the stage third fastest at 56 seconds. Fourth was Thierry Marie, also Super-U, at 1-51 and fifth was Britain's Sean Yates (7-Eleven) at 2-6, in a time of 1-40-19 which made Yates second fastest to Delgado for several minutes.
Yates caught Holland's Steven Rooks (PDM) for two minutes, which didn't surprise Rooks, second overall in last year's Tour. Rooks dislikes time trials, especially after a transfer. Both he and his team-mate Gert-Jan Theunisse had travelled across France by road, cycling the last 150 kilometres behind the car to try and stay supple. Rooks was 36th and Theunisse 39th. Consequently, Rooks fell from 21st to 36th overall, and Theunisse from 19th to 39th.
So true to its nature, the solitary time trial once again rudely shuffled the pack into a new order of merit. It brought closer together the main contenders from all over the classification.
The biggest surprise was perhaps that Delgado should be beaten, for he enjoyed the best conditions, sun and hardly any wind, on the mostly straight course which included one fourth-category climb after 22.2 kilometres.
But the rain which fell later proved no disadvantage to LeMond, nor to Yates, who won the test in the 1988 Tour. For the course was ruler straight, with few bends.
That heady cocktail of glory and defeat was never so evident as at that wet Rennes finish. Joy for LeMond, resignation for beaten overnight leader Acacio Da Silva who could only finish 49th at 6-30, and utter despair for Soren Lilholt, points leader and lying second overall, with an outside chance of taking that yellow jersey in this test.
Lilholt crashed in the wet after 20 kilometres and lost a minute. He tried to right his low-profile disc bike but was forced to mount the ordinary spare. "This was to have been my day," he said, after being unable to stop Da Silva catching him for two minutes just before the finish. Lilholt (Histor) was 91st, losing 8-31 and dropped from second overall to 19th.
Sean Kelly had a bad day, too, vomiting after 20 kilometres and losing his edge to finish in the still respectable time of 1-43-33 despite all that. But he was caught by his two-minute man Pascal Simon (Super-U) who took 10th place. It cost Kelly seven places overall, dropping him from 13th to 20th at 5-20 on LeMond.
And let us not overlook Delgado's long-awaited arrival back in contention after his disastrous start to this Tour; reporting late for the prologue, getting dropped in the team time trial.
It was about time he had a good day, and sure enough, this master of the race against the clock tried his heart out and for over four hours held the lead.
His was a fine performance that lifted him from 134th overall to 28th at 6-53. It cannot be beyond the realms of possibility that he may yet get back into contention.
Delgado shot down the starting ramp from Dinard at 11-04 and by the top of the climb was leader by 56 seconds. Although his time to this point would be beaten by four others, Delgado remained unbeaten to the next check point at 48 kilometres, passed in a time of 1-7-22.
LeMond was 1-8 slower than Delgado here, when the American winner of the 1986 Tour, stormed through in the rain some four hours later.
But then LeMond put 1-32 into Delgado, really ripping into the final 25 kilometres, and his triumph will no doubt see a huge increase in the sales of the triathlon handlebars he chose to use, and which, incidentally, were used by Yates and Andy Hampsten of 7-Eleven.
As for Fignon, widely tipped to take the jersey in this test, and was failing by only five seconds, he was 11 seconds slower than LeMond at 22 kilometres and 48 seconds slower at 48 kilometres. But in the last 25 kilometres he halved that to finish only 56 seconds behind.
The first 'rendezvous' was over. New tactics would shape the race. Although Stephen Roche (Fagor) was disappointed not to make the top five, his 11th place at 3-22 improved his overall position from 67th to 17th overall.
But the news for Colombian favourite Luis Herrera (Café de Colombia) wasn't so good. Herrera never looked in the fight and finished 108th, losing 9-6. Although he held his 100th overall place, he was now an impossible 12-20 down overall. Scotland's Robert Millar (Z-Peugeot) was 55th at 7-9 and dropped one place overall to 50th. He lost nearly four minutes to be 8-21 behind LeMond.
RESULTS

1. Greg LeMond (USA) ADR 1-38-12
2. Pedro Delgado (Spa) Reynolds at 38secs
3. Laurent Fignon (Fra) Super-U at 56secs
4. Thierry Marie (Fra) Super-U at 1-51
5. Sean Yates (GB) 7-Eleven at 2-06
OVERALL

1. Greg LeMond (USA) ADR 18-58-17
2. Laurent Fignon (Fra) Super-U at 5secs
3. Thierry Marie (Fra) Super-U at 20secs
4. Erik Breukink (Ned) Panasonic at 1-51
5. Sean Yates (GB) 7-at 2-18
MOUNTAINS

1. Thierry Claveyrolat (Fra) RMO 24pts
2. Jean-Claude Leclercq (Fra) Helvetia-La Suisse 16pts
3. Acacia Da Silva (Por) Carrera 12pts
POINTS

1. Soren Lilholt (Den) Histor-Sigma 74pts
2. Sean Kelly (Ire) PDM 69pts
3. Jesper Skibby (Den) TVM 63pts
TEAM

1. Super U 56-57-55;

2. ADR at 8-11
3. 7-Eleven at 9-41


INTO THE UNKNOWN

Victory at Rennes came at the end of two and a half years of torture for Greg LeMond. In 1986 the American was at the top, with a victory in the Tour de France after a battle with the great Bernard Hinault to add to his world championship win in 1983.
Hinault's retirement left the American undisputed leader of the French La Vie Claire team, with a strong chance of repeating his Tour win. It all went wrong for LeMond in 1987. After breaking his wrist in an early season race, he went back to the US to recover.
A freak accident, when out hunting wild geese that April with his brother-in-law left LeMond close to death. At hospital 40 shotgun pellets were removed from his back, liver, kidney and intestine in an operation lasting two hours. Some remain in the American's body to this day.
Back on the bike, trouble haunted LeMond: an operation for appendicitis later in 1987, another operation in July 1988, this time for tendonitis. Many thought he could never return to the top: 1988 and the early part of 1989 saw few positive performances from LeMond, and he struggled to finish the mountain stages of the Giro d'Italia.


The final time trial of the Italian race gave LeMond a surprise second place ahead of overall winner Laurent Fignon, but no-one expected him to win at Rennes, as the American confirmed: "I'm really surprised at this win," he said. "Since the end of the Tour of Italy I've noticed real progress. In the time trial I wasn't told what Delgado's times were until 10 kilometres to go. It was only then that I felt I could win the stage."
"It's great to begin the Tour like this, but there are times when I still doubt how well I can go, for example in the mountains. I'll be going into the unknown there."



LA RESURRECTION

'Lemond: La Resurrection' was the headline carried by the French sports paper L'Equipe in response to Greg LeMond's superb recovery.
And a cartoonist put his own perspective on the LeMond chapter, with a sketch some might say crossed the borderline into bad taste. The scene was of three graves of former Tour de France winners, Coppi, Bobet and Anquetil. And from Louison Bobet's resting place came the words: 'LeMond was almost dead. And now he's almost won,' to which the late Anquetil responds, 'That's right Louison. Next year, we'll enter.'
Strong stuff, but here indeed was a man who had cheated death. It was remarkable that he recovered at all, let alone continued to race as a pro.
Patience is this man's virtue, that much was obvious after talking with him before the stage seven start at Poitiers two days after his victory in the time trial had given him the yellow jersey. It was pouring with rain and the field faced over seven hours on the road to Bordeaux.
He said again, as he said when he took the jersey, that he would not fight like a demon to keep the overall lead. "Five seconds lead is not worth fighting over," he said, for he was plainly quite satisfied to have accomplished this much.
"My recovery has come much quicker than I thought," said LeMond, sitting in his team car, putting a liner into the sole of his shoe 15 minutes before the start.
"I always had a feeling that one day it was going to turn around. I'd had results to show there was nothing wrong with me. It was a question of having the time and patience to wait and wait."
Was he surprised to win the time trial? "Well, not really because I thought I had as good a chance as any. Because I've had some very good results. I was second in the time trial in the Tour of Italy, third in the Tour of America, fourth in the Critérium International. And I've felt better since the Tour of Italy, so the signs are all there."



"But you know, for me, if I don't feel 100 per cent physically well, I can't race for victory. I had to feel good in order to win that time trial and my fourth place in the Prologue gave me a good indication."



DELGADO BACK IN THE HUNT

Another, less spectacular comeback was made by last year's winner Pedro Delgado, who badly needed to regain some of the seven minutes he had lost to the other favourites in the first two days in Luxembourg. The Spaniard was clearly happier after finishing second.
"I can smile again after this time trial," he declared. "I felt very good, really at ease on this course, in spite of a headwind in the final 20 kilometres."
"I managed to gauge my effort right and didn't weaken towards the end. I am still in contention, I proved this today. Maybe it's too early to write me off – the Tour is not over yet."



LEMOND'S BARS

LeMond was one of several riders to use 'triathlete-type' handlebars in the time trial after the Tour commissaries gave the official OK the night before.
"They let me get closer to the bike, which is an advantage," he said. "I sometimes train with them, but this is the first time I've used them in a race."
Britain's Sean Yates also used them: "They're a lot of help, especially with a headwind."
However, Yates grinned: "You still have to push those pedals round."


KELLY SICK

Just like last year, Ireland's Sean Kelly saw his hopes of a high overall placing dealt a blow in the time trial, with his 31st placing moving him down seven places overall to 20th.
"I got sick at 20 kilometres and stopped," he said. "I reckon I lost about one and a half minutes. I was perfectly OK until I threw up."
Before then had he been more confident of a top place in the Tour than he was last year? "Yes. More confident up to now."
"A good time trial today would have been a good indication and I was aiming for a place in the top five or six. But it's a long way to go yet."


Thank you for reading 20 articles this month* Join now for unlimited access
Enjoy your first month for just £1 / $1 / €1
*Read 5 free articles per month without a subscription
Join now for unlimited access
Try first month for just £1 / $1 / €1
Get The Leadout Newsletter
The latest race content, interviews, features, reviews and expert buying guides, direct to your inbox!
Keith Bingham joined the Cycling Weekly team in the summer of 1971, and retired in 2011. During his time, he covered numerous Tours de France, Milk Races and everything in-between. He was well known for his long-running 'Bikewatch' column, and played a pivotal role in fighting for the future of once at-threat cycling venues such as Hog Hill and Herne Hill Velodrome.