Concussion is a feature in 90% of cycling head injuries - here's what you need to know about the symptoms and recovery
One of the most common cycling injuries, concussion is a warning sign that the brain has been subjected to potentially damaging g-force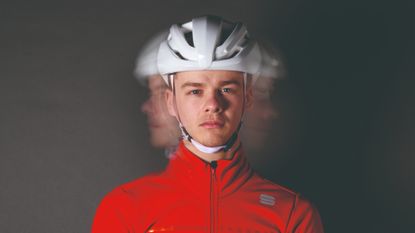 (Image credit: Future)
When Romain Bardet crashed on stage 13 of the 2020 Tour de France, live TV footage showed him holding his head before being helped gingerly to his feet. He appeared shaken, unsteady and almost certainly in need of medical assessment. Despite this, he was allowed to ride the remaining 90km.
The next day, the Guardian celebrated Bardet's having ridden "through the pain barrier".
Scans after the Tour de France crash diagnosed Romain Bardet with a 'small haemorrhage', calling into question the actions of officials at the crash scene in allowing him to continue. Riding with a brain injury is not heroic – it is potentially lethal. Thankfully times are changing: pro cyclists and those around them are starting to take concussion far more seriously. Amateur riders need to be aware of the dangers too.
Earlier this year, when Tom Pidcock crashed during Tirreno-Adriatico, not only did Ineos-Grenadiers team doctors pull him out of the race as soon as they suspected concussion but also held him back from racing while he recovered, meaning Pidcock missed Milan-San Remo. It was a high price, perhaps, but a precaution well worth taking.
What is concussion?
Concussion is a common injury in cycling, but all too often it's considered "just concussion", a fate far better than a broken collarbone or fractured wrist. However, if not treated properly, concussion can leave a much longer lasting impact.
Concussion is a brain injury caused by biomechanical forces, e.g. an impact from a crash, resulting in a disturbance in brain function. The brain, which has the consistency of firm jelly, hits the hard sides of the skull, and the impact may cause bleeding, as in Bardet's case, as well as drowsiness, loss of balance and confusion. There may not be a visible head injury, nor obvious harm to the brain – concussion can occur without structural changes detectable on MRI or CT scans. This makes it a complex injury to diagnose and manage.
"Symptoms may not present until 24 to 48 hours later," explains Nigel Jones, British Cycling's chief medical officer, "and the breadth of symptoms is huge. We might expect to see a headache, dizziness, nausea and intolerance of light, but people may also be more anxious or emotional than normal and may not sleep well." Most symptoms tend to resolve themselves in a few days. One University of Toronto study, published in the BMJ Open Sport & Exercise Medicine, found that 80-90% of concussions are shortterm, with all symptoms dissipating within 28 days. However, in a few cases, recovery can take months, especially if recovery has been ignored or rushed.
The younger you are, the more susceptible you are to brain injury – the young brain is more easily damaged and may take longer to recover. For youth and junior coaches, it is crucial to know about concussion and its symptoms. Research has also found that women have higher rates of concussion than men, though the reasons for this are uncertain. Anyone who has suffered a concussion previously is likely to suffer more severely if they sustain a subsequent episode – another reason why making a full, well-managed recovery is so important.
How common is concussion in cycling crashes?
Research published in the British Journal of Sports Medicine suggests, in any given bicycle crash, the risk of head injury is 10-15%. Further research found that concussion is a feature in 90% of those head injuries. Jack Hardwicke, a lecturer at the University of Northampton who studies concussion in cycling, believes that the proportion of crashes resulting in concussion is much higher, possibly close to 50%. "Because of the lack of reporting, we don't have a clear idea of how many concussions occur, particularly at amateur level," he said. "Even at top-level races in the UK, if a rider has a crash, they wander off to the HQ to sort themselves out and drive home. No reporting."
The wide number and variable nature of symptoms, combined with a lack of formal reporting, suggests that many riders walk away from a crash unaware they have concussion. As a result, many do not allow themselves sufficient time to fully recover and rehabilitate.
Britain's Classics superstar Lizzie Deignan (Trek–Segafredo) found herself in just this situation in the Tour of Qatar in 2010. "I was trying to get bottles for the team, and the car was taking ages to get to me. I had my arm up in the air, looked back and hit a rock on the road. I came off and hit the central reservation." Deignan was stretchered off the road, checked over, then abandoned the race and flew home. "I didn't realise I had a concussion," she said. "It's only now looking back, with no memory of those few months, that I realise. It was a blessing in disguise that an injury kept me off racing for 10 weeks afterwards."
Owing to the macho culture within cycling, the 'honourable' response to pain or injury is to suck it up and get back on the bike – just like Bardet did in that 2020 Tour de France crash. But getting back on with concussion puts riders at much greater risk of a second and possibly more serious injury, as their balance and concentration are likely to be impaired. There is also a huge litigation hazard to the sport. In 2016, the NFL was forced to pay out $1bn to retired players with brain injuries. Rugby, football and boxing now face legal scrutiny too.
Referencing his own research, Hardwicke told me: "Pro riders feel practical pressure from the team and people prioritising performance over health." Figures back this up. In a study published in the Journal of Science and Cycling in 2019, 16% of 1,990 cyclists questioned admitted to riding despite having concussion symptoms, while 18.7% stated they would hide a concussion to stay in an event. Clearly, it cannot be left to riders themselves to make the decision – teams and officials must step in.
Until this year, British Cycling provided concussion guidance only to riders and staff on the GB team. Its advice has been extended to cover all riders amateur and pro, whether recreational or competitive. The key take-home from the guidance is that, if there is any suspicion of concussion, the rider should not continue cycling and should get assessed. For officials and coaches, the message is clear: if in doubt, sit them out. "If there is any suspicion at all that a crash may have caused a concussion, then we should err on the side of rider welfare," explained BC's Nigel Jones. "Ensure they are pulled from the race or ride to protect them from the longer-term effects."
Lasting symptoms from a concussion
Competing for England last summer in the Birmingham Commonwealth Games, track cyclist Joe Truman crashed out of the semi-finals of the keirin. He suffered a concussion and a broken collarbone and it was eight weeks before he was able to train again. "The collarbone healed more quickly than the concussion," the 26-year-old told me. "I had to go through six weeks of rehab for the concussion." It wasn't what he expected after the crash. "I assumed concussion meant I'd have a headache and wouldn't be able to look at bright lights, but my main symptoms were dizziness and brain fogginess."
Truman took his rehab seriously. "I had to do a lot of gradual introduction, ticking off a list of things before I could get on the track: riding the indoor trainer, swinging my head around to ensure I wouldn't lose my balance. Then, when we went onto the track, we did graded exposure before upping the intensity."
The biggest issue for Truman was balance. "For the first week after the crash, I had to retrain my brain for balance," he said, adding that he worked on this with a neurological physio. "Gradually it improved, and at around the eight-week mark I started feeling pretty good."
Riding round in circles at high speed is not the ideal activity for someone struggling with their balance, as Jones acknowledged. "If you are travelling around a 250-metre velodrome at up to 60kph, the vestibulo-ocular challenge is significant. We have to help riders rehabilitate before they can train again."
Protecting yourself from concussion is difficult, owing to cycling's inherent crash risk. "Race officials can help with this through appropriate course design," commented Hardwicke. "If a course keeps incurring crashes in the same places, this needs to be monitored and acted on. Riders can reduce their crash risk by practising bunch riding skills and peloton etiquette."
Consequences of concussion from cycling crashes
Concussion has been linked to disturbances in neurocognitive functioning, behaviour and mood, in particular depression. More worrying still, some research has pointed to a link between concussion and suicide.
In studies using functional magnetic resonance imaging (fMRI) on male athletes with a history of concussion, it has been found that areas of the brain linked with emotion, particularly regulation of negative emotions and impulsivity, have reduced activation levels.
"It can be very difficult to be certain that someone's anxiety and depression has been caused by a concussion," said Jones, "but as a concussion is an injury to the brain, it is perfectly reasonable to suspect that, as well as affecting the nerve pathways that control our physiology and balance, it may also result in an injury to the nerve pathways that control our emotions and moods."
British Cycling has a webpage outlining the new guidelines and how to guard yourself and team-mates against the risks of concussion. If every cyclist were to learn just the basics and the headline symptoms of concussion, we would all be safer. Remember, wherever there is even the smallest suspicion of concussion, the affected rider should stop riding and get checked.
The symptoms of concussion to look out for after a cycling crash
Concussion symptoms to check for in a rider who has crashed and potentially sustained traumatic force to the head:
Dazed, blank or vacant look
Lying motionless on the ground, and/or slow to get up
Unsteady on feet, balance problems, falling over and/or poor coordination
Confused, not aware of events leading up to the injury or surroundings
Grabbing/clutching of head
More emotional or irritable than usual
Damaged helmet
The less obvious signs include:
Headache
Dizziness
Confusion or brain fog
Visual problems
Nausea and/or vomiting
Fatigue
Difficulty concentrating
Pressure in head
Sensitivity to light and/or noise
If you suspect a rider is concussed, do not leave them alone. If they develop severe neck pain, a loss of consciousness, get drowsy, become confused, develop a severe headache, vomit more than once, have a seizure or develop double vision, call 999 for urgent medical attention.
Returning to cycling after a concussion
The medical team at British Cycling have collected data on every concussion sustained by a GB team rider since 2017. The mean length of recovery is 14-15 days, with daily monitoring. For recreational riders without daily access to medical staff, the recovery time may be a little longer.
BC recommends following these five stages of recovery:
After a concussion, take two restful days, avoiding phones, computer screens and exercise.
On day three, if you have no or only mild symptoms, you can begin a gradual return to daily life – but rest if your symptoms get worse
Provided you're feeling OK after a few days, you can step up cognitive activities and add in light training – research has found that safe, non- stressful aerobic exercise can improve the rate of recovery.
At 14 days, assuming you've experienced no further symptoms at rest, you can resume normal training.
At 21 days post-concussion and 14 days of being symptom-free during rest, you can resume racing.
Do cycling helmets prevent concussion?
Concussion is caused by force, usually sudden deceleration, which may or may not be the result of a direct impact to the head. Therefore, a bike helmet cannot prevent concussion. Assessing your helmet post-crash can be helpful, though, as any visible damage strongly implies the possibility of concussion. There is some evidence that helmets with MIPS (Multi-directional Impact Protection System) may reduce rotational forces in cases of angled impacts to the head. However, the primary role of a helmet is not to prevent concussion but to protect from structural skull injury.
Thank you for reading 20 articles this month* Join now for unlimited access
Enjoy your first month for just £1 / $1 / €1
*Read 5 free articles per month without a subscription
Join now for unlimited access
Try first month for just £1 / $1 / €1