Cycling and concussion: symptoms, tests and recovery
Concussion is a serious condition and symptoms can last for much longer than the few hours of delirium many of us expect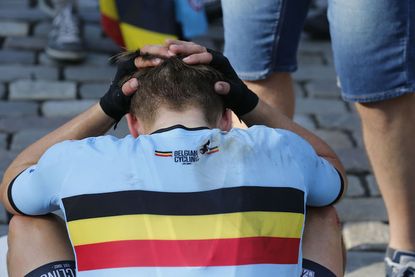 (Image credit: Yuzuru SUNADA)
The footage of Cannondale-Drapac rider Toms Skujins attempting to remount his bike after a crash at the 2017 Tour of California should be evidence enough to suggest that a rider suffering from concussion is the person least able to diagnose themselves.
The Latvian is clearly off-balance, disorientated - and through no fault of his own - a danger to other riders as he stumbles into their path.
Concussion is a common injury in cycling, but all too often it's considered "just concussion", a fate far better than a broken collarbone or fractured wrist. However, if not treated properly, concussion can leave a much longer lasting impact.
What is concussion?
Concussion is caused by a mild traumatic brain injury, such as a bang to the head or whiplash.
It's understandable that cyclists frequently suffer from it following a crash - you just have to check out the state of some helmets following a bash and it's clear it's an area that often makes contact with the ground.
Symptoms usually appear in a few minutes or hours. However, they can take days to emerge. According to the NHS, they include:
a headache that doesn't go away or isn't relieved with painkillers
dizziness
feeling sick or vomiting
feeling stunned, dazed or confused
memory loss – you may not remember what happened before or after the injury
clumsiness or trouble with balance
unusual behaviour – you may become irritated easily or have sudden mood swings
changes in your vision – such as blurred vision, double vision or "seeing stars"
being knocked out or struggling to stay awake
As you can see - concussion can go far beyond dizziness and a headache - it can involve long term changes to mood and even depression.
At the very serious end of the scale is Chronic Traumatic Encephalopathy (CTE) - a form of degenerative brain disease associated with repeated blows to the head. However, this is more commonly associated with contact sports like boxing.
How to you detect concussion
Answering a past Cycling Weekly reader's query, Level 3 British Cycling coach Huw William commented: "Treat any head injury as serious even if it appears to be less so... and understand that the person least able to tell you the extent of the injury is the rider themselves."
If you're riding with a friend and they're unfortunate enough to crash, you may need to take control of the situation.
Firstly, look to identify any symptoms such as a headache, dizziness, mental clouding, confusion, or feeling slowed down, visual problems, nausea or vomiting, fatigue, drowsiness, sensitivity to light or noise.
Secondly, ask the rider some questions that are relevant to them - such as 'where are we now?' and 'approximately what time of day is it?' or 'where were you on this day of the week?'
The Scottish Shorts concussion guidelines lists a selection of 'red flag' symptoms that warrant an immediate trip to the hospital:
severe neck pain,
double vision,
weakness or tingling/burning in arms or legs,
severe or increasing headache,
seizure (fit),
loss of or deteriorating consciousness (more drowsy),
repeated vomiting,
increasing confusion or irritability,
unusual behaviour change.
Brainline.org advises that if you're in any doubt as to whether a rider needs to go to hospital, then they should.
In the hours after the crash, it's important not to leave the rider alone, and to look out for symptoms like nausea, decreased reaction time, head shaking and poor balance.
In the days or weeks afterwards, you should keep an eye on them; irritability, anxiety, difficulty concentrating, altered emotional responses, insomnia and aggression can all occur.
Recovery from concussion
Firstly, immediately after the incident, a rider who may be suffering from concussion should not get back on their bike. They should also not drink alcohol, operate machinery or drive.
Williams commented: "Overly simplified, concussion can knock the senses out of you, so you can imagine that riding a bicycle, with its inherent demands on balance, spatial awareness and interpretation of road and traffic conditions is just about the last thing you'd want to be doing."
Longer term, careful steps need to be taken to ensure successful rehabilitation. These include rest for the brain - which may mean time off work, and a staged return. Use of computers, smart phones and TVs should be limited as should attending loud or stressful events.
When it comes to getting back to your favourite hobby, it's advised that a gradual return to cycling should take place only after symptoms are no more.
The Scottish Sports Concussion Guidelines offer similar advice, stating that before retuning to sports, athletes "should be symptom free and have returned to normal school or work activities, as well as have evidence of completing a staged returning to learning and returning to sport protocol."
Experiencing concussion
Glasgow based Dr Willie Stewart is a researcher in brain injury, and has contributed to several guidelines on sports concussion - including the pan-sports Scottish Concussion Guidance. He's also got some first hand experience of the condition.
Dr Stewart explains: "I was on my regular winter commute into work... at the Queen Elizabeth University Hospital. Next thing I recall I was lying on the road with my bike 20 feet from me and a searing pain in my right hip."
He reports that he later found out that a car had turned across his path, causing him to meet the "front end of the car and windscreen."
In A&E, he was treated for multiple pelvic fractures and a wrist fracture, as well as damage from the windscreen, but he says: "nobody spotted I had concussion until 36 hours after the accident, not even me."
"Embarrassingly, It was only the next day that we realised I also had concussion", said Dr Stewart - though there really is nothing embarrassing about failing to miss symptoms following trauma.
"Had I been asked the day I was admitted to hospital, I would have denied any brain injury, and if I could have got back on a bike, I would have. The next couple of weeks were an unpleasant first-hand experience of a so called 'mild' traumatic brain injury, that I am glad resolved and would hope not to re-visit," he says.
"But my experience does give me an appreciation of how hard concussion recognition can be, and why we insist 'if in doubt, sit it out' is the only way to be safe."
The 'if in doubt, sit them out' slogan is the Scottish Sports guideline for those managing athletes, but it applies just as much to recreational cyclists. Concussion should be treated seriously, as should recovery and rehabilitation.
Thank you for reading 10 articles this month* Join now for unlimited access
Enjoy your first month for just £1 / $1 / €1
*Read 5 free articles per month without a subscription
Join now for unlimited access
Try first month for just £1 / $1 / €1
Michelle Arthurs-Brennan is a traditional journalist by trade, having begun her career working for a local newspaper, where highlights included interviewing a very irate Freddie Star (and an even more irate theatre owner), as well as 'the one about the stolen chickens'.
Previous to joining the Cycling Weekly team, Michelle was Editor at Total Women's Cycling. She joined CW as an 'SEO Analyst', but couldn't keep her nose out of journalism and in the spreadsheets, eventually taking on the role of Tech Editor before her latest appointment as Digital Editor.
Michelle is a road racer who also enjoys track riding and the occasional time trial, though dabbles in off-road riding too (either on a mountain bike, or a 'gravel bike'). She is passionate about supporting grassroots women's racing and founded the women's road race team 1904rt.
Michelle is on maternity leave from July 8 2022, until April 2023.