Gravel Triathlon: your questions answered
What are gravel triathlons, what do you need to compete and where can you find one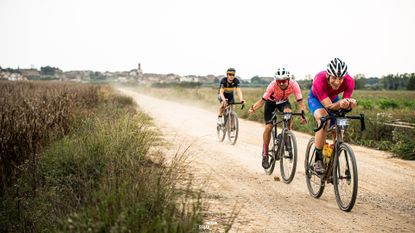 (Image credit: SGRAIL 100)
Get The Leadout Newsletter
The latest race content, interviews, features, reviews and expert buying guides, direct to your inbox!
Thank you for signing up to The Pick. You will receive a verification email shortly.
There was a problem. Please refresh the page and try again.
Gravel racing is a relative newcomer to cycling sports yet it's a trend with some serious popularity and staying power. Especially in the U.S. market, gravel bikes are outselling road bikes and events like the Belgian Waffle Ride series and Unbound Gravel sell out at thousands of competitors. It's the biggest growing segment in cycling, and it was only a matter of time until the multisport sector got involved.
A hybrid of multisport and gravel racing, gravel triathlons take place on unpaved roads, allows competitors to use drop-bar gravel bikes and permits drafting. The run segment of many races is also off-road. Still in a nascent phase, there are no set distances for gravel triathlon, but many are sprint- or Olympic distance events popping up all over the world.
USA Traithlon hosts a season-long Gravel Triathlon Series offers, offering "endurance sports enthusiasts a new way to experience swim, bike and run." There's even a USA Triathlon Gravel National Championships.
Bit by the gravel bug, Jan Frodeno, a three-time world champion and Olympic triathlete, launched a multisport event series called SGRAIL in 2021 with which he hopes to lead the "adventure movement in Triathlon and the endurance world." Held in in Girona, Spain and Big Bear Lake, California, the SGRAIL competitions sees contestants tackle an open water swim, followed by a gravel race and end on a trail run.
Of course, off-road multisport events are not new; the so-called Xterra triathlons —made up of an open water swim, mountain bike ride and trail run— dates back to 1996, the same year that road triathlon made its Olympic debut in Atlanta, Georgia.
So while the road surface may change according to the latest trends of the cycling sport, the challenge remains the same.
"I think the fundamentals will always be important. Executing solid swim, bike, run events will always be in demand," states Stephen del Monte, race director of Atlantic City 70.3 and Escape the Cape triathlons.
Here what you need to train for and complete your first gravel triathlon.
Gravel triathlon: the gear
While not required, using a wetsuit will not only keep you warm, but also offer buoyancy and speed. Well-fitting goggles that offer a comfortable seal are crucial for sighting buoys that mark swim courses. Goggles with tinted lenses can help you sight on overcast and bright sunny days.
Using a gravel bike for the cycling segment of a triathlon is preferable, but for some races a drop-bar road bike converted into a gravel bike can be used. Off-road pedals and gravel or mountain bike shoes are preferable, especially if the bike segment is technical. Gravel tires that are wider and grippier than road tires also offer advantages when racing off-road.
Although trail running shoes weigh slightly more than minimalist racing flats, the lugged soles offer improved traction off-road. However, many triathletes find running in road racing shoes perfectly fine for 5k or 10k runs.
Gravel triathlon: How to prepare
Would you jump into a criterium without training for it and expect to do well? Like road triathlons, gravel tris are not won–but can be lost–in the swim. So unless you have a swimming background, it's advisable to log laps in a pool and practice open-water swimming in a non-race situation.
This means doing swim workouts to learn how to breathe efficiently, practice sighting buoys that mark the swim course, and learn to be comfortable swimming next to others. Training with a masters swim team, either in a pool or in open water, is excellent prep for any triathlon.
If you know your FTP and/or threshold heart rate, these numbers are excellent guides for training for the bike segment of gravel triathlons. Overcooking the bike segment will not leave your legs ready to go hard on the run, so monitoring measured effort on the bike is crucial for those who are performance and placement driven. Training and racing with a powermeter as a guide, in conjunction with a heart rate monitor, can help you to dial in your pacing strategy.
Running might seem to be the least complicated of the three triathlon disciplines, but for those not accustomed to running, it too requires some dedicated preparation and smart execution on race day. Running at the end of a tri is not the same as doing a standalone run, so learning and understanding pacing is key to completing and competing in multisport events. If you've heard triathletes talk about brick workouts, this refers to bike-run sessions in which one completes a bike ride and then immediately heads out for a run. These sessions simulate running off-the-bike, and finding a rhythm when moving from one discipline to another while racing.
Another triathlon-specific discipline to practice are transitions. Rehearsing transitions—going from swim to bike and bike to run—helps avoid stress and anxiety that some experience when trying not to fumble with shoes, helmet, and sunglasses in a crowded space with the clock ticking.
If you're a newcomer to triathlon, you'll want to get on a sprint- or Olympic distance triathlon training plan, or consult a triathlon coach for optimal training that addresses your weaknesses and sharpens your strengths.
Gravel triathlon: Fueling the fun
Fueling is crucial for competing and completing events that last more than an hour. Learning the skills for eating and drinking on the bike and also when running is crucial for optimal performance, and also to avoid cramping or bonking. Consuming bottles of liquid and solid snacks while riding may be easy for many, but doing so while running poses different challenges—like keeping one's food down, grabbing a full cup of liquid or drinking through a straw while navigating dirt, gravel, tree roots without losing one's footing.
Finding a gravel triathlon
Xterra added gravel bike divisions to the list of supported racing. Xterra gravel tri events across Europe boast gravel-friendly routes over various distances.
USA Triathlon, the national governing body for multisport in the United States, launched a nine-event gravel triathlon race series that included the second edition of the national gravel triathlon championship. Hosted in Fayetteville, Arkansas, athletes competed over a course that included a 1.5km swim, a 30km bike, and 10km run.
Gravel tris are still gaining in popularity and are not available in every region in the United States. Knowing where to find races is the first place to start. National federations like USAT publish race calendars, while social media posts by event promoters, and multisport event web sites are also great resources for finding and entering gravel tris.
https://www.endurancepath.com/
Thank you for reading 20 articles this month* Join now for unlimited access
Enjoy your first month for just £1 / $1 / €1
*Read 5 free articles per month without a subscription
Join now for unlimited access
Try first month for just £1 / $1 / €1
Get The Leadout Newsletter
The latest race content, interviews, features, reviews and expert buying guides, direct to your inbox!
Greg has been on and around bikes since his early teens. He got his start when tubulars and freewheels were still a thing, while working at local bike shops, and dabbling in the Philadelphia racing scene. Greg still geeks-out on bikes, cycling gear, apparel, and accessories as much now, as when he first discovered the sport. Greg has been on staff at VeloNews and Bicycling, and also was a contributor at Active.com.