Meet the 87-year-old Hour Record holder: 'If you haven't got the mind to do it, you'll never do it physically'
In the race to ride as far as possible in one hour, John Lee is literally peerless. Here, he explains why age is no barrier to setting records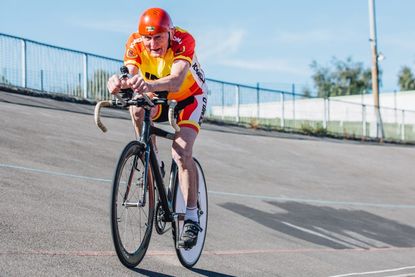 Get The Leadout Newsletter
The latest race content, interviews, features, reviews and expert buying guides, direct to your inbox!
Thank you for signing up to The Pick. You will receive a verification email shortly.
There was a problem. Please refresh the page and try again.
The only other person to hold three Hour Records in this country is Chris Boardman," says John Lee. "There's nobody who has ever done it on outdoor tracks."
This September, 87-year-old Lee rode 18.815 miles on the velodrome at Welwyn Garden City, an unparalleled distance in British cycling's record books for a man his age.
Once they reach their eighties, most clubmen are content to attend the annual dinner, reminisce about their racing days with their fellow veterans and maybe hand out the trophies to the younger members.
But Lee, of the Icknield Road Club, in Bedfordshire, treated what is usually the autumn of a cyclist's career as a brand new racing season.
>>> The Hour Record: An interactive timeline
A decade earlier, as he headed into his seventies, Lee, who already had a long and distinguished palmarès in road time trialling — including eight national medals — found his motivation was beginning to wane. It wasn't that his fitness was in decline: at 72, he had set a national age record for 10 miles with 22.54.
"I was a bit fed up with the road; I'd done most of what I wanted to do," says Lee. "Mike Daniel [friend and club-mate and a former Cycling reporter] said, 'Why don't you have a go at the track records?' Stan Miles, the former BBAR, had set a lot. So I came down here. I got myself a steel track bike, a Reg Barnett, and I took all the veteran track records.
"After three years of going up to 10 miles, the timekeeper in our club said, 'Why don't you have a crack at the Hour?'"
>>> Icons of cycling: Francesco Moser's 1984 Hour Record bike
In 2009, at age 80, Lee clocked 21.281 miles, a new outdoor record. At age 84, he did 20.433. By now, he found that he was not only in a league of his own but also literally on his own — no British rider in their eighties had set an Hour Record.
Lee could in theory ride round as slowly as he liked, but for a man who has raced continuously since 1952, setting as high a mark as possible was a matter of pride.
Lee had always trained in the traditional way: as many road miles as possible. "I always liked to ride for as long as I could without stopping," he says.
>>> How to keep riding in your 80s
"I could get [from Luton] to Coventry and back without stopping on a Sunday. And Reading and back. I joined the CTC century section where they did 100 miles every Sunday summer and winter. The more miles I did, the fitter I got, and the fitter I got, the faster I got."
But for his latest Hour Record, he broke the mile-munching habit of a lifetime and instead focused on specificity, acknowledging that at age 87 it's more important than ever to sharpen the mind as well as the body.
"I came down to the track and each time I trained my body to ride for just over an hour, to get the body and mind trained to stay between those two lines. An hour, it's a mind job. You cannot let up.
"When you're flat-out in a 10-mile time trial, there's always something happening — a car coming by, you're catching somebody — but on here, there's nothing, just that gap between those lines. And you keep going round in circles. And it's hard, easy, hard, easy because there's always a slight drift.
"If you haven't got the mind to do it, you'll never do it physically."
>>> Alex Dowsett to focus on the road for UCI Hour Record attempt
For the majority of his training, Lee uses a turbo trainer rather than the road. "At my age, it's dangerous on the roads," he explains.
As for training tools: "I don't use a heart rate monitor any more because I haven't been tested recently and don't know my zones. A power meter? I'd love to have all the gizmos but I do it all on feel and gears."
For the 2016 record, Lee used 87.6 inches, a ratio he settled on during a year of training. "I rode 91 for the first Hour Record. I tried 90 this time but it was just that fraction too high now."
Lee is keen to play down this fact, but his wheels are rather special: "I borrow them off the Pendleton family. I was racing against Max [Victoria's father] in the 1960s. He was a good hill-climber and a good man on the track."
>>> Seven ways to make your commute more like the Hour Record
But after 50 minutes on the track, his wheels' celebrity stardust had all blown off. "The last 10 minutes was the hardest part. You're hanging on and as you start to get tired you lose your concentration. Once I veered slightly out during the final minutes. There are people cheering, but you don't look at them."
Clearly, Lee is not planning on hanging up Victoria Pendleton's wheels any time soon. So what's next? "I think I could beat 20 miles indoors," he smiles.
Don't let age slow you down
How to stay fast into your 80s
Eat good food: "I'm a lucky man — I have my health. I don't take any medication. It's all done on my good wife's cooking — good, solid food."
Get enough sleep: "I need between eight and nine hours a night. I'm very rigid on sleep. That's where
you recover."
Drink in moderation: "I enjoy a glass of wine but I don't go to pubs. As regards getting drunk — no way."
Look after your knees: "I've never been overgeared. Before I do anything, I try the gear out several times to find out what I'm comfortable with."
Get health checks: "When I was 70, I rode a 12-hour time trial and my heart was a bit funny. I went to the doctor on Monday and he said there's nothing wrong. I asked for a stress tolerance test but he wouldn't send me for one because I wasn't ill. I was allowed to pay for one and went to a BUPA cardiologist and it was the best money I could have spent. He found a blip indicating that I had a weak heart valve, but in the end he diagnosed athlete's heart [where the left ventricle becomes enlarged as a result of prolonged endurance training] and he was happy for me to keep racing. I had another check three years ago and they said the same."
Behind every man...
"John is motivated by John [himself]," says John Lee's wife Freda. "He used to like doing 12-hour races and you've got to be motivated to ride a bike for that long. It's not enough to be dedicated — you've got to be committed."
Mike and Jean Daniel are Lee's Icknield RC club-mates and have also been two of the three witnesses required at his national Hour Record attempts.
Lee says Mike inspired him to take up track record-breaking, something Mike modestly denies. "Mike did come down [to the Welwyn track] with him," offers Jean.
"He'd ring him up and say, 'I'm going to the track this morning, are you going to come for a few laps?' Mike started John thinking about going on the track, and once he gets something in his head…
"Everything revolves around racing — that's what you do, that's your life. It just needs the seed to be sown, and Mike obviously did that. And then kept him company doing it."
Thank you for reading 20 articles this month* Join now for unlimited access
Enjoy your first month for just £1 / $1 / €1
*Read 5 free articles per month without a subscription
Join now for unlimited access
Try first month for just £1 / $1 / €1
Get The Leadout Newsletter
The latest race content, interviews, features, reviews and expert buying guides, direct to your inbox!
Simon Smythe is a hugely experienced cycling tech writer, who has been writing for Cycling Weekly since 2003. Until recently he was our senior tech writer. In his cycling career Simon has mostly focused on time trialling with a national medal, a few open wins and his club's 30-mile record in his palmares. These days he spends most of his time testing road bikes, or on a tandem doing the school run with his younger son.