Tips for buying a second hand bike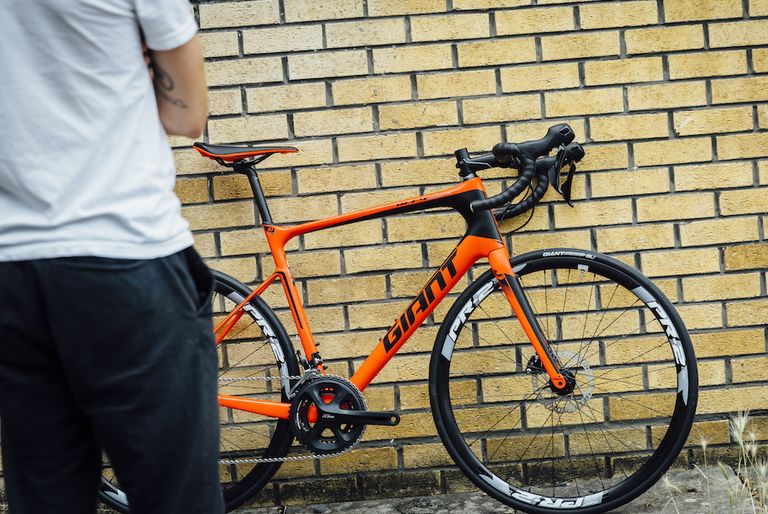 (Image credit: chris catchpole)
Buying a new bike can be a costly affair, but you can make your money go further by buying second hand.
The internet is home to a plethora of great deals for second hand buyers, but it also hosts a few people looking to rip you off - so it's important to keep your wits about you.
>>> Road bike size guide: how to choose a bike that fits you
With our help you'll be able to find the best bike to fit your needs: both on the road and in the wallet. Here are our best tips for buying second hand bikes.
Tips for buying second hand bikes: The DOs
DO use a dedicated service
Online services like Bikesoupor eBay are a good way to go when buying second hand bikes. Forcing sellers to either provide contact details or housing feedback from previous buyers createsaccountability.
Using recognised classified services helps combat online scams by giving buyers the opportunity to meet before parting with any cash. Just make sure you choose somewhere safe when meeting a stranger, especially if you're taking cash.
>>> Best cheap road bikes
Sites like eBay provide feedback from past users which allows buyers the chance to make an informed decision on the seller's trustworthiness before making a purchase.
On top of that, sellers must go through Paypal which uses BuyerProtection. This meansthat, should your item not arrive, be damaged in transit or be completely different from what you bought, you can still get your money back.
DO meet with the seller face to face
It's not always possible to find the bike or your dreams in your local area, forcing you to look further afield. So what do you do when you find that two wheeled beauty you've been looking for? Well, go and see it in person.
Buying a bike is a lot like buying a car: you wouldn't buy one without having tested it, so why would you with a bike? Asking to post a bike may be a lot less hassle for you but there is no way of knowing 100 per cent that you are getting a fair deal.
DO research the competition
Don't go into this blind, be sure to see what prices similar bikes from that year, brand, or set up have been going for before you open dialogue about the purchase.
Having researched the competition you can easily fight your case for a better price. Not only will this give you confidence going into things but will also show the buyer that you mean business and are eager to buy.
DO haggle
Once you've done your research, don't be afraid to haggle. Be sure to have examples of other sales at hand. Make sure youhave a number in mind before you start haggling and offer less than that: starting low you'll eventually find that you work your way towards the middle ground which should be your preferred price if it all works out.
DO be prepared to walk away
Sometimes haggling isn't successful - but that's ok. If the owner isn't budging and is determined to get their set price it's key that you accept that and walk away.
Unless it's a rare collectible, chances are you'll find something similar soon enough so don't feel like you have to pay through the nose.
DO check the bike for wear and tear
It may seem obvious but be sure to check the bike over for any damage, particularly on the frame. Cracks should be major red flags, especially around the seatpost and rear stays where they are most likely to fail catastrophically, causing you serious injury.
Things to check:
Frame for cracks (rust or scuffs are usually surface deep and only affect aesthetic)
Tyres are pumped
Chain and cassette aren't rusted or stretched (these won't cost much to replace if they are)
Brakes work and the pads aren't worn down
Shifting and gearing is effective
The bearings work and move freely without any grating feeling (headset, bottom bracket and wheels)
DO consult a friend and bring them along
A great way of preventing you fromspendingabove your means is to bring a friend along with you. Many of us get wrapped up in the romance of seeing a bike you love and wanting to get it at all costs but it pays to have an objective point of view nearby.
Whether it's stopping you from paying £100 more than you should or realising the whole thingis a scam, an extra pair of eyes can make all the difference.
DO check if it's stolen
Sometimes a deal that's too good to be true is just that and you could be buying a stolen bike.Be sureto see if it has been security marked.
A good way to do this is by checking the frame number orBikeRegister ID'sfree BikeChecker facility on the BikeRegister database to make sure that the bike is not listed as stolen. Alternatively, ask for any proof of purchase if the bike is relatively new.
Tips for buying second hand bikes: The DON'Ts
DON'T send money without seeing the bike
This is the most important tip for buying second hand bikes.
Apart from sites like eBay that have regulations in place to protect both buyer and seller, never send money having not seen the bike you're buying in person.
Sites like Ukash, MoneyGram, or Western Union are often used by scammers when asking for money to be sent prior to bike handover.
These services are not designed for money to be sent between buyers and sellers but for families sending money abroad, meaning that there are a number of loopholes that can be exploited costing you a hefty sum.
For more advice on transferring money, read this advice from Get Safe Online.
DON'T haggle too soon
Haggling is part and parcel of getting a good deal, but wait before going all guns blazing to get the best deal. Building a rapport with the seller, whether that's through gentle conversation or talking about the bike will ease the seller into the deal.
Letting the seller bring up the issue of money first will go a long way to ensuring that you can work out a deal that you're happy with. Storming in with low prices from the off can deter the seller from accepting any of your bids and could potentially lose you the deal.
DON'T buy from abroad
For best practice, keep your search to your home nation. As soon as a search goes abroad it becomes increasingly more difficult to secure a deal that won't end in tears.
Buying a bike from France is tricky, but buying a bike from even further afield is asking for trouble as the further the distance the less accountability the seller has.