Academics pen rebuttal to trans women in sport report - Fierce global debate raises complex issues of fairness vs inclusion
When it comes to the issue of inclusion and fairness in sport, the academic and scientific communities find themselves divided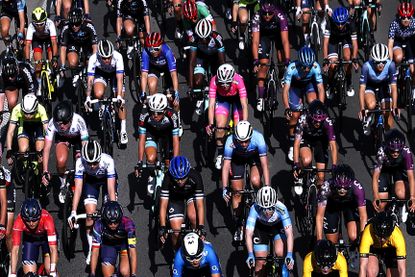 (Image credit: Getty Images)
In the fierce global debate surrounding the inclusion of trans women in elite women's sport, fairness of competition and inclusion appear to be at diametric odds. It's no easy task for sports governing bodies to forge a path forward, especially when the academic and scientific communities find themselves so divided.
The recent scientific literature review of transgender women athletes in elite sport by the Canadian Centre for Ethics in Sport (CCES), was met with rebuke by an incensed social media audience and academics alike.
In response to our coverage on the CCES report, Cycling Weekly was made aware of a small group of Academics who took issue with the review and published a public response titled "When Ideology Trumps Science," on Malmö University's idrottsforum.org, a non-refereed, open access sport studies web journal.
They felt compelled to offer their commentary as the CCES review is, they claim, "another attempt to change our concept of sport in order to facilitate the inclusion of transwomen in the female category." Something, they fear, threatens the integrity of women's sport.
"The CCES doesn't give us a justification for including [trans women] in the female category. Instead, they provide two lines of attack, aiming to overturn the widely held view (in science and by the public) that male-bodied persons have – on average – a physiological advantage over females," they argue.
"The CCES review is another attempt to replace materially based eligibility criteria in sport with 'social identity' as a passport to inclusion."
Blasting the CCES report for being "wholly unscientific" and "misleading," the academics set out to rebut the 86-page report while coming to some strong conclusions about trans women in elite sport of their own.
Controversial Findings
Published in late November 2022, the CCES report in-depth review of accredited scientific literature published between 2011 and the end of 2021, in the English language, regarding transgender women and their participation in elite sport.
The CCES is an ethical sport advocacy non-profit that, with funding from Sport Canada, doubles as Canada's national anti-doping organization. Its mission is to advocate for fair, safe, accessible and inclusive sport for everyone. It should be noted that the CCES commissioned the report from E-Alliance, a knowledge sharing hub of scholars and partner organizations from across Canada who are dedicated to gender+ equity in sport.
The scientific studies and resulting literature analyzed in their report not only influence public opinion, they often serve as the base or justification for the development of trans inclusion (and exclusion) policies by sports governing bodies.
The review aimed to look at this literature through a biomedical and a sociocultural lens, and came to some controversial conclusions. The report claims, among others, that:
- The biological data and studies, conducted in the past decade, are inconclusive and limited, or worse methodologically flawed.
- There's available evidence to indicate that trans women who have undergone 12-months of testosterone suppression have no clear biological advantages over cis women in elite sport
- There's little evidence that biomedical factors related to male puberty such as lung size, bone density and hip-to-knee joint angle predict an unfair advantage.
- That in developing sporting policies, social scientific studies have largely been ignored and that "elite sport policy is made within transmisogynist, misogynoir, racist, geopolitical cultural norms."

- There is "strong evidence that financial material resources (such as access to infrastructure and equipment, nutrition, time to train, higher salaries) are associated with advantage in sport"
- The fears that cis women need be protected from trans women in elite sport are "unsubstantiated" and "misplaced"
- That "what threatens women's elite sport, for cis and trans women, is not trans women, but is rather misogyny in the form of underfunding, non-parity in participation and leadership, inequitable sport space allocation/access, and a range of sporting opportunities not afforded to women (cis women and trans women) in equitable ways."
(For more information, please read our previous coverage or the full CCES report.)
"Scientific Review" questioned
A group of six academics from various nationalities were quick to refute the CCES report in the form of an 18-page response paper, published on November 29, 2022.
The authors listed are Cathy Devine, Emma Hilton, Leslie Howe, Miroslav Imbrišević, Tommy Lundberg and Jon Pike. In the same way CCES is perceived to be in favor of an inclusive sport, it should be noted here that these academics have been vocal about their anti-trans inclusion beliefs, and that some of their studies were among those criticized by the CCES review.
Their analysis of the CCES review involved revisiting the same sources used in the CCES report while also drawing on their own studies.
"The recently published 'Scientific Review' by the Canadian Centre for Ethics in Sport about trans women's participation in female sport doesn't deserve its name; it is wholly unscientific...it distorts or ignores key findings from the literature to such an extent that it appears to be guided by ideology rather than scientific knowledge," they claim.
And criticize the CCES for delivering this "attack on the bio-medical sciences" and side-lining the body in favor of gender identity when it comes to categorization and eligibility in sport.
"The CCES strategy is a continuity with the history of the exclusion and oppression of female athletes in sexist, misogynist, patriarchal sport structures," they argue. "Whilst, at the same time, masquerading as inclusive, anti-sexist and anti-misogynist."
In their paper, the Academics claim that the CCES review is methodologically flawed and accuse the report's authors of incorrect reporting of scientific data.
"The criticisms can be summarised as either being simply wrong, grossly misrepresenting the actual work, or being straw man arguments," the paper states.
For example, they claim that the very papers used to support the argument that male advantage is lost after one year of testosterone suppression, in fact argue the opposite.
Then, there are the issues with the review's argumentation. The academics take issue with the authors' failure to address fairness and their description thereof.
The academics argue that in sex-affected sport, fair competition requires separate categories for women — a view they claim is shared among international sporting organizations. They point out that separate sporting competitions only exist because of the acknowledgment of the male physiological advantage. Female competition is made fair by the lack of that male advantage.
They acknowledge that "if male advantage is eliminated, then it might be fair for [trans women] to compete in female sport."
However, they take issue with the review's alleged evidence of the male advantage being removed after 12 months of testosterone suppression, and counter is with their own:
"A recent cross-sectional study (Mobilia Alvares et al, 2022) measuring the performance of transwomen suggests that the advantage may be maintained after 14 years of testosterone suppression."
Even if present, the CCES argued that after a 12-month treatment, the physiological metrics of trans women were within the ranges of a cis females. Here, the Academics dismiss the so-called Range Argument, which compares trans women to cis females — something the academics call "a misunderstanding of fairness in sport."
"What matters is the removal of male advantage, not whether some males are (for example) shorter than some females," the paper states. "To use the jargon, what matters is diachronic comparison of sex advantage, to see if advantage is lost, not synchronic comparison of more or less arbitrary metrics between binarily distinguished bodies."
In regards to the sociocultural claims, the Academics acknowledge that trans women indeed face disadvantages and socio-economic inequalities. But fault the review for failing to properly demonstrate how those disadvantages are manifested in athletic performance or provide concrete proposals on how to address the socio-cultural (dis)advantage.
"More importantly, the authors fail to acknowledge that other athletes also experience disadvantage and hardship in life…At the same time, we are supposed to ignore how this misguided notion of social justice affects other athletes (especially women): they are displaced from podiums, rankings, and lose out on scholarships. The result is injustice," the paper concludes.
Ongoing Debate
The inclusion of trans women in elite women's sport continues to be a fierce global debate in which fairness of competition and inclusion are at odds. Sports governing bodies everywhere are scrambling to find a balance in an issue that's extraordinarily complex.
In cycling, we're no less at odds. The UCI has ruled that trans women may compete as long as they meet the eligibility and regulations stated. Some national governing bodies, USA Cycling included, have adopted the UCI's policies as their own. Others, like British Cycling have blocked trans riders from competing until it has reviewed and decided on a new licensing policy, which is slated for this coming spring.
We are well aware that this is a hot button issue. In reporting about trans issues, athletes' opinions, inclusion policies and the aforementioned studies, we at Cycling Weekly aim to inform our readers and foster dialogue so one may form opinions of one's own. If this topic is of interest to you, we highly encourage you to read both documents in question, the CCES report and the When Ideology Trumps Science paper.
Thank you for reading 20 articles this month* Join now for unlimited access
Enjoy your first month for just £1 / $1 / €1
*Read 5 free articles per month without a subscription
Join now for unlimited access
Try first month for just £1 / $1 / €1