Alex Rasmussen acquitted by Danish Federation over missed doping controls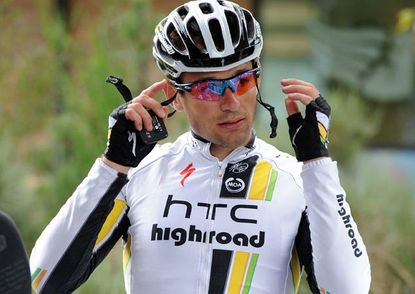 Alex Rasmussen's whereabouts case took an interesting twist yesterday when the Danish federation acquitted him and Garmin-Cervélo welcomed him into its 2012 team. His national federation (DIF) said the UCI had failed to meet WADA's 14-day notification deadline and so it is unable to sanction the cyclist over missed doping controls.
"Alex Rasmussen is dismissed because his third violation was notified too late," Torben Jessen, president of DIF's doping tribunal said in a press statement. "The UCI spent 10 weeks to report the infringement, while the international [WADA] standard dictates 14 days," says Torben Jessen, president of DIF's doping tribunal.
According to the World Anti-Doping Agency (WADA) standard, the processing time is a maximum of 14 days. The Union Cycliste International (UCI) does not limit itself to when it can notify the cyclist.
Three missed controls in an 18-month period is considered the same as a failed doping test and typically results in a suspension.
Rasmussen violated the rules three times in 2009 and 2010. (He rode for Saxo Bank in 2009 and 2010, and for HTC-Highroad this year.) He missed a control by his national federation in February 2010 and he failed to report his whereabouts in a timely matter in October 2010. Anti-doping Denmark (ADD) warned him within the same month both times.
The third missed control on April 28, came ahead of this year's Giro d'Italia. The UCI failed in its attempt to control Rasmussen and on August 18, sent him a warning letter.
On 15 September, team HTC-Highroad heard about the violations, pulled Rasmussen from the Tour of Britain and fired him. Garmin-Cervélo had already hired him for next season, but told Cycling Weekly, "In light of this situation, Alex Rasmussen will not be joining our team."
His friends and colleagues say he is a forgetful person.
"He is as innocent as he is stupid," HTC's sports director, Brian Holm told Cycling Weekly at the Tour of Britain. "He's not cheating anybody, he's not doing any forbidden products, everyone knows he's a good healthy young rider."
USA's Garmin-Cervélo presented its 2012 team yesterday in Boulder, Colorado. Rasmussen was not present, but was listed as part of the 30-man roster with David Millar, Johan Vansummeren and Tyler Farrar.
Team Manager Jonathan Vaughters said, according to Danish newspaper Politiken, "Alex has a fully valid contract with us after the [DIF] decision, so of course he rides for us next year."
The UCI and WADA will have the last word as they both have the right to appeal the case to the Court of Arbitration for Sport (CAS).
Related links
Garmin-Cervelo's 2012 squad unveiled
Rasmussen out of Tour of Britain after being sacked by HTC for missed test
Thank you for reading 20 articles this month* Join now for unlimited access
Enjoy your first month for just £1 / $1 / €1
*Read 5 free articles per month without a subscription
Join now for unlimited access
Try first month for just £1 / $1 / €1